Cancer Monthly Horoscope: June 2017
General planetary positions for the month of June are as follows:
This month the Sun will enter the twelfth house on 15th June. Mars will move in the twelfth house as before. Mercury will transit in the 11th house from 03 June and in 12th house from 18th June onwards. The Jupiter will transit in the 3rd house as before and Venus will move in the 11th house from 29th June. Saturn will move into 5th house from 20th June. Rahu will transit in Leo and Ketu in Aquarius respectively.
Career and Business:
You will witness many positive opportunities from the beginning of the month itself in your business and career areas. You will be glad to get these. You will witness a speedy progress in achieving your production and sales targets. You will have a good grip in your administrative work as well. In the second and third weeks of the month your professional progress will continue to increase. But there will be obstacles in the last phase. Don't Wait, Talk to an Astrologer now.
Love and Relationship:
This summer, you will think more about your family. You will think of your family members and try to help them in getting a good livelihood. You may also extend financial support to them. You will glad to see that planets are supportive for a harmonious domestic life. There will be a good position in personal relations in the second and third phases of the month. But there will be stress in the final phase of the month. Get your Love and Marriage Prospects
Finances:
You will consider this month of June as an opportunity and get engaged in making more out of your income sources. But the desired success will not be achieve in the first week of June. However, with your efforts, your income will get higher in the second phase of the month. You will be successful in continuing this positive trend in the third week as well. But in the month end, you will have higher and unwanted money expenses.  Check your Finance Report 1 Year
Education and Knowledge:
You will be seem making stronger and intense efforts towards your academic and technical knowledge in the first phase of June itself. You will see that there is a need to put in wholehearted efforts for gaining a lead and grip in the related subjects. Your efforts will bring you success in the second and third phases of the month. This month you will get more success than your expectations. Resolve your education issues with Education Report.
Health:
This month you will have extra focus towards maintaining your health. But in the first part of the month, there will be some health issues due to seasonal changes. It may require you to take some short treatment as well. But you will be healthy in the second phase of the month. But in the third phase of the month, your health may be sluggish again. Eventually, you will get better health by the end of this month. Improve your health with our Health Report
Remedial Measures:
Performing following remedies would bring success for the Cancer zodiac.
Chant "Sri Shiva Chalisa".
Personal Ask A Question
Personal  Solutions Call on +91 95821 92381 OR  +91 11 26496501 and get more information Is there a personal question that you would want to share and get resolved by someone trustworthy? Is there a confusion regarding an intimate issue, which you would seek a solution to? Empower yourself with such knowledge and allow us to … Continue reading Personal Ask A Question →
Price: ₹ 1155 | Delivery : 48 Hr. Get it Now
2017 Career Report – 30% OFF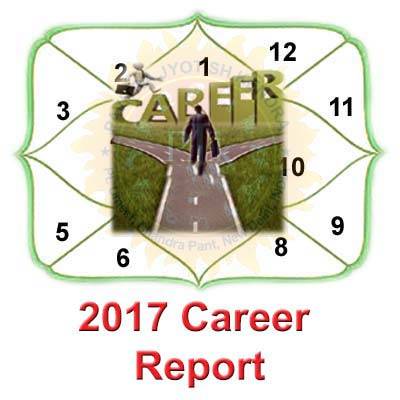 2017 Career Report With the Major Transits in 2017, know the effects of these planets in your Career. Plan your path in a way that causes minimum stress. Make use of this report to know the areas of struggle and plan your year accordingly. If you are looking for a change of job or planning … Continue reading 2017 Career Report – 30% OFF →
Price: ₹ 1399 | Delivery : 7 Days Get it Now