Cancer Monthly Horoscope: July 2017
General planetary positions for the month of July are as follows:
This month on 16th July the Sun will enter Cancer zodiac. Mars will transit in the 1st house on 11th July. Mercury will be in 1st house from 02nd July and in the 2nd house from 21st July. Jupiter will continue to move in third house as before. Venus will transit in 12th house from 26th July. Saturn will continue to move in the 5th house as before. Rahu and Ketu will transit in Leo and Aquarius respectively.
Career and Business:
The planetary positions of the month will give career related opportunities from the first phase of the month itself. But it depends on you if you make good use of these. From the initial phase there will be new ways opening up in the business. But you will be engaged in managing the shortage of resources. Your progress will be relatively lesser. But there will be favorable position in the third week. Don't Wait, Talk to an Astrologer now.
Love and Relationship:
In the month of July you will also give importance to work along with family affairs. This will give you good position in the social front too. You will be more generous in the family from the beginning itself. You will listen to your brother and explain him a few things to sort out confusions. For personal relations the first phase will be more favorable. But there will be stress in the second part. Third phase again will be favorable. Get your Love and Marriage Prospects
Finances:
In month of July you will be inclined towards enhancing your financial gains even more. You will be successful from the first phase of the month itself. But the majority of income will be spent on debt settlement and buying of useful equipment in the second phase. But you will get benefits again in the third phase of the month which will make you cheerful. This will ensure your progress as well.  Check your Finance Report 1 Year
Education and Knowledge:
In the month of July your increase activity in the areas of studies and competition more than before. As a result you will get some success in the competitive area in the first week of July. However, as per the planetary positions, you may spoil the second phase of month in company of unproductive people. But the positive planetary transits in the third phase of the month will again make you stable and focused in studies. Resolve your education issues with Education Report.
Health:
From the beginning of the month there will be a strong position in your health matters. You will be able to do your work properly. In the second phase also you will enjoy good health and fitness. If you do not have any major problems then it is possible that you may suffer from headache, stomachache, throat pain etc. in the third week. This will need you to take some treatment as well. Improve your health with our Health Report
Remedial Measures:
Performing following remedies would bring success for the Cancer zodiac.
Chant "Sri Shiva Chalisa".
Personal Ask A Question
Personal  Solutions Call on +91 95821 92381 OR  +91 11 26496501 and get more information Is there a personal question that you would want to share and get resolved by someone trustworthy? Is there a confusion regarding an intimate issue, which you would seek a solution to? Empower yourself with such knowledge and allow us to … Continue reading Personal Ask A Question →
Price: ₹ 1155 | Delivery : 48 Hr. Get it Now
2017 Career Report – 30% OFF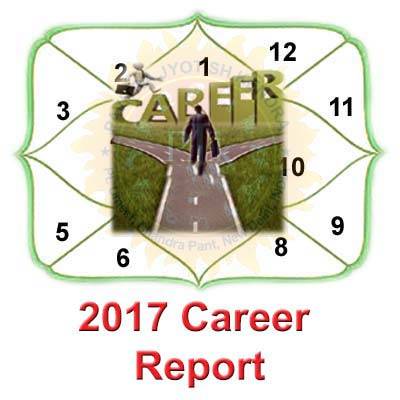 2017 Career Report With the Major Transits in 2017, know the effects of these planets in your Career. Plan your path in a way that causes minimum stress. Make use of this report to know the areas of struggle and plan your year accordingly. If you are looking for a change of job or planning … Continue reading 2017 Career Report – 30% OFF →
Price: ₹ 1399 | Delivery : 7 Days Get it Now