Capricorn Monthly Horoscope: July 2017
General planetary positions for the month of July are as follows:
This month on 16th July the Sun will enter Cancer zodiac. Mars will transit in the 7th house on 11th July. Mercury will be in 7th house from 02nd July and in the 8th house from 21st July. Jupiter will continue to move in ninth house as before. Venus will transit in 6th house from 26th July. Saturn will continue to move in the 11th house as before. Rahu and Ketu will transit in Leo and Aquarius respectively.
Career and Business:
From the starting of the month there will be good speed in your career. If you are into the business, there will be strong lead in the first week of this month. But there could be some ups and downs in the second phase in your business life. The third and final phases of the month will be relatively better for you in terms of business. This will boost your morale and you will be more excited. Don't Wait, Talk to an Astrologer now.
Love and Relationship:
In the month of July you will establish cordial bonding with your family and relatives. You will be able to do important work in correct time. You will get good support from father and elders from the beginning itself. But there will be stress in the second phase. You will be more excited about your personal relations in the first week. But there will be stress in the second phase. You will be able to make your relations normal in the third phase. Get your Love and Marriage Prospects
Finances:
In the month of July you will prosper your financial position and related affairs. During this you will be more interested to make your lifestyle richer and positive. But in the second phase of the month you will face a lack of funds to give final touch to your plans. But in the third phase again your income will be better than before. This will encourage you more to put active efforts in your profession.  Check your Finance Report 1 Year
Education and Knowledge:
In the month of July you will try to enhance your intellect and studies to the next level. You will be glad to see a good progress in these areas in the first phase of the month. There are chances you will get success in competitive exams or job related exams. But in the second phase of the month you will be able to give less time to your studies. The third week will be good for you. But there will be difficulties in the final phase. Resolve your education issues with Education Report.
Health:
In this month you will enjoy high level of healthiness and fitness. But in the first phase of the week you may have minor health issues like headache, eye pain, shoulder pain etc. which will get cured with a mild treatment. The health will be stronger in the second week. You will be dedicated towards a balanced routine. This will help to continue a good health and fitness in the third and final phases. You will be able to do your work with a good pace. Improve your health with our Health Report
Remedial Measures:
Performing following remedies would bring success for the Capricorn zodiac.
Chant "Hare Rama, Hare Krishna" mantra with faith.
Personal Ask A Question
Personal  Solutions Call on +91 95821 92381 OR  +91 11 26496501 and get more information Is there a personal question that you would want to share and get resolved by someone trustworthy? Is there a confusion regarding an intimate issue, which you would seek a solution to? Empower yourself with such knowledge and allow us to … Continue reading Personal Ask A Question →
Price: ₹ 1155 | Delivery : 48 Hr. Get it Now
2017 Career Report – 30% OFF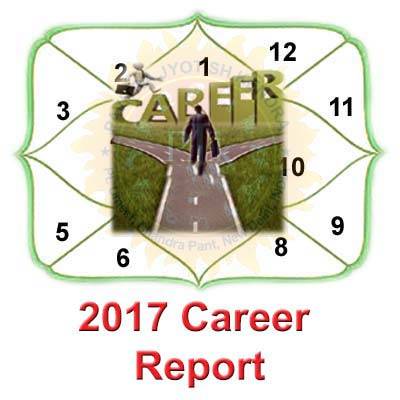 2017 Career Report With the Major Transits in 2017, know the effects of these planets in your Career. Plan your path in a way that causes minimum stress. Make use of this report to know the areas of struggle and plan your year accordingly. If you are looking for a change of job or planning … Continue reading 2017 Career Report – 30% OFF →
Price: ₹ 1399 | Delivery : 7 Days Get it Now