Pisces Monthly Horoscope: June 2017
General planetary positions for the month of June are as follows:
This month the Sun will enter the fourth house on 15th June. Mars will move in the fourth house as before. Mercury will transit in the 3rd house from 03 June and in 4th house from 18th June onwards. The Jupiter will transit in the 7th house as before and Venus will move in the 3rd house from 29th June. Saturn will move into 9th house from 20th June. Rahu will transit in Leo and Ketu in Aquarius respectively.
Career and Business:
From the beginning of this month you will be thinking to somehow make your career even better. You will be interested in getting useful advice from experienced people. You will wish to dedicate this month exclusively for your career. If you are a businessman then you will have good progress in the second phase of the month. But there will be minor issues in the third phase. Eventually you will get rid of the issues by the month end.  Don't Wait, Talk to an Astrologer now.
Love and Relationship:
This month you will think of upgrading and renovating your residence. At the same time you will also feel that along with its beauty it is also important to enhance its comforts as well. You will discuss this with your family in the first phase of the month. In personal life, the first, third, and last phases will enhance the sweetness of your relation. You will be very happy about it. Get your Love and Marriage Prospects
Finances:
In the month of June your income will be higher in general. But during this, you will have to spend more money in many important tasks. You will manage things back in the second half. There will be favorable situation again to get good returns from your major income sources. But your income will be a little lesser in the third week. You will eventually get a better income in the month end. You will be glad about it. Check your Finance Report 1 Year
Education and Knowledge:
In the month of June you will put in some extra energy towards your studies. In the second phase of the month you will be again ready to progress ahead in the sports and competitive areas. Some of your interview will be successful. The third phase of the month will be relatively more difficult. But planets will support you again the last phase of the month. This will enhance your knowledge. You will be pleased about your results. Resolve your education issues with Education Report.
Health:
From the beginning of the month itself your health will be fine in general. Apart from this, your confidence will also be higher. You will be stronger and energetic. However, in the third phase of the month you could suffer from issues like headache, eye pain, and breathing difficulty. You may also have to take the necessary treatment for the same. But the last part of this month will be more favorable for your health. Improve your health with our Health Report
Remedial Measures:
Performing following remedies would bring success for the Pisces zodiac.
Chant "Sri Krishna Chalisa".
Personal Ask A Question
Personal  Solutions Call on +91 95821 92381 OR  +91 11 26496501 and get more information Is there a personal question that you would want to share and get resolved by someone trustworthy? Is there a confusion regarding an intimate issue, which you would seek a solution to? Empower yourself with such knowledge and allow us to … Continue reading Personal Ask A Question →
Price: ₹ 1155 | Delivery : 48 Hr. Get it Now
2017 Career Report – 30% OFF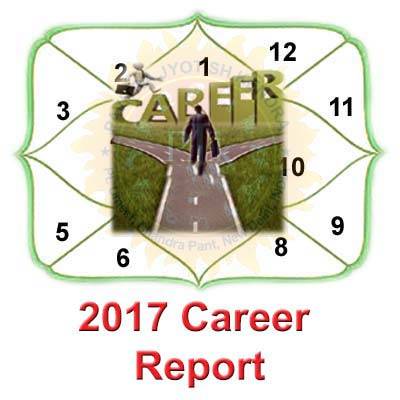 2017 Career Report With the Major Transits in 2017, know the effects of these planets in your Career. Plan your path in a way that causes minimum stress. Make use of this report to know the areas of struggle and plan your year accordingly. If you are looking for a change of job or planning … Continue reading 2017 Career Report – 30% OFF →
Price: ₹ 1399 | Delivery : 7 Days Get it Now