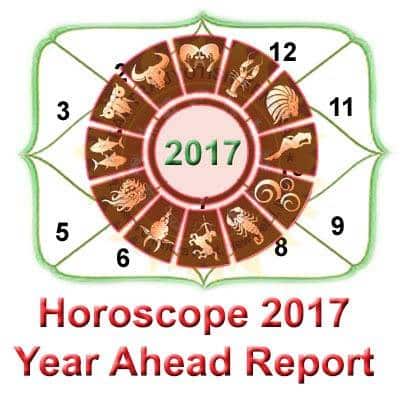 Your Future In 2017 – Monthwise Predictions – 30% OFF
With the coming year, each one of us looks ahead to brighter times, less hassles and more productive in our venture. Projects and plans would need to be executed and new areas to be investigated.
Possibly an expansion in your business or  relocation for higher studies? Which month would set your alliance with your partner? When would you strike the major deal and thereafter make the much required progress?
Is a change of job noted? Which month would that be?
Your health and your family life would also be your area of interest. How do the coming months unfurl for you in the coming year?
If you are wondering about areas to plan so as to concentrate your energy for fruitful return, wouldn't it be helpful for you to know how the next Year would be for you?
With all these details, this report of for the coming year, will help you to calculate and plan so that you can make the most of the coming times.
At Pavitrajyotish.com your personal details are honored. With the data provided by you, your concerns are noted carefully. The coming period will be explained so that you may plan and organize your priorities accordingly.
Along with your report, the Gemstone and Yantra are also suggested for you, so that you are able to look after the areas of concern and empower yourself to withstand and minimize the difficult time period with ease. The Mantra suggested will help you to empower yourself with vibrancy and strength of the concerned planet.
Pt. Umesh Pant, with his years of dedicated work, will provide the optimum remedial measure using the appropriate Gemstone, Rudraksha, Mantra and Yantra.
Delivery : 7 Days
Manually Analysed and Hand-written by Expert Astrologer
Price: ₹ 5999 4199/-
BUY NOW
Customer Care:
If you have any confusion or need further clarification
Call +91-11-26496501
Your Report Will Contain:
1. Astrological Details of your Horoscope chart
2. Response to your Question
3. Special Observation
4. Prediction of the years ahead in 12 months
In areas that include-
a. Career/Business
b. Finances
c. Health
d. Personal life
e. What to do
f. What not to do
5. Summary 2017
6. Accurate remedial measures for your problems
7. Important tips to make situations easier for you

Benefits of this report:
1. You can take smarter, calculated decisions, with a clear view of the upcoming situation.
2. The solutions to your confusions and problems will be resolved and thus empower you to face the odds with adequate protection
3. Stress due to ignorance will be reduced
4. You will be confident to take wise decisions since the problems will be handled with ease. This will help in clear thinking and happier planning ahead.

Your Future In 2017 – Monthwise Predictions – 30% OFF
BUY NOW
Customer Care:
If you have any confusion or need further clarification
Call +91-11-26496501
Testimonials:
Astrologer Umesh is a genuine person who has the complete knowledge of jyotish in entire Delhi.
Peeyush, Ajmer
A day was searching in Google about astrologers in Delhi and find in first page Pt Umesh Chandra Pant. I opened up their website and read in details of Pandit Umesh Ji. Then I decided that to meet him. I take prior appointment with pandit ji. I am extremely surprised with their effective remedies. Really I have gained a lot. Panditji's remedies are very cheap and effective. I must say that all met once. And also recomend Umeshji for all of peoples who belive in astrology science. With great respect –
Vikram Walia, Delhi
Customer Care:
If you are facing any problem in understanding the product or you not able to place an order, kindly call on +91 11 26496501
Other Related Products