2018 Ask A Question-Get Detailed Guidance – 50% Discount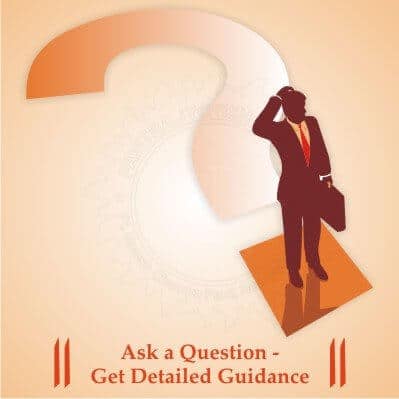 Instead of beating around the bush, here Pavitra Jyotish gives you a window to post a question which concerns you most. The question can be about your career, business, finance, health, education to name a few. Here we let you know in detail about all aspects of effects of transitory planets which is the cause of your anxiety. Then we let you know about exact time period wherein your concerns worries are to be over answered in detail. Along with this useful easily, the applicable remedy is also mentioned. This helps you ward off negativity and work in a positive way to come out of trouble and have peace and prosperity in your life.
Chief Astrologer Pt. Umesh Ji has spent a lot of time to have in-depth knowledge of Vedic Astrology and its practical applications in human life. He has some tested simple workable remedy to help your cause. Post your Question in this section of our website and Pt. Umesh Ji replies you in detail.
Info
Delivery: 7 Days
Manually Analysed and Hand-written by Expert Astrologer
Customer Care
If you have any confusion or need further clarification
Call +91-11-26496501
Your Report Will Contain:
1. Astrological Details of your Horoscope Chart
2. Astrological Analysis of your Situation
3. Effect of Ascendant and its Lord
4. Effect of Moon Sign
5. Answer to your Question in Detail
6. Special observation
7. Summary 2018
8. Accurate remedial measures for your problems
9. Important tips to make situations easier for you

Benefits of this report:
1.You will be able to form your steps ahead once you know the possible areas of strength and work upon the areas of concern.
2.Having known the choice possible, you can avoid the weak areas and focus your attention on areas that are benefic. in your life so that you can enjoy a blissful marital life.
3.Despite the apparent confusions, you will be able to understand your love and take a decision wisely.
4.Your fear, apprehension, worries and stress will be reduced

Testimonials:
I was very skeptic of what my horoscope chart would unfold to me before I consulted to Umesh Ji. To my surprise, he maintained quite a composed manner and attentively listened to my problem till it lasted. Later, he counselled me certain solutions based on my question and his study of my horoscope. I was very impressed with the level of professionalism he maintains in his astrology. Thanks a lot for helping me understand how to plan for upcoming future.
Sachin Tripathi, Gujarat
Astrologer Umesh is a genuine person who has the complete knowledge of jyotish in entire Delhi. Peeyush, Ajmer Astrologer Umesh is like a family now to me. i have consulted them often, and the results have been very good and their analysis straightforward. When I confused about my career and it turning into a boring story, I consult Astrologer Pant and now very happy. I will advise them in each new work. thanks to Astrologer Umesh.
Malti Mehra, Gurgaon NCR