2024 Ask A Question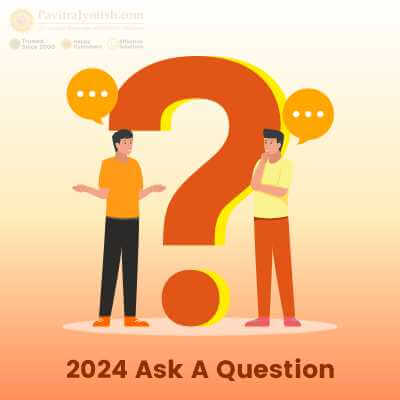 Decode Your Life's Success With 2024 Ask A Question By Astrologers
2024 Ask A Question offers you an intelligent answer to your life's most cryptic puzzle, enabling you to understand what needs to be done in your life to be successful. Presented by our team of experienced and efficient astrologers, you can make use of the insight you get from 2024 Ask A Question. In fact, it is one of the trusted ways you can choose to find the most meaningful answer to your life's problems. For example, if there is something puzzling in your marital life that want to resolve, the 2024 Ask A Question will help you find the answer to it in a meaningful way. Moreover, it also comes useful for you to save time in questing for the right answer to your life's problems. With the prompt assistance of our astrologers, we make your quest for the right astrological answer through 2024 Ask A Question meaningful, and insightful.
Important Information About 2024 Ask 1 Question
Service Name: 2024 Ask 1 Question, Service Type: Astrological Guidance and Solution, Language: English, Service Mode: Online (By e-mail only), Delivery: 5 Days, Features: Guaranteed solutions, Reliable services, Extensive results, and best standard format of PavitraJyotish (YOUR REPORT WILL CONTAIN – Please Read it below), Benefits: It helps you set short and long term goals with the solution of your personal problems positively.
Why 2024 Ask 1 Question Report?
2024 Ask A Question offers you an intelligent astrological guidance intended to help you find the most suitable answer to your life's lingering issue. Choose your question and our expert astrologer will answer it, thereby enabling you to find true guidance for your quandary. The answer given by our astrologer will help you deal with your life's issue positively in the year 2024.
How Does It Work?
1. Share your birth details and ask about your 1 question/1 problem.
2. Make the payment.
3. We will send an email for re-confirmation of your birth details through your registered email id.
4. After confirmation, within the next 5 working days, we will provide a detailed report as per our standard format and reply to your specific questions (Your Report Will Contain – Please Read it below).
5. You will receive your personalized report at your registered email id.
6. Read your report, and feel free to contact us via e-mail if you feel like having any doubts. We will respond to you shortly by reverting your e-mail.
Info
Delivery : 5 Days
Get your manually analysed and Hand-Written report by expert Astrologer.
What 2024 Ask 1 Question Report Will Contain ?
1. Astrological Details of your Horoscope chart (i.e. Complete basic information, Ascendant, Rashi, Nakshatra, Placement of Planets, Dasha & Antardasha).
2. Response to Your question.
3. Major issue in your horoscope, if any.
4. Lucky measures to benefit to you (Lucky number, days, metal, time, direction and gemstone).
5. Mantra and Puja Remedies.
6. Lucky Yantra and Rudraksha.
7. Important tips to make situations easier for you.

Benefits Of 2024 Ask 1 Question:
1. Complete information about your horoscope chart containing all key astrological details.
2. Best answer that will help you work upon your situations in a positive way.
3. Based on horoscope, lucky measures will be suggested to help you harness positive results from your surroundings for success.
4. Remedial measures for a variety of problems on the front of career, business or personal relationship to help you manage them effectively.
5. You can take smarter, calculated decisions, with a clear view of the upcoming situation.

Hear From Our Customers
Saying anything about Pt. Umesh Ji is like showing a light to the sun. All I want to say is that he is profoundly educated and learned in Vedic astrology. His counseling helped me stand on my feet and I was able to build a life of my own filled with peace and harmonious living. Pandit Ji is a professional in the true sense and best astrologer in Delhi, India.
Ranjeet Kumar, Delhi
I was very skeptic of what my horoscope chart would unfold to me before I consulted to Umesh Ji. To my surprise, he maintained quite a composed manner and attentively listened to my problem till it lasted. Later, he counselled me certain solutions based on my question and his study of my horoscope. I was very impressed with the level of professionalism he maintains in his astrology. Thanks a lot for helping me understand how to plan for upcoming future.
Sachin Tripathi, Ahmedabad, Gujarat