Akshaya Tritiya Puja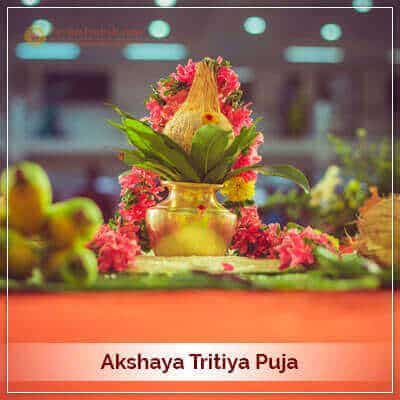 The significance of Akshaya Tritiya (Akha Teej)
Akshaya Tritiya puja 2020 is the most auspicious ceremonial event. Akshaya Tritiya or Lakshmi Kuber Puja gives you the benefit of everlasting wealth, job stability and peaceful relationship with your partner if done perfectly.  Puja vidhi of Akshaya Tritiya is observed carefully by our team of efficient professionals, thus giving you the utmost benefit of the puja in terms of profitable growth in your business or financial flow in your personal life.
Pavitra Jyotish Kendra will be organizing a special Lakshmi Puja on the occasion of Akshaya  Tritiya for all the devotees. A special Lakshmi Puja will be performed by following authentic procedures in a comprehensive manner. Vedic priests will conduct the chanting of Sri Suktam, Lakshmi Suktam, Kanakadhara Stotram along with the chanting of sacred Vedic hymns. Lord Vishnu and Lord Kubera will also be a part of this puja and a separate puja will be performed for them during this puja.
Benefits of Lakshmi-Kuber Poojan on Akshaya Tritiya 26th April 2020
Akha Teej is the most auspicious time to begin any new or auspicious endeavor.

Puja and good deeds are done today give manifold results.

Devotees are blessed by the Goddess with stable everlasting wealth.

Domestic happiness, the monetary position becomes stable.

One is blessed with progeny and parental bliss.

Kubera and Lakshmi's blessings bring additional sources of income.

The positive energy of this special occasion can be utilized for affluence and good luck.
Akshaya Tritiya, a golden day for wealth aspirants
The festival of Akshaya Tritiya will be held 26th April 2020. We are organizing a special Lakshmi Puja in a grand manner at our premises for the devotees. A group of Vedic Pundits will carry out the pujas as per the scriptures. A special Sankalpa will be taken based on your Name, Nakshatra, and birth details before the pujas. This will ensure your success and a higher degree of fortunes in all the areas of life, especially wealth and family. After the puja is completed, we will send you sacred Kumkum and Prasada to your address. Additionally, you will also receive a Siddh Sri Yantra and Siddh Sri Yantra Locket specially empowered with powerful mantras by a patented procedure for your overall prosperity and financial abundance.
Akshaya Tritiya Puja Muhurat = 05:50 to 12:20
Duration = 6 Hour 30 Mins
Free Gifts with Akshyay Tritiya Puja
1-Special Gift as per your problem (Specially Financial)
2- Siddh Kanak Dhara Kavach (Silver)
Info
Delivery: 7 days According to Muhurta.
The scholars and pundits of Pavitra Jyotish have performed your puja, for amazing and miraculous relief from suffering and alleviate your problems.
Customer Care
If you have any query or need further clarification
Call +91-95821 92381 and 011-49901368