Annual Birthday Report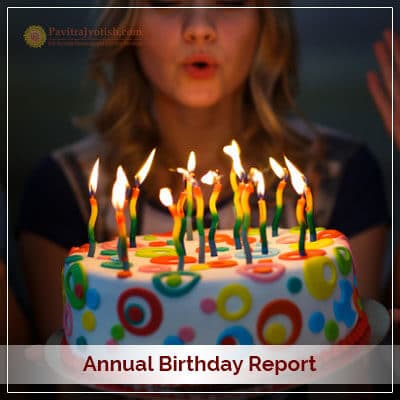 Get Yearly Remedies Based On Birthday Report
The Annual Birthday Report contains all the necessary details concerning the status of your career, job, personal life, education and financial conditions for the next one year from your birthday. This Horoscope Predictions is based on the Varshafal Kundali, based on your birth chart and Varshfal chart, the suitable remedies are provided to rule out any problem coming in your way within one year.
Important Information About Annual Birthday Report
Service Name: Annual Birthday Report, Service Type: Astrological Guidance and Solution, Language: English, Service Mode: Online (By e-mail only), Delivery: 5 Days, Features: Guaranteed solutions, Reliable services, Extensive results and best standard format of PavitraJyotish (YOUR REPORT WILL CONTAIN – Read it below), Benefits: It helps you setting short and long term goals with solution of your personal problems positively.
Why Annual Birthday Report?
Annual Birthday Report is good for those looking for the next one year outcomes from the day of their birthday, with the help of this report, you will be guided for every individual month's favourable or unfavourable outcomes from the day of your birthday along with the suitable remedial measures.
How Does It Work?
1. Share your birth details and ask your queries/problems.
2. Make the payment.
3. We will send an email for reconfirmation of your birth details through your registered email id.
4. After confirmation, within next 5 working days, we will provide detailed report as per our standard format and reply to your specific questions (Your Report Will Contain – Read it below).
5. You will receive your personalized report at your registered email id.
6. Read your report, and feel free to contact us via e-mail if you feel like having any doubt. We will respond you shortly by reverting your e-mail.
Our affordable, result-oriented and efficient Online Puja, Name Correction Report, Numerology Report, Mangal Dosh solutions can help you wade through problems, win over difficulties, and achieve the success you are always fated to.
Info
Delivery : 5 Days
Get your manually analysed and Hand-Written report by expert Astrologer.
What Annual Birthday Report Will Contain?
1. Astrological Details of your Horoscope chart (i.e. Complete basic information, Ascendant, Rashi, Nakshatra, Placement of Planets, Dasha & Antardasha).
2. Response to your question.
3. Varshphal Dasha related analysis pertaining to.
a. Career.
b. Finances.
c. Health.
d. Personal life.
4. Lucky measures to benefit to you (Lucky number, days, metal, time, direction & gemstone).
5. Mantra and Puja Remedies.
6. Lucky Yantra and Rudraksha.
7. Important tips to make situations easier for you.

Benefits Of Annual Birthday Report
1. You will be able to plan your short and long term goals on various dimensions of your life.
2. It will be easy for you to direct your attention to the plausible areas instead of wasting in meaningless pursuit.
3. You will be able to add value to your own life.
4. Stress and frustrations will be significantly reduced with your positive outlook.
5. Your fear, apprehension and anxiety will be reduced.

Hear From Our Customers
Astrologer Umesh is a genuine person who has the complete knowledge of jyotish in entire Delhi.
Peeyush, Ajmer
In my annual birthday report prepared by astrologer Umesh Ji, I got the practical ideas which were easy to apply. Horoscope reading by far was the most important thing in my life, and I must express gratitude to Pandit Ji for having helped me with helpful glimpse into the outcomes of my life. His acute analysis of my life's movements caused by planet in my Kundli and many other factors studied in this regard by him was wonderful to see. I feel glad to have subscribed to his annual birthday report service.
Mahesh Kumar Jogu, Telangana