Annual Birthday Report (10% Off)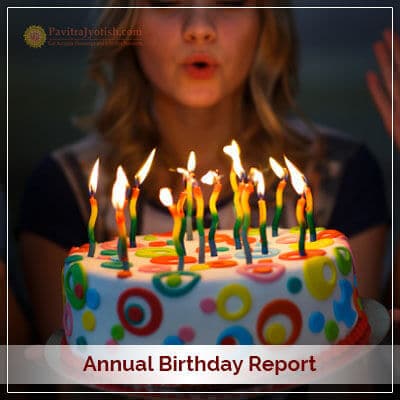 Every birthday marks the inception of a new thing in your life. In astrological context, this is the day your natal chart shows in its position the appearance of Sun while the remaining planets orient in different forms. The annual birthday report contains all the necessary details concerning the status of your career, job, personal life, and financial conditions.
At PavitraJyotish, our Renowned Astrologer, Pt. Umesh Pant, prepares your annual birthday report, a comprehensive guide by its nature of including substantial inputs to alert you of negative areas and reconstructing them into your personal favor. We have several years of experience in the occult science of astrology, thus being totally authentic to offer the Reliable Astrological Remedy. The Annual Birthday Report will include the astrological status of your Kundali, your Moon sign, and other details.
Info
Delivery : 5 Days
Get your manually analysed and Hand-Written report by expert Astrologer.
Customer Care
If you have any confusion or need further clarification please contact our customer care.
Call +91-95821 92381 and 011-49901368
Your Report Will Contain:
1. Astrological Details of your Horoscope chart
2. Astrological analysis of your situation
3. Response to your question
4. How to make use of this report
5. Lucky measures to benefit to you (Lucky number, days, metal, time, direction and gemstone)
6. Your Ascendant and Ascendant Lord
7. Your Moon Sign
8. Dasha related analysis pertaining to
a. Career
b. Finances
c. Health
d. Personal life
9. Mantra and Puja Remedies
10. Accurate remedial measures for your problems (Lucky Yantra and Rudraksha)
11. Important tips to make situations easier for you

Benefits of this report:
1. You will be able to plan your short and long term goals on various dimensions of your life.
2. It will be easy for you to direct your attention to the plausible areas instead of wasting in meaningless pursuit.
3. You will be able to add value to your own life
4. Stress and frustrations will be significantly reduced with your positive outlook.
5. Your fear, apprehension and anxiety will be reduced

Testimonials:
Astrologer Umesh is a genuine person who has the complete knowledge of jyotish in entire Delhi.
Peeyush, Ajmer
In my annual birthday report prepared by astrologer Umesh Ji, I got the practical ideas which were easy to apply. Horoscope reading by far was the most important thing in my life, and I must express gratitude to Pandit Ji for having helped me with helpful glimpse into the outcomes of my life. His acute analysis of my life's movements caused by planet in my Kundli and many other factors studied in this regard by him was wonderful to see. I feel glad to have subscribed to his annual birthday report service.
Mahesh Kumar Jogu, Telangana