About Arun Jaitley Horoscope
Published On : April 20, 2019
|
Author : Astrologer Pt Umesh Chandra Pant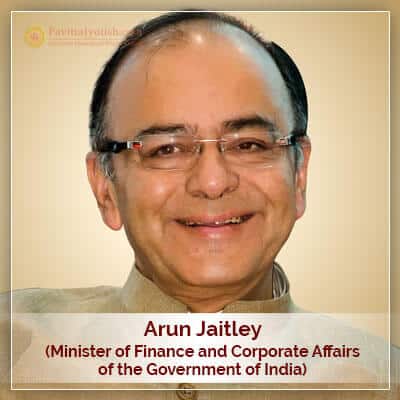 Late Finance Minister Arun Jaitley As Viewed Astrologically
Introduction of Arun Jaitley – Minister of Finance and Corporate Affairs of the Government of India
Arun Jaitley, politician, advocate, and current Minister of Finance and Corporate Affairs of the Indian government, was born on December 28, 1952. He has a political association with the Bharatiya Janata Party (BJP). Academic qualification of Jaitley includes Graduation with an honors degree in Commerce which he obtained from New Delhi's Shri Ram College of Commerce and obtained his law degree from the Faculty Of Law, the University Of Delhi in the year 1977. He is one of the most dignified statesmen in BJP who also previously served under Vajpayee government as the minister of Finance, Defence, Corporate Affairs, Law & Justice, and Commerce & Industry thus explaining the profundity of his political portfolio and endorsing his status as an erudite and veteran leader. Jaitley was once condemned to preventive detention (imprisonment) for 19 months during the era of 1975-1977 when the state of emergency was enforced by the then Indian Prime Minister, Indira Gandhi. When he was released from imprisonment, he joined Jan Sangh.
Jaitley also served as a senior advocate by the Delhi High Court in 1990 and was also a part of the delegation representing the Government of India to the United Nations General Assembly Session in 1998. Moreover, Jaitley handled legal representation for the Coca-Cola Company in Rajasthan High Court when the drink manufacturer was accused of environmental vandalism in litigation. Jaitley called it a day to practice law since 2009. Under his tenure as the Finance Minister of India, the country witnessed enforcement of demonetization on November 9, 2016, by PM Narendra Modi declaring bank currency worth Rs 500 and Rs 1000 to be out of the legal tender, a drive intended to eradicate corruption, black money, fake currency and terrorism in the country. Jaitley is married to Sangeeta. The couple has a son named Rohan, and a daughter named Sonali. Recently, in 2018, Jaitley had to undergo kidney transplantation due to medical complications in his renal part. He has also been diagnosed with a medical condition known as a soft-tissue sarcoma for which he will be treated in New York.
Team PavitraJyotish is analyzing the life aspect of Arun Jaitley through the prism of Astrology. Therefore, we are conducting an astrological study on his life with a horoscope chart representing the details in the following order.
Birth Details of Arun Jaitley are as per given below:
Date of Birth: December 28, 1952, Birth Day: Sunday, Birth Time: 12:00:00, Birth Place: New Delhi, Delhi, India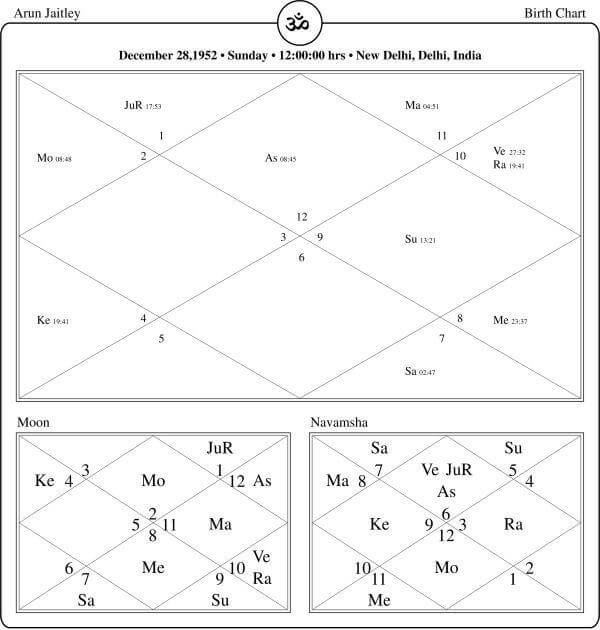 Astrological Highlights
Since his exact Birth time is not available we take his 'Surya Kundli' for consideration.
Arun Jaitley has Sun in a dual natured last of fire sign overly ambitious Sagittarius. This makes him to have an aggressive approach and strong motivation to achieve his objective. Ruler of his Sun sign benevolent Jupiter is retrograde in a fire sign Aries. Jupiter is in the fifth house from his Sun sign. Jupiter has an eye over the Sun. This positive influence of Jupiter makes him a successful lawyer and now Finance Minister in NDA government. Ruler of Aries Mars is in a fix nature last of air sign Aquarius. Mars is positioned in the third house from your Sun sign. Mars here induces him to take due risk to push ahead his prospects in general. Hard task master Saturn is in its sign of exaltation air sign Libra. Saturn is in the eleventh house from Sun. Saturn is in direct opposition to Jupiter positioned in fire sign Aries. This opposition of two major planets works well for Arun Jaitley to climb up the ladder and confirm his position as a finance minister in central government. Moon is exalted in earth sign Taurus and positioned in the sixth house in 'Surya Kundali'. Venus rules earth sign Taurus and air sign Libra. Venus is in last of earth sign Capricorn along with shadow planet Rahu. Both are stationed in the second house in 'Surya Kundali'. Arun Jaitley handles finances much efficiently. Mercury is in a fix nature water sign Scorpio and is stationed in the 12th house from Sun. malefic Ketu is in a water sign Cancer and positioned in the eighth house in 'Surya Kundali'.

Effect of transit by Major planets on prospects of Arun Jaitley in current Parliamentary Election
Hard task master Saturn currently transits in a dual nature last of fire sign Sagittarius. Saturn transiting in Sagittarius crosses over radical position of mighty Sun. This indicates that Arun Jaitley is to remain under pressure for one reason or other. In turn this can tell on his health. He needs to remain much careful about his health. A good general health helps to keep working hard. He needs to exert more to succeed to win in current parliamentary elections. This movement of wily Saturn leads to a challenging time for Arun Jaitley. He needs to accept new challenges willingly and work hard over the same to achieve his objective to win current general elections.
Malefic Ketu entered last of fire sign Sagittarius from 7th March. Ketu moves through Sagittarius along with Saturn. This movement of two malefic through your Sun sign does not sound a happy proposition for Arun Jaitley. He is experience new challenges. Some constraint is hold him from making due progress on political front.
Shadow planet Rahu entered a dual nature air sign Gemini from 7th March. Rahu moves in opposition to your Sun sign. Arun Jaitley is to get support from strange less known quarters. This support is to enliven spirits. His chances about registering a win in current general election are to improve. However, he needs to keep working hard to win in current general elections.
Jupiter entered own sign Sagittarius from 30th March. Soon from 11th April Jupiter became retrograde in movement. From 23rd April Jupiter moving in retrograde mode enters water sign Scorpio. Jupiter. moves through the 12th house from his Sun sign. Jupiter transits in opposition to radical position of exalted Moon stationed in the sixth house. This influence of Jupiter over radical position of exalted Moon seems supportive for progressive forces to work effectively. In turn this movement of Jupiter seems supportive for Arun Jaitley to win in current parliamentary elections.
The results for current parliamentary elections are to start pouring in from 23rd May. Planetary positions seem supportive for Arun Jaitley to win in current parliamentary elections with reasonable margins.
Get your Life Reading Report and solve your life problems.
Also Read: About Mohammad Azharuddin Horoscope and About Arvind Kejriwal Horoscope