About Dr. Subramanian Swamy Horoscope
Published On : May 29, 2018
|
Author : Astrologer Pt Umesh Chandra Pant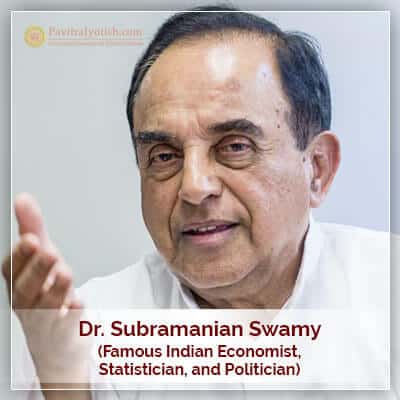 Dr Subramanian Swamy As Narrated In This Astrological Analysis
Dr. Subramanian Swamy – Famous Indian Economist, Statistician, and Politician
Dr. Subramanian Swamy, Famous Indian Economist, Statistician is a Famous Politician in India, in addition to being a noted economist and a person having knowledge in theoretical or applied statistics. He was born at Mylapore in the city of Chennai, in Tamil Nadu. He had political affiliation with Janata Party and was the president of it until the party was transitioned through the merger with BJP (Bharatiya Janata Party). Also an MP/Member of Parliament in the upper house of Indian parliament, Subramanian Swamy was associated with Planning Commission of India, and during the governance of as Prime Minister of India; he served as a cabinet minister. He was also assigned the task of preparing a report concerning UNCTAD or the United Nations Conference on Trade and Development on Economic Co-operation between Developing countries (ECDC) for which he was called to Geneva, Switzerland.
One of his notable contributions is the new export strategy he devised which resulted in notable reformation in trade procedures, which, at a later stage, were brought to significant use. Regarding his academic accomplishment, he did his PhD in economics from Harvard. He is also the man behind jail terms for late chief minister of Jayalalithaa under criminal charge filed by him in the year 1996. He is also said to have unearthed the scandal of the 2G spectrum case. He also called upon an independent committee to ensure that EVM/electronic voting machines are free from threats like tempering or rigging in light of the fact, as argued by him, that countries like Japan etc. rely on paper-ballot system for a fair voting. But Delhi High Court rejected his PIL concerning investigation against EVM's working mechanism. Swamy was honored with Tamil Ratna in the year 2016. He has also authored several books and research papers.
At PavitraJyotish, we are conducting an astrological analysis on the life of Dr. Subramanian Swamy through the following horoscope chart.
Birth Details of Subramanian Swamy are as per given below:
Date of Birth: September 15, 1939, Birth Day: Friday, Birth Time: 04:30:00, Birth Place: Chennai, Tamil Nadu, India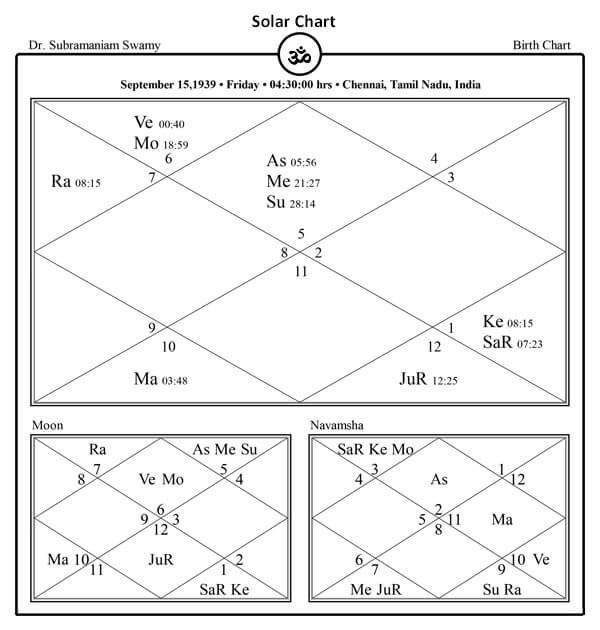 Astrological Highlights and Horoscope analysis
Astrological Analysis About Dr. Subramanian Swamy
Dr. Subramanian Swamy, famous Indian political economists is born in Leo Ascendant. Sun is in own sign Leo along with crafty Mercury and positioned in the first house. This makes him an intelligent person and much keen to manifest his authority and want his words taken for granted. Mars is measured as a most favorable planet for the Leo Ascendant. Mars is in its sign of exaltation earth sign Capricorn and stays put in the sixth house. Mars has an eye over the Ascendant and planets Sun and Mercury placed in therein. This position keeps him in a kind of combative mood and ready to challenge person's interigity and commitment level of the person he attacks. Ruler of the sixth and the seventh house will Saturn is debilitated in a first of fire sign Aries along with malefic shadow planet Ketu and positioned in the ninth house. This position does not seem a happy proposition for Dr. Subramanian Swamy, Famous Indian Political Economists. Saturn and Ketu posited in the ninth households him from scaling heights in Indian politics. This union of Saturn and Ketu and eyed by aggressive Mars can also lead to a health issue. He needs to be careful about health. Benevolent Jupiter besides being the ruler of the fifth house also holds a portfolio of the eighth house as well. Jupiter is in own sign last of water sign Pisces, moves in retrograde mode and placed in the eighth house. This also does not seem to be a happy proposition for him. The sudden financial loss is indicated for Dr. Swamy. This position also holds him from becoming the father of a child. Venus is debilitated in Virgo and is in the company of Moon in the second house. They are in opposition to Jupiter camping in the eighth house. These positions seem to indicate about not enjoying a happy family life by Dr. Swamy.  Malefic shadow planet Rahu is in air sign Libra and posited in the third house. For the prompt answer to your worries have an Astrological Phone Consultation with our expert Astrologer.

Effects of transiting planets in near future
Dr. Subramanian Swamy Birth Chart Analysis
For the whole of 2018 and 2019, wily Saturn traverses through a dual-natured last of fire sign Sagittarius. Saturn then moves through the fifth house in his chart. During this movement, Saturn eyes, the second house along with Venus and Moon placed therein. This does not sound to be a happy proposition for Dr. Subramanian Swamy. He is likely to be in haste to corner some well-known person of Indian National Congress party or someone else. This could backfire and he may not be able to achieve his objective to bring the truth as perceived by him. He is currently under influence of Saturn sub period in a major period of Mercury till December 15th, 2019. Some major health issue can also trouble him here.
Overall Saturn Transit is to prove a kind of challenging time for Dr. Subramanian Swamy. He needs to trade cautiously and not go overboard.
From May 2018 to around the beginning of November 2018, Mars repeats its radical position in Capricorn. Now Mars moves through the sixth house and aspect radical position of debilitated Saturn and Ketu posited in the ninth house. Mars also eyes the first house along with Sun and Mercury positioned therein. This aspect of Mars does not sound well for him on the health front. Dr. Swamy can get injured unexpectedly during this transit of exalted Mars. He needs to take due care in this regard. Some unexpected health issue may catch up with you. He needs to keep his cool and not go overboard in being critical for good.
From around beginning of August 2018 till the end of the year 2018 dear Venus moves through its own sign air sign Libra. Now Venus traverses through the third house in his birth chart. Venus now moves in opposition to the radical position of Saturn and Ketu posited in the ninth house in the birth chart. This position can lead to some controversy on the social and political front as well. He needs to trade much cautiously on both these front.
Benevolent Jupiter traverses in air sign Libra through the third house till around mid of October 2018. Jupiter then moves into a fix natured water sign Scorpio through the fourth house in his chart. Around April 2019 Jupiter makes move in its own sign dual natured last of fire sign Sagittarius. Here Jupiter remains for a short period of around a month and turns retrograde. During retrogression, Jupiter reenters water sign Scorpio. From around October 2019, Jupiter again enters fire sign Sagittarius and remains therein beyond the end of the year 2019.
During transit in an air sign, Libra Jupiter moves in direct opposition to the radical position of debilitated Saturn and Ketu posited in the ninth house. Influence of Jupiter is to mellow down Dr. Swamy to some extent and develop a kind of pragmatic approach on the social and political front as well. His reputation as an astute politician stands to enhance. He may be offered a better position to showcase his ability and talent to handle a tricky situation.
Transit of Jupiter through a water sign Scorpio can work well for him on the political front. This movement of Jupiter is to facilitate the opportunity to enhance his reputation as a mature and wise politician. Progressive forces are to work well for Dr. Swamy now. He may be able to do something positive for the general good. He is to sound more accommodative here.
In order to summarize and viewing all these movements of major planets years 2018 -19 seems positively challenging and eventful for Dr. Subramanian Swamy.
Don't forget to read: About P Chidambaram Horoscope and About Kamal Haasan Horoscope