About Jayshree Ullal Horoscope
Published On : June 26, 2019
|
Author : Astrologer Pt Umesh Chandra Pant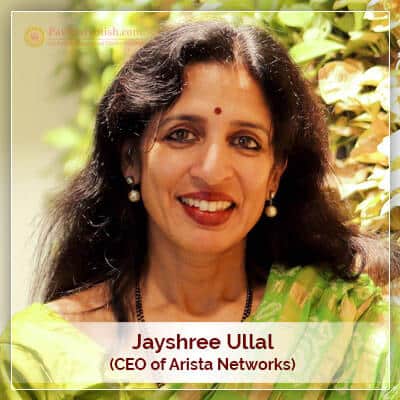 Deep Astrological Analysis On The Life Of Jayshree Ullal
Introduction Jayshree Ullal – CEO of Arista Networks
Jayshree Ullal, CEO of Arista Networks is a self-made American billionaire businesswoman , a computer networking company headquartered in Santa Clara in California. The solution provided by the company is software-defined networking which serves cloud computing, data center, and high-performance computing. Her birthplace is London but she was brought up in New Delhi during her schooling days. She did her graduation B.S. in engineering (electrical) at the San Francisco State University and obtained her master's degree in engineering management from Santa Clara University. In the initial phase of her career, she worked in Austin-based American multinational semiconductor company called Advanced Micro Devices, Inc. (AMD), and San Jose based American Semiconductor Company called Fairchild Semiconductor International, Inc. where she handled engineering and strategy positions. Subsequently, she held the position as a director for Ungermann-Bass, a computer networking company, for the tenure of the 1980s to the 1990s. She was the director of internetworking products in the company. Later, her employment with Crescendo as a vice president of marketing involved in the first CDDI products and first-generation Ethernet switching.
Jayshree joined Cisco Systems after it acquired Crescendo Communication. The responsibility of Jayshree while working on the Cisco Catalyst switching business brought forth a profitable growth of a $5 billion business in 2000. As a vice president and general manager of LAN switching in the Enterprise group, she handled various job responsibilities, including content networking and policy networking, apart from overseeing close to 20 merges and acquisitions for Cisco in the enterprise sector. Later, she was elevated to Senior Vice President of Data Center & Switching in Cisco. She worked for the company over the tenure of 15 years consisting of stellar performance delivery. In 2008, Jayshree was appointed as CEO & President of Arista Networks by its co-founders, Andy Bechtolsheim & David Cheriton.
Forbes magazine named Jayshree as "one of the top five most influential people in the networking industry today" in recognition of her exceptional contributions to Arista Networks. Jayshree is the recipient of various awards and accolades, including 2013 Santa Clara University School of Engineering Distinguished Engineering Alumni Award, EY US Entrepreneur Of The Year Award Winner 2015, One of the 50 Most Powerful People in 2005, and A Women of Influence award for Security CSOs in 2008. Get your Business Report 1 Year.
We at PavitraJyotish are conducting an astrological analysis on the life of Jayshree Ullal, one of the most dignified women in the world who made her self-created inroads to business stardom.
Birth Details of Jayshree Ullal are as per given below:
Date of Birth: March 27, 1961, Birth Day: Monday, Birth Time: 07:00:00, Birth Place: London, England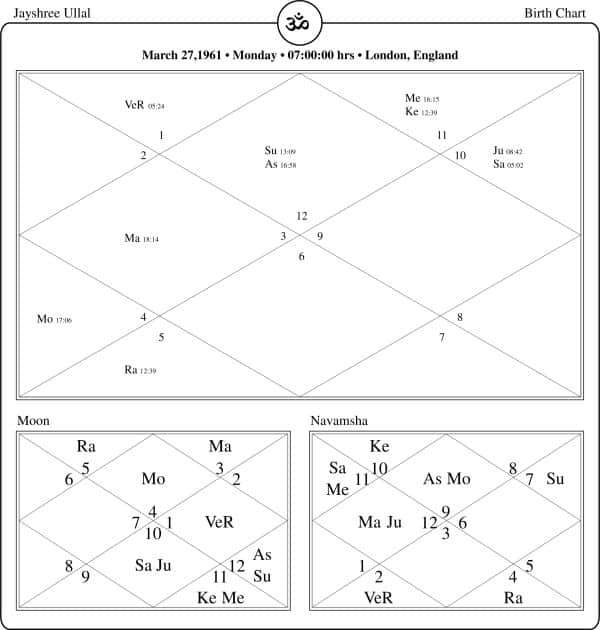 Astrological Highlights
Jayshree Ullal, CEO Of Arista Networks is born with Sun in last of water sign Pisces.
Poetic Pisces Zodiac Sign, the last in line of the Zodiac Signs, is as mystical and intuitive as they come. Pisces can be described as sensitive, spiritual, scrupulous, stubborn and often sympathetic yet shrewd. The creative and inventive spirit may also be expressed via their behavior in relationships. Pisces native prefer to be at familiar places and trustworthy company. They have their own set-patterns of living and choose to be surrounded by genuine people whom they trust.
Sun sign of Jayshree Ullal, CEO of Arista Networks is Pisces. Mercury is ruler of the fourth and the seventh house. Mercury is in last of air sign Aquarius along with malefic Ketu. Both are positioned in the 12th house. Saturn rules the 12th house and also holds portfolio of the eleventh house. Saturn is in own sign Capricorn along with debilitated Jupiter. Both are stationed in the eleventh house, linked with gain and fulfillment of wish. This position of two major planets gives a push to her prospects to become a billionaire business woman. Venus is retrograde in a fire sign Aries and positioned in the second house, linked with finance mainly. This position of Venus is indicative about Jayshree Ullal becoming much rich and wealthy. Mars rules the second house and also holds portfolio of the ninth house, linked with luck in general. Mars is in a dual nature air sign Gemini and stationed in the fourth house. Moon is in own sign cancer and positioned in the fifth house. Moon is in opposition to Saturn and debilitated Jupiter. This position leads her to formulate strategy to keep moving on road to progress. Shadow planet Rahu is in a fire sign Leo and stationed in the sixth house.

Effect of Transit by Major planets on prospects of in near future
Hard task master Saturn transits in last of fire sign Sagittarius for whole of the year 2019. Saturn moves through the tenth house, in company of malefic Ketu. Both move in opposition to radical position of Mars stationed in the fourth house. Saturn moving through the tenth house also has an eye over the 12th house along with radical position of Mercury and malefic positioned therein. This movement and influence of Saturn leads to recognition of her progress and achieving commendable financial position. However, she keeps exerting more to climb up the ladder. This movement of two malefic presents new challenges for Jayshree Ullal, CEO of Arista Networks. She is to accept new challenges and exert more over the same to keep moving on road to progress. This movement of two malefic leads to eventful, much progressive and adds to her prosperity.
Shadow planet Rahu Transit in a dual nature air sign Gemini. Rahu moves through the fourth house. Rahu moving through the fourth house crosses over radical position of Mars stationed therein. This movement of Rahu prompts Jayshree Ullal to remain determined to work for achieving his objective to strike it big. This movement of Rahu leads to encouraging progress and adding to her prosperity.
Jupiter is the ruler of her Sun sign and also holds portfolio of the tenth house for her sign. Viewing this, movement of Jupiter carries more importance for Jayshree Ullal, CEO of Arista Networks. Jupiter transits in a fix nature water sign Scorpio. Jupiter moves through the ninth house linked with luck in general. Jupiter moving through the ninth house has a positive influence over the radical position of Sun. Jupiter moving through the ninth house has an eye over radical position of Moon stationed in the fifth house. This movement and positive influences of transiting Jupiter seems much prospective for Jayshree Ullal, CEO of Arista Networks. Her business activities are to expand exponentially.
From 5th November Jupiter enters own sign Sagittarius. Jupiter now moves through the tenth house, in company of Saturn and malefic Ketu. From around end of January 2020, Saturn enters own sign Capricorn. Major planets moving through their own respective signs, period ahead seems much eventful, encouragingly progressive and notable increase in prosperity. Is success getting away from you the more you try to draw it near? Best Astrologer In India has solution for you.
We feature About Catherine Zeta-Jones Horoscope, About Anil Dhirubhai Ambani Horoscope, About Elon Musk Horoscope, About Jeff Bezos Horoscope, About Sundar Pichai Horoscope and many more personalities of global repute astrologically. In other words, you find a great detail about these personalities in our celebrity webpage wherein we have published detailed astrological reviews about them.
Must Read:  About Azim Premji Horoscope and About Anshula Kant Horoscope