About Jessica Alba Horoscope
Published On : August 13, 2019
|
Author : Astrologer Pt Umesh Chandra Pant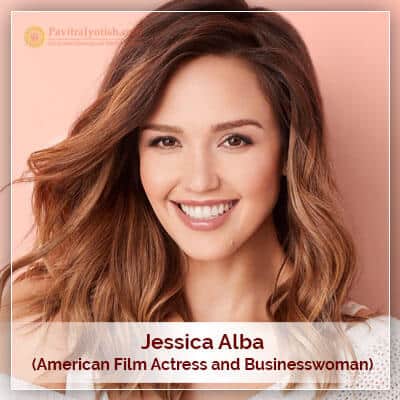 Jessica Alba And Her Life Aspect As Denoted Astrologically
Jessica Alba – American Film Actress and Businesswoman
Jessica Marie Alba is a American Film Actress, Businesswoman and entrepreneur in business world. Born in Pomona (California), she made her career in television and films at the age of 13 and got her first break in an adventure comedy film, Camp Nowhere and The Secret World of Alex Mack (TV series). However, she earned herself spotlight followed by her appearance in the television series, Dark Angel which proved to be a milestone in her entertainment career, as well as it made her distinctive because of Golden Globe nomination. Her cinematic appearance in the film, Honey, which was released in the year 2003, was also proved to be a career breakthrough for Jessica, as it established her as one of the most successful actresses in Hollywood who later gave a row of blockbuster hits, including movies such as Fantastic Four (2005) with Chris Evans, Fantastic Four: Rise of the Silver Surfer (2007), Good Luck Chuck (2007), The Eye (2008), Valentine's Day (2010), Little Fockers (2010), and Mechanic: Resurrection (2016). Apart from movies and television appearances, Jessica turned her interests into business world and co-founded Honest Company (consumer goods company) which is now one of the famous companies that made whooping sales of $250 million in 2016. Jessica has been lauded in praise for being the world's most beautiful woman, according to famed magazines like FHM, Vanity Fair and Men's Health. She married to Cash Warren in 2008. The couple has three children, two daughters and one son. She was accorded with notable recognitions, including Young Hollywood Awards in 2005, Spike TV Guys' Choice Awards in 2007, and Golden Raspberry Awards in 2011.
We at PavitraJyotish are conducting an astrological analysis on the life of globally celebrated icon, Jessica Alba, Businesswoman in the following horoscope chart and details reflecting the same.
What contains in 5 Years Predictions? This is one of the most effective Vedic Astrology Services helping you with remedial measures to make your life for the rest of five years free of trouble and worry.
Birth Details of Jessica Alba are as per given below:
Date of Birth: April 28, 1981, Birth Day: Tuesday, Birth Time: 13:51:00 hrs, Birth Place: Pomona, California, USA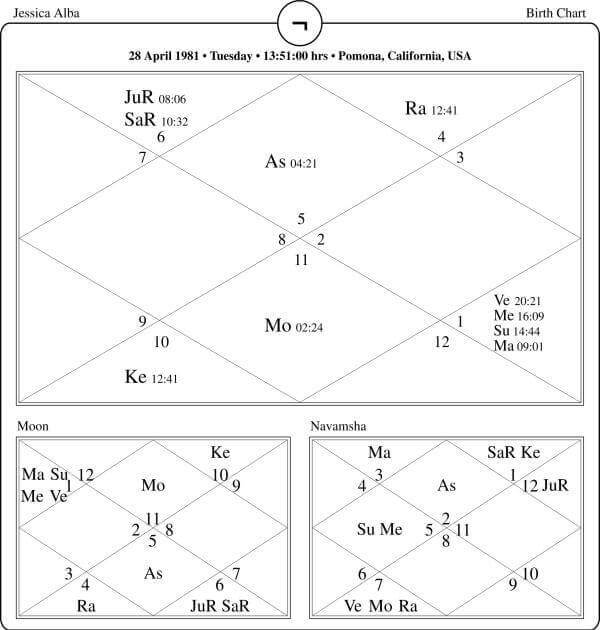 Astrological Highlights
Jessica Alba, American Actress and Businesswoman is born with Leo Ascendant. Leo is a fix nature Fire sign and ruled by mighty Sun.
The fifth sign of the Zodiac Leo is symbolized by the regal, royal Lion. In reality Lions are warm at heart, magnanimous people. They have ardent wish to rise up to the acme of achievement and are not afraid of challenges. Hence, they end up setting high standards for themselves. Gifted with a dazzling and fiery personality – thanks to their ruling planet Sun. Leo is a gregarious Sign. They are at their cheerful best, when in a group. It is difficult to stay depressed and gloomy for a long time in their company. The Lions are full of life and are around to brighten you up, just like the Sunshine does! They like to live in present, seize the moments of joy and give their best shot.
Ruler of the Ascendant Sun is in its sign of exaltation first of fire sign Aries. Mars rules Aries. Sun in Aries is accompanied by combust Mars, combust Venus and combust Mercury. All are positioned in the ninth house. This position enables Jessica Alba, Businesswoman to succeed and become very popular by her performance as an actress with ability to perform different kind of roles in Hollywood films. Moon is in a fixed nature last of air sign Aquarius and stationed in the seventh house. The seventh house is ruled by Saturn. Besides this Saturn also rules the sixth house. Saturn is retrograde in a dual nature earth sign Virgo along with retrograde Jupiter. Both are positioned in the second house. Shadow planet Rahu is in water sign Cancer and malefic Ketu is in last of earth sign Capricorn. Both are stationed on 12/6 house axis.
In Chalit alias divisional chart Venus shifts into the tenth house and supports best 'Raj Yoga'.
In Navmansha D9 chart Sun, Venus and Jupiter on being in their own sign and gather strength. Saturn is debilitated, hence becomes weak.

Effect of Transits by Major planets on Prospects of Jessica Alba in near future
Wily Saturn transits in a dual nature last of fire sign Sagittarius for whole of the year 2019 and beyond. Now Saturn is associated with malefic Ketu. Both move through the fifth house. Saturn moving through the fifth house eyes radical position of Moon positioned in the seventh house. This influence of Saturn can lead Jessica Alba to rethink about her confirm relationship. Saturn has aspect over the second house along with its own radical position and also that of Jupiter stationed therein. This influence of Saturn indicates about major change or having a major opportunity for Jessica Alba. She is able to give a big boost to her business. Jessica Alba, American Actress and Businesswoman is also likely to get good opportunity to exhibit her inherent ability and talent. Her performance draws more viewers and receive laud applaud from them. Change for good comes suddenly for Jessica Alba, Businesswoman here. Some old contacts are also to be revived by Jessica Alba, Businesswoman.
Shadow planet Rahu transits in a dual nature air sign Gemini. Rahu moves through the eleventh house. This movement of Rahu seems to indicate eventful and much progressive time for Jessica Alba, Businesswoman.
Jupiter transits in a fix nature water sign Scorpio till around beginning of November 2019. Jupiter moves through the fourth house. This period is to be much eventful for Jessica Alba, American Actress and Businesswoman. She is to get different role to perform. This gives her opportunity to push ahead her business activity and also perform as a talented actress. Jessica Alba, Businesswoman gets opportunity to recover lost ground earlier. At the same time Jessica Alba needs to handle her finance much carefully.
From 5th November 2019, Jupiter enters own sign Sagittarius. Jupiter moves through the fifth house along with Saturn and malefic Ketu. Jupiter moving through the fifth house sends positive vibes by influencing the ninth house along with radical position of exalted Sun, Combust Mars and Combust Venus. This positive influence leads much eventful, much progressive and prosperous time for Jessica Alba, American Actress and Businesswoman.
Saturn enters own sign Capricorn from around end of January 2020. Saturn moves through the sixth house. Saturn moving through the sixth house, crosses over radical position of malefic Ketu positioned therein. Jessica Alba, American Actress and Businesswoman needs to remain aware about ground reality. Some new challenges are to come up Jessica Alba on road to progress. She needs to accept new challenges willingly and work over the same to move ahead on road to progress. However, she needs to remain careful about health.
The movement of two major Transit Of Planets in their own sign surely indicates eventful, much progressive and adding to her prosperity in time ahead.
Read more Blogs: About Tom Cruise Horoscope and About Scarlett Johansson Horoscope