About Rajnath Singh Horoscope
Published On : April 18, 2019
|
Author : Astrologer Pt Umesh Chandra Pant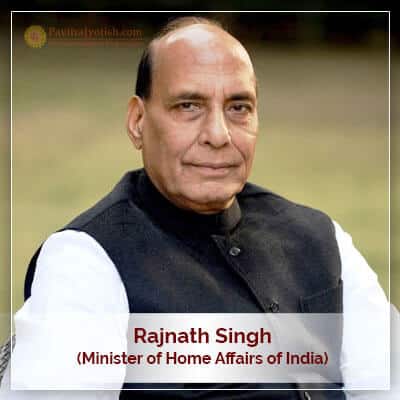 The Life Of Rajnath Singh As Reviewed In This Deep Astrological Analysis
Rajnath Singh – Minister of Home Affairs of India
Rajnath Singh is an Indian political icon currently serving as the Home Minister of India under the NDA government led by Prime Minister of Narendra Modi. He was born on February 12, 1950, in the small village of Bhabhaura in Chandauli district, Varanasi of Uttar Pradesh to the family of Ram Badan Singh and Gujarati Devi. He acquired his Master's degree in physics from Gorakhpur University. He joined the Rashtriya Swayamsevak Sangh in 1964, an association still in adherence since then, even during his employment as a physics lecturer in Mirzapur. At the age of 24, in 1975, Rajnath Singh, Minister of Home Affairs of India was elected as the president of the Jana Sangh, an Indian right-wing political party, and two years later in 1977, he was elected as a Member Of Legislative Assembly from the constituency of Mirzapur. When Bharatiya Janata Party formed a government in Uttar Pradesh in 1991, Rajnath was given the portfolio as the Education Minister, a tenure in which he brought to implementation the Anti-Copying Act, 1992, criminalizing copying a non-bailable offense. He became the elected member of Rajya Sabha in 1994 and served the Advisory Committee on Industry, House Committee, Business Advisory Committee, etc. Rajnath became the president of the BJP's unit in Uttar Pradesh in 1997, and just 2 years later in 1999, he was appointed as the Union Cabinet Minister for Surface Transport. He served as the Chief Minister of Uttar Pradesh in the year 2000 and was twice elected MLA from the electoral constituency of from Haidergarh in 2001 and 2002. To ensure that the benefit of reservation is reached to the people of the lowest class of society, he introduced the backward classes among the sections of OBC and SC. Rajnath became the National President of BJP in 2005 till 2006 but was reelected post-resignation of Nitin Gadkari under corruption charge, in 2013. Post the victory of BJP in general election of 2014, Rajnath was sworn in as the Union Minister of Home Affairs on May 26, 2014.
Team PavitraJyotish is analyzing the astrological aspects of Rajnath Singh in the following horoscope chart as developed by our team of expert astrologers.
Birth Details of Rajnath Singh are as per given below:
Date of Birth: February 12, 1950, Birth Day: Sunday, Birth Time: 01:36:56, Birth Place: Varanasi, Uttar Pradesh, India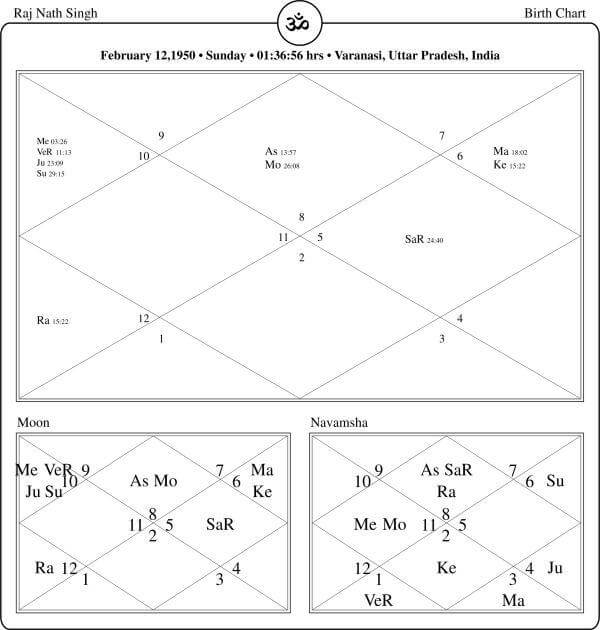 Astrological Highlights
Raj Nath Singh is born with Scorpio Ascendant. Scorpio is a fix nature water sign and is ruled by Mars.
It won't be an overstatement to say that Scorpios are different, difficult and dangerously interesting. An apt way to describe them would be to compare them to mythical bird Phoenix – the one who had the ability to rise from ashes. The fierce, often blinding, self –belief, the incomparable power to rise above adversity, the fierce reactions and mind boggling intensity – all that is Scorpio. These waters run deep –deeper and more intense than meets the eye! The extremely intriguing Scorpios are as mysterious as they come. Born with a typical 'water element' emotional and intuitive approach towards life and problem solving, sensitive Scorpios are known for their fierce loyalty and fiery responses to love, life and betrayal.
Ruler of the Ascendant Mars is in a dual nature earth sign Virgo along with malefic Ketu. Both are positioned in the eleventh house. This position leads to being born to a financially well to do family. Mercury Rules the eleventh and the eighth house. Mercury is in last of earth sign Capricorn along with mighty Sun, benevolent Jupiter and retrograde Venus. All are stationed in the third house. Jupiter gets debilitated in earth sign Capricorn. All have direct aspect over the ninth house linked with luck fortune in general. This influence of four planets leads to fluctuating fortunes for Raj Nath Singh. Moon holds the portfolio of the ninth house. Moon is in its sign of debilitation Scorpio and positioned in the first house. This induces him to be highly motivated to achieve his objective.   Shadow planet Rahu is in a dual nature last of water sign Pisces and stationed in the fifth house in opposition to Mars positioned in the eleventh house. Wily Saturn holds the portfolio of the third and the fourth house.  Saturn is retrograde in its enemy sign Leo and stationed in the tenth house.
In Navmansha D9 chart Jupiter is exalted and gathers strength.
Raj Nath Singh is currently under the influence of Sun sub period in major period of Rahu.

Effect of transit by Major planets on prospects of Raj Nath Singh in upcoming Parliamentary Election
Benevolent Jupiter entered own sign Sagittarius on 30th March. From 11th April Jupiter turned retrograde. From 23rd April Jupiter moving in retrograde mode enters a fix nature water sign Scorpio. The Ascendant and Moon are in Scorpio. This retrograde movement of Jupiter through the first house is to be much eventful and challenging as well. Raj Nath Singh needs to accept new challenges willingly and work hard over the same to achieve his objective to win in current parliamentary elections. He is to be under pressure for one reason or other. Raj Nath Singh needs to keep his cool and handle adverse situation much tactfully and with due delicacy. This movement of Jupiter through the first house seems supportive for progressive forces to work effectively for Raj Nath Singh. This lends support for him to achieve his objective to register a win in current parliamentary elections.
Hard task Master Saturn currently transits in a dual nature last of fire sign Sagittarius. Saturn moves through the second house. Saturn moving through the second house has aspect over radical position of Mars and malefic Ketu stationed in the eleventh house. This influence of wily Saturn leads to kind of stressful time for Raj Nath Singh. He needs to keep his cool and have a low profile to gather more support for him. This influence of Saturn leads to a challenging time for him. He needs to be more accommodative about views of well wishers who are his committed supporters.
Malefic Ketu entered last of fire sign Sagittarius from 7th March. Ketu moves through the second house in company of wily Saturn. This movement of two malefic through the second house does not spell a happy proposition for Raj Nath Singh. He needs to keep his cool and maintain his composure and remain unruffled by adversity. He has to gather all his resources to achieve his objective to win in current parliamentary elections.
On 23rd May when results of current parliamentary elections are announced planetary position indicates Raj Nath Singh is to register a win may be with reduced vote share.
Read more Blogs: About Dr Harsh Vardhan Horoscope and Narendra Damodardas Modi Horoscope