About Umesh Yadav Horoscope
Published On : June 26, 2019
|
Author : Astrologer Pt Umesh Chandra Pant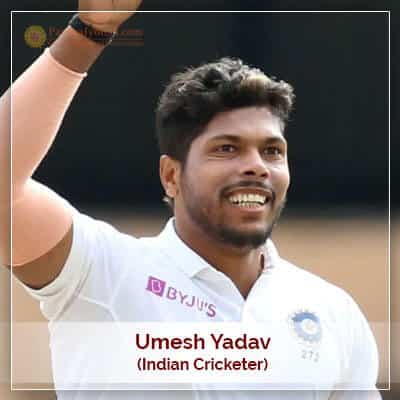 Astrology Revealing Stunning Details About Umesh Yadav
Introduction of Umesh Yadav – Indian Cricketer
Umesh Yadav, a right-arm fast-medium bowler, is a Famous Indian Cricketer who is presently associated with (as a player) the Vidarbha Cricket Team – India's home cricket team in the Ranji Trophy. He is the first player to have played Test Cricket from Vidarbha. He was born on 25 October 1987 in Nagpur in the state of Maharashtra, India. He did his schooling at the Government Higher Secondary School in Walani. His ODI debut was against Zimbabwe in May 2010 while Test debut he made against West Indies in November 2010. He plays for the franchise cricket team, Royal Challengers Bangalore in IPL (Indian Premier League) which bought him for 4.2 crore in the 2018 IPL auctions.
FORAY INTO DOMESTIC CRICKET
Prior to earning fame as a celebrated Indian cricketer, Yadav nourished the dream of joining the army and police force, which could not be materialized. He joined the VCA-affiliated club, Vidarbha Gymkhana. He practiced bowling and learning the nuances of the leather ball under the guidance of Pritam Gandhe (Vidharbha's Ranji trophy team captain), who later remarked that in spite of being wayward, Yadav had the potential to become a fearsome bowler for batsmen if he landed 3 out of 6 balls in line with the stumps. Yadav's Ranji debut in 2008 was against Madhya Pradesh, played in 4 matches in the season and scored 20 wickets at an average of 14.60. Later in 2008, he was bought by Delhi Daredevils, debuted in the Indian Premier League in 2010 and scored 6 wickets with the performance average of 30.66. He was selected for ICC Champions Trophy 2013 in which his performance earned India a victory. However, he was not the part of the Indian squad for ODI series (India vs. Australia, 2013). Later, in the first semi-final of 2018/19 Ranji Trophy against Kerala, he delivered remarkable performance of 7/48 (first innings) and 5/31 (second innings) and concluded the match with performance average of 12/79 figures.
INTERNATIONAL BREAKTHROUGHS
Yadav was part of the World Twenty 20 in May 2010 as a replacement of the injured cricketer, Praveen Kumar, but could not play for the tournament. However, he played a tri-nation ODI series in Zimbabwe, his ODI debut. He played for Delhi Daredevils in the 2011 Indian Premier League and scored just two wickets from seven matches. Yadav and Varun Aeron were selected during the West Indies tour in 2011. After a poor performance in the first innings of the Test series, he scored two wickets for 36 runs in the second innings, helping the host country (India) secure a 5-wicket victory. The second Test that India won had the contribution of Yadav's nine wickets with the captaincy MS Dhoni, and in the subsequent 5-match ODI series, he took six wickets at an average of 24.33 from 3 appearances.
Yadav was one of India's pace bowlers for the Australia tour in 2011-12 and in all four Tests there, his score was 14 wickets at an average of 39.35. However, India could not secure the victory in the series. In the subsequent triangular ODI series with Australia and Sri Lanka, Yadav contributed 5 wickets out of 6 matches averaging 59.80 figures. He was the fourth-highest wicket-taker out of 17 matches in the 2012 Indian Premier League. During the tour of West Indies cricket team 2018, at the Rajiv Gandhi International Stadium in Hyderabad, Yadav took his second 5-wicket haul in first innings of the Test cricket. For the second innings, he scored four wickets and maiden 10-wicket haul. In recognition of his performance, he was declared the Player of the Match in the Test.
Yadav can bowl at the top speed of 152.5 km/h. According to former Australian bowler Glenn McGrath, Yadav is impressive, bowls at good pace, has a great attitude, and he is a bowler who can take wickets.
We at PavitraJyotish are conducting an astrological analysis on the life of Indian cricketer Umesh Yadav in the following Horoscope chart and narrative thereof.
Birth Details of Umesh Yadav are as per given below:
Date of Birth: October 25, 1987, Birth Day: Sunday, Birth Time: 07:00:00, Birth Place: Chandrapur, Maharashtra, India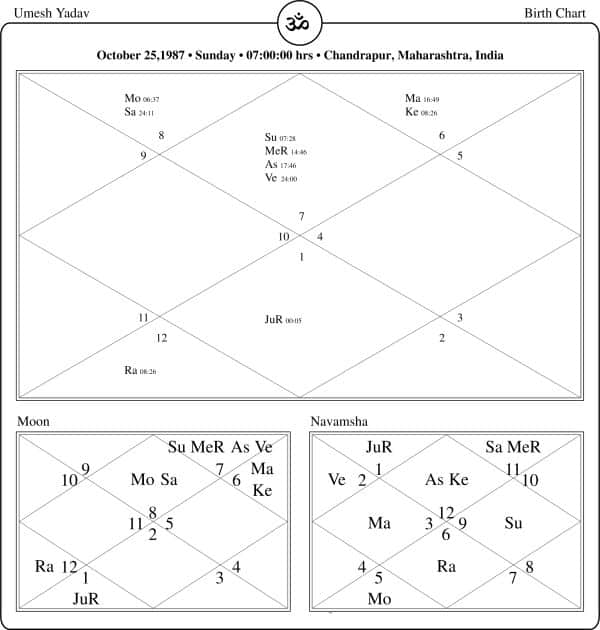 Astrological Highlights
Umesh Yadav, Indian Cricketer is born with Sun in its sign of debilitation air sign Libra. Retrograde Mercury and ruler of air sign Libra Venus Keeps Company of mighty Sun in air sign Libra.
Libra is the seventh and the only sign to have non-living symbol –Scales. Going by its symbol, it's easy to surmise that people born with Libra Sun Sign are excellent at maintaining equilibrium and balance. The well-known peacemaker of the Zodiac, is a diplomatic, refined and generally, harmonious Sign. Libra natives are diplomatic, mild, gentle and calm in their approach, and generally don't believe in throwing their weight around — a trait stems from Libra's element Air.
Debilitated Sun, is with retrograde Mercury and ruler of Libra Venus. This position leads to flexibility and readiness to adopt new technique for improving performance. Moon rules the tenth house for his Sun sign. Moon is in a fix nature water sign along with Saturn. Both are positioned in the second house. This prompts him to formulate strategy to succeed in given situation. Jupiter is retrograde in a fire sign Aries and stationed in the seventh house. Jupiter is in direct opposition to radical position of debilitated Sun, retrograde Mercury and Venus. This position gives him plenty of opportunities to prove his worth as a medium fast bowler to take timely wicket in a match. Mars rules the seventh house and also holds portfolio of the second house, linked with finance mainly. Mars is in a dual nature earth sign Virgo along with malefic Ketu and gets stationed in the 12th house for his sign. Shadow planet Rahu is in a dual nature last of water sign Pisces and positioned in the sixth house.

Effect of Transit by Major planets on prospects of Umesh Yadav in near future
Hard taskmaster Saturn transits in last of fire sign Sagittarius for whole of the year 2019 and beyond. Saturn moves through the third house along with malefic Ketu. Saturn moving through the third house has aspect over the 12th house along with radical position of Mars and malefic Ketu stationed therein. This movement and influence of Saturn can lead to new challenges for Umesh Yadav, Indian Cricketer. He may get injured and not able bowl in international match played by Indian cricket team for some time. However, at times when he is able to bowl Umesh Yadav has proved his worth as a medium fast bowler in Indian cricket team. This movement of two malefic through the third house seems progressive and prosperous for Umesh Yadav.
Shadow planet Rahu transits in a dual nature air sign Gemini. Rahu moves through the ninth house. Rahu moving through the ninth house seems to support progressive forces to work much effectively. Umesh Yadav, Indian Cricketer is to get opportunity to play against foreign cricket teams. Here he is able to prove his caliber as a medium fast bowler.
Jupiter currently transits in a fix nature water sign Scorpio. Jupiter moves through the second house. Jupiter moving through the second house crosses over radical position of Moon and Saturn. This movement of Jupiter is to support progressive forces to work much effectively. Besides, during this movement of Jupiter, Umesh Yadav is to learn few more tricks to become more effective as a medium fast bowler. This movement of Jupiter seems progressive and prosperous for Umesh Yadav.
From 5th November Jupiter enters its own sign Sagittarius. Jupiter moves through the third house in company of wily Saturn and malefic Ketu. This movement of two major planets through the third house leads to major change for good for Umesh Yadav, Indian Cricketer. The new change presents new challenges. Umesh Yadav needs to accept new challenges willingly and exert more over the same to establish himself as a resourceful medium fast bowler.
From 24th January 2020, Saturn enters its own sign Capricorn. Saturn moves through the fourth house. Saturn moving through the fourth house eyes radical position of debilitated Sun, retrograde Mercury and Venus. This movement and influence of Saturn indicates that he is to get encouraging opportunity to prove his ability and talent as a medium fast bowler.
With two major planets transiting in own sign indicates that something big is in offing for Umesh Yadav. He is able to buy a decent place to reside with his parents. This transit of two major planets indicates progressive and prosperous time ahead for Umesh Yadav, Indian Cricketer.
Also Read: About Rani Rampal Horoscope and About Sachin Tendulkar Horoscope