Angela Merkel Horoscope
Published On : January 31, 2018
|
Author : Astrologer Pt Umesh Chandra Pant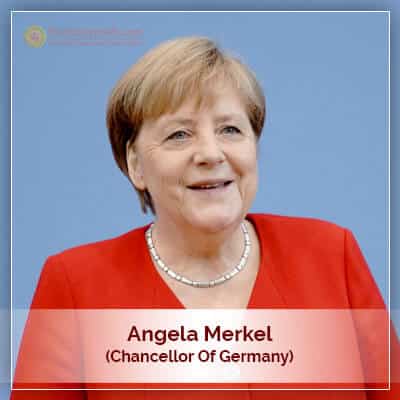 Angela Markel And Her Life As Covered Astrologically Here
About Angela Merkel
Angela Dorothea Merkel, Chancellor of Germany at present is one of the most influential political icons in Germany. In the history of German politics, she is the first woman to have graced the portfolio in 2005 and currently she is serving her fourth term as the Chancellor of Germany since then. Her political career also involved as a leader of the Centre-right Christian Democratic Union (CDU) that she served for close to 18 years, starting from 2000 to 2018. Her individuality is more on spotlight with the fact that in political and economic syndication of 28 members of states situated in Europe known as The European Union (EU), Angela is declared as its de facto leader, carrying the responsibility of heading Europe's largest economy after uplifting Germany out of its financial crunch to its rapid growth.
Angela Merkel, Chancellor of Germany also holds the reputation of being world's most powerful woman. As described by several commentators, Angela, by contrast, is the leader of the Free World. She has also the reputation of being a leader known for her steely reserve that she had shown at the time when she sanctioned entry of over a million Syrian refugees into Germany.
Born in 1954, in Hamburg, West Germany and educated at Karl Marx University, Leipzig, Angela Dorothea Merkel is the recipient of various awards and honors, including the Jawaharlal Nehru Award for International Understanding, Vision for Europe Award, "The World's 100 Most Powerful Women by Forbes, and Indira Gandhi Peace Prize. Angela is addressed by various nicknames, like "Iron Lady, "Iron Girl" or even "The Iron Frau" based on her comparison with former British Prime Minister Margaret Thatcher who was nicknamed as "The Iron Lady".
PavitraJyotish is reviewing life aspects of Angela Dorothea Merkel through astrological analysis as indicated in the following horoscope chart.
Birth Details of Angela Merkel are as per given below:
Date of Birth: July 17, 1954, Birth Day: Saturday, Birth Time: 07:00:00, Birth Place: Hamburg, Germany
Astrological Highlights
She has Sun in Cancer Zodiac Sign a dynamic sign ruled by Moon. Retrograde Mercury moves through own sign Gemini along with Jupiter and Ketu. Retrograde Mars along with shadow planet Rahu traverses in opposition to retrograde Mercury. This position induces her to have a sharp intellect and keen to prove her point. Venus moves through Leo a sign ruled by mighty Sun. She is less expressive about her emotions. Wily Saturn is in its sign of exaltation airy Libra. Moon is in last of earth sign Capricorn in opposition to Sun.

Angela Merkel – Effect of transitory planets in near future
Angela Merkel Birth Chart Analysis
For the whole of the year 2018 and 2019, wily Saturn moves through a dual-natured last of fire sign Sagittarius. During this movement, Saturn crosses over the radical position of retrograde Mars and Rahu, already present in Sagittarius. Saturn moves in opposition to retrograde Mercury, Jupiter and Ketu posited in Gemini. Viewing this, the transit of Saturn period is to prove kind of challenging for Merkel. She needs to trade cautiously and refrain from asserting herself overly. Her relationship with EU countries can prove difficult. Some strategic change is envisaged here. Her measure can affect trading adversely. She has to face rough weather during movement of Saturn in Sagittarius.
Shadow planets Rahu and Ketu traverse through Cancer and Capricorn respectively during 2018 and some part of the year 2019. Then Rahu moves into Gemini Zodiac Sign and Ketu in Sagittarius. Movement of Ketu in Sagittarius along with Saturn does not seem to be a happy proposition for Angela Merkel, Chancellor of Germany. Her position as a chancellor of Germany and some policy linking decisions can come under fire. A rigid kind of attitude can harm her in different ways. She needs to keep her cool and trade cautiously for good.
Benevolent Jupiter traverses in air sign Libra till October 2018. Then Jupiter moves into a fix natured water sign, known to be kind of mysterious, passionate Scorpio. During transit in an air sign, Libra Jupiter is to cross over natal Saturn and view its own radical position along with that of retrograde Mercury and Ketu. This aspect is to work well in reducing the intensity of malefic Saturn. Moving in Scorpio, Jupiter views the radical position of Sun. This position is to work well to enhance the positive image of Angela Merkel, Chancellor of Germany. She is to stand tall amid all controversy and challenging position.
From around August 2018 until the end of the year Venus traverses through own sign Libra. This movement of Venus is to present kind of mix results for Merkel on major front.
From around beginning of May 2018 till the beginning of October 2018 Mars transits in its sign of exaltation Capricorn, in direct opposition to the radical position of Sun. This is to induce her to take a bold decision, which can lead to controversy. At some point she can sound overly assertive and a touch of arrogance in her approach. Moon in Capricorn in her native chart, is to induce her to take a kind of balanced view of things, situation. There is a possibility of getting injured during transit of Mars in Capricorn. Merkel needs to take care in this regard for good.
In short movement of planets portends eventful time for Angela Merkel, Chancellor of Germany during 2018-19.
Call Astrologer for consultation via phone or meeting in person and get the answer to your query.
Don't forget to read: About Preneet Kaur Horoscope and About Imran Khan Horoscope