How to Know Annual Horoscope Reading Varshphal in Indian Vedic Astrology
Date :
|
Author : Astrologer Pt Umesh Chandra Pant
Here Is How We Help You Know Annual Horoscope Reading
Varshfal (Annual Horoscope) – The Best Birthday Gift For You
Annual Vedic Horoscope Reading or Varshphal or Varsh Kundali. Our own birthday and that of our loved ones are reasons to celebrate.  But at the same time, we have difficulty in choosing an appropriate Gift that will be liked by the birthday boy/girl and at the same time not duplicated by another person.  Here we let you on to a secret.  Anyone will be thrilled to know what he is likely to come across in the next 1 year from his birthday.  This is true from your spouse to your father in law.  Everyone would like to know how his career graph will take shape, how his finances are going to be and how his family life is likely to be etc.  In this, there is hardly an exception.
It is seldom that we give ourselves any gift for our own birthday.  But you can make an exception by giving yourself a very valuable gift, a very useful gift and the one full of utility. For the prompt answer to your worries have a Talk to Astrologer on Phone.
In astrology, the Varshphal (also known as Annual Horoscope) is quite unique. The apparent motion of Sun through the Zodiac (360 degrees) is completed in one year.  When we are born, in the natal horoscope Sun is in a particular sign, in a particular longitude.  When the transiting Sun reaches the same sign and longitude, the other planets will be positioned differently from what they were in the natal horoscope.  When a chart is drawn for this position when transiting Sun is exactly at the same longitude as in the natal chart, but the other planets in their current position, the chart is known as a progressed chart or Solar Return chart or Annual astrology prediction.  The annual chart is read in conjunction with the natal chart to delineate the results for the next one year period.
The starting point will be your birthday in this year and the one year period will be until your birthday in the next year.
Each year is ruled by a particular lord known as Varsheshwar or Lord of the year.  Muntha represents the transiting or moving natal ascendant at the rate of one sign per year.  There are yogas which are known as Annual yogas which are considered from the Annual Horoscope.

There are also different dasa systems to delineate the results within a year so that the results for each window is separately available. The advantage of the Annual Horoscope (Varshfal) is that there can be very different results from the annual horoscope due to yogas in the annual chart or placement of Muntha or Varsheeswara.  It may be possible to have a promotion in the career front or fructification of marriage in a general period indicated as "not good" according to Vimshottari dasa.
There is a difference in rules for judging a horoscope under the two systems (viz. parasara and progressed chart) The progressed chart reading is somewhat similar to Western Astrology.  At times, the traditional parasara system and progressed chart can give conflicting results but the more dependent one is the progressed chart where not only the results will be accurate but even the results windows are much narrower.  The following case study example will illustrate this point.
Date of birth: 11.09.1975
Time of birth: 02.10 AM
Place of birth: Kolkatta
The natal chart, as well as progressed charts, is given below: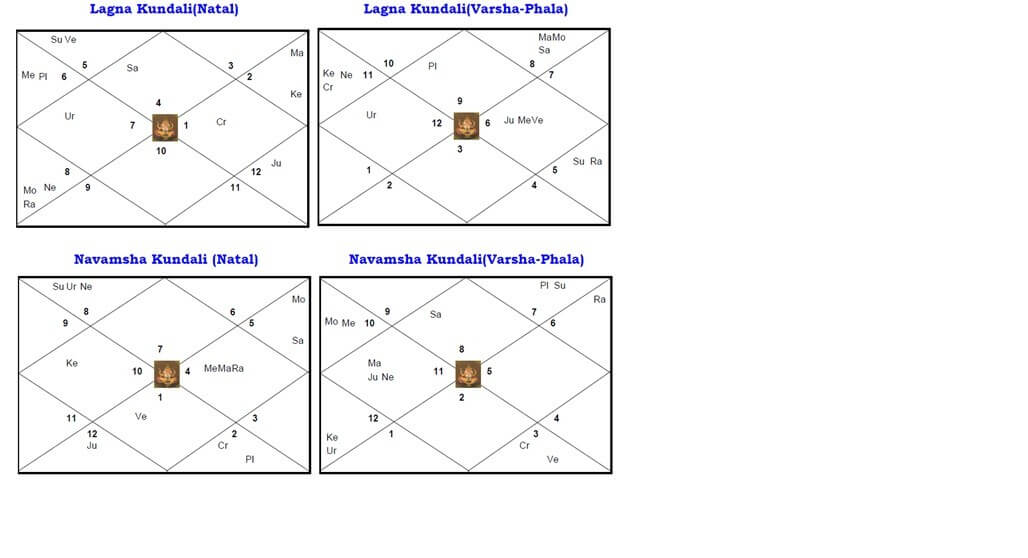 The person is currently running Ketu dasa and Saturn bukthi.  Bukthi Lord Saturn being the 8th lord positioned in Lagna and Ketu dasa does not promise much in the current period as per traditional parasara principles.
But when we look at the progressed chart ( the solar return chart) for 2016, we find that in the Annual Horoscope, Muntha is placed with ascendant which can give pretty good results in terms of career.  The varsheeswara is placed in the 9th house indicating foreign travel or even onsite possibility on an overseas project.  Thus despite the main dasa/bukthi not being that favorable still the individual will considerably benefit when we look at the progressed chart.
Another point to note that Varsheeswara happens to be Sun, indicating good health, happy domestic life as well as favors from Government.
A higher education possibility is also seen from the progressed chart. Thus quite contrary to the dull phase indicated by the main dasa/bukthi, the progressed chart gives quite a positive outlook which will manifest actually.
The best gift that you can give yourself or your loved ones is the "Annual Birthday Report" which can act as year planner.
Our broad range of services, Puja and Free predictions like Annual Birthday Report, 2022 Cancer Yearly Horoscope Predictions, 2022 Aquarius Yearly Horoscope Predictions, 2022 Leo Yearly Horoscope Predictions, Birthday Puja are meant for everyone who is on lookout of reliable and accurate astrological service solutions for their life's problems related to any aspect.

By PavitraJyotish.com Team