Astrological Analysis About China
Date : August 26, 2017
|
Author : Astrologer Pt Umesh Chandra Pant
About the People's Republic of China (As China is officially called)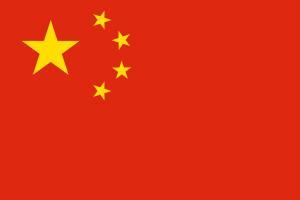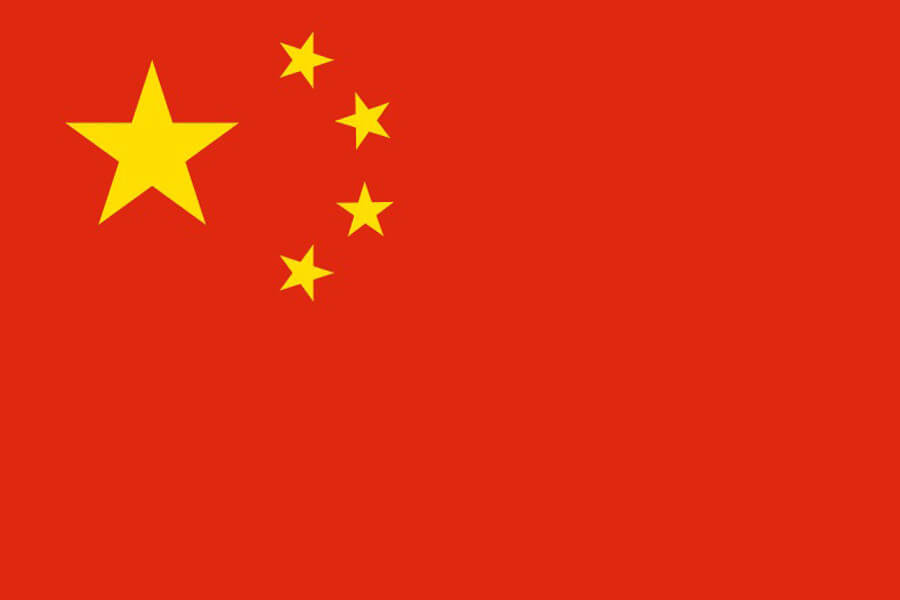 China is a vast country with huge geographical area, diverse landscape. It is the unitary sovereign state in East Asia and is measured as the most populous country in the world. It has an ancient cultural background. In spite of handicaps, technological advancement and modernization have made China a force to reckon with. It has impressed the world by its military power to a great extent. China has been the fastest growing economy after it adopted market-based economic reforms way back in 1978. However, its human rights policies have received serious criticism from the world over. Technological advancement in China is fast and amazing. Some believe that the progress and growth have come at the cost of happiness of common man.  For resolving your problem talking to an Astrologer can help your cause.
Despite the criticism, cutthroat competition currently China is going strong. However, lately, the growth rate has slowed down. Many researchers and scholars view China as of next number one superpower.
Here we try to analyze astrologically prospects of China in general.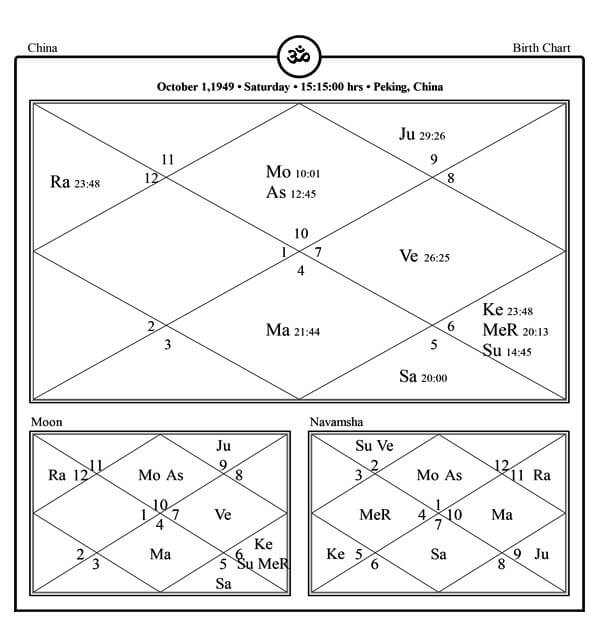 Astrological position
China came into existence when last of earthly sign Capricorn was rising on the eastern horizon. Meaning the Ascendant is Capricorn, ruled by wily Saturn. As a ruler of the Ascendant Saturn is in its enemy sign Leo and stationed in the eighth house. This position only portends a hard time for the country during initial stages. See the coincidence now. The first Saturn returns around 1978-79 sowed seeds of development, modernization. Saturn is exalted in a D9 chart. Debilitated Mars positioned in the seventh house directly aspect the Ascendant sign Capricorn. These positions of Mars and Saturn reveal strong restlessness to grow and manifest in a grand way.  The Strong position of planets in D9 chart works well in fulfilling the aspirations, and we see the result today.   Ever wanted to get an appointment with a renowned astrologer? Well, realise it today and have your doubts cleared head on.

Important Transits in the near future
Ruler of the Ascendant Saturn is to keep traversing in a fiery sign Sagittarius through the 12th house for ensuing couple of year. Saturn then crosses over the radical position of Jupiter stationed in the12th house. Saturn moves in Capricorn through the first house around the beginning of the year 2020. This can prove kind of trying period for China.
Jupiter is to move in Libra and Scorpio in ensuing couple of years.
Rahu – Ketu are to transit in Cancer –Capricorn for around eighteen months and then Rahu –Ketu shifts into Gemini and Sagittarius around 2019, through the sixth and 12th house respectively.
China is currently under influence of sub-period of Jupiter in a major period of Saturn. Then for around 17 Years, a Major period of Mercury that is from 24th October 2019 to 23rd October 2036 is to rule. Mercury is in own sign Virgo and moves in retrograde mode. Mercury also rules the sixth house, linked with adversity in general.
Astro analysis of above mentioned planetary transit and influence of major period.
Transit of Saturn in Sagittarius through the 12th house is not a happy proposition. China can then faces issues in foreign trade. It is not to be a smooth sailing in matters related to foreign trade and relations with neighboring countries. There may be some lessons to learn. However, Saturn crossing over the radical position of Strong Jupiter can work for major gains. Here China may need to compromise on a certain issue to keep the show running. This transit of Saturn is indicative of not so favorable time for common man/masses at large.
Jupiter moves in Libra and Scorpio through the tenth and eleventh house. Movement of Jupiter is to act as a kind of stabilizing effect in matters related to trade. Some measures by the government are to make people at large feel more comfortable and happy to some extent.
Movement of Rahu –Ketu through seventh and the Ascendant is to have a notable effect. Movement of Ketu through the Ascendant and over radical Moon can lead to the unexpected decision by Government and can have a far-reaching effect on masses and relationship with the neighboring country. On another side, China may receive support from unusual quarters.
Transit of Venus from around mid of August to end of the year 2018, is to present favorable results for Government. Some decisions taken by Government is to have far-reaching positive effects. Progressive forces are to work effectively.
This is now the last phase of Saturn major period in sub-period of Jupiter. This is to have positive effect albeit to some extent. During the year 2019, China may have the setback over some international issue.
Commencement of Mercury major period from around of September 2019 does not sound well for the progress of China. They may have to make some unwilling compromises. The growth rate is too slow down.
Conclusively we do not see much favorable period for China in the coming years, more so from the year 2019.
Worry about your career? Not being able to make a right career choice. Avail our career report and demystify the success and unanswered mystery of your career's growth.