Deepika Padukone Horoscope
Published On : March 23, 2018
|
Author : Astrologer Pt Umesh Chandra Pant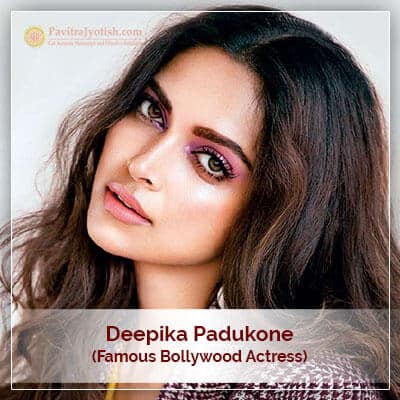 Deepika Padukone And Read What Our Astrology Talks About Her
About Actress Deepika Padukone – Famous Bollywood Actress
Deepika Padukone is one of the most popular actresses in Indian Hindi cinema and is said to be the highest-paid Indian actress and being named by Time magazine as one of the 100 most influential people in the world in 2018. Tall and resplendent, Deepika has received several awards and 3 Filmfare awards. Born on January 5, 1986 in Copenhagen, Denmark and raised in Bangalore, Deepika Padukone – Famous Bollywood Actress did her education in Bangalore's Sophia High School and later tried to pursue bachelor degree at IGNOU but canceled the idea as the timing conflicted with her modeling career. She debuted her film career with a Kannada film, Aishwarya which was a commercial hit. Her husband Ranveer Singh is a famous Indian actor with whom she married on November 14, 2018. For her performance in the film, Cocktail, she won the "Most Entertaining Actor" award in female category, and also won three awards for being "Most Entertaining Actor" in female category for the movie, Chennai Express. The award for best female debut for the movie Om Shanti Om went to her in the year 2008. She begged the award for best actress for the films, Goliyon Ki Raasleela: Ram-Leela, and Piku.
We at PavitraJyotish are conducting an astrological analysis on the life of Deepika in the following horoscope chart.
Birth Details of Deepika Padukone are as per given below:
Date of Birth: January 05, 1986, Birth Day: Sunday, Birth Time: 02:39:00, Birth Place: Copenhugen, Netherlands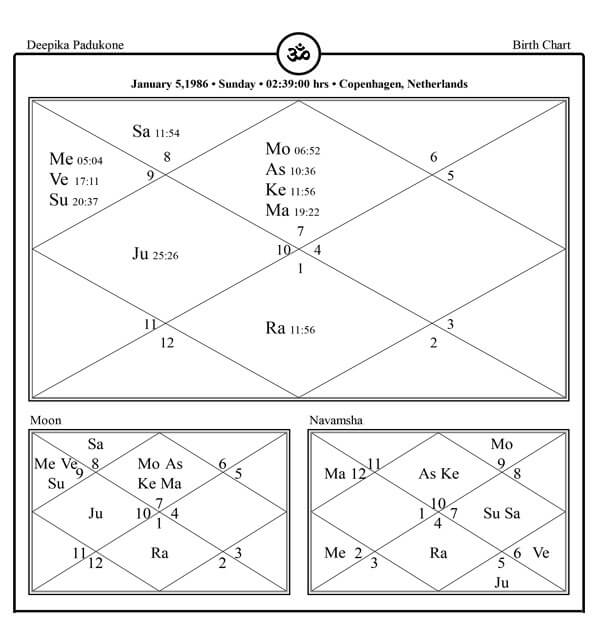 Astrological Highlights and Deepika Padukone Horoscope Analysis
Deepika Padukone, Famous Bollywood Actress is born with Libra Ascendant. Her Moon sign is also Libra. Moon along with Mars and malefic shadow planet Ketu is positioned in the Ascendant (First house). Malefic shadow planet Rahu is placed in the seventh house. This position does not sound well for her in a confirmed relationship. Saturn is measured as a most favorable planet for Libra Ascendant. Saturn is in its enemy sign Scorpio ruled by Mars. Saturn is in the second house. Ruler of the Ascendant Venus is in a dual-natured last of fire sign Sagittarius known for being highly optimistic. Venus is stationed in the third house along with mighty Sun and crafty Mercury. Venus is in the state of combustion. This combination of important planets has led her to limelight in public. She is good at finding the right opportunity to showcase her inherent ability. Ruler of the third house Jupiter is in last of earth sign Capricorn ruled by Saturn and positioned in the fourth house. Jupiter aspects the tenth house, related to occupation. In view of this, Deepika is never short of good work.
In D9 chart Saturn is exalted. Sun and Venus are debilitated.

Effects of transiting planets in the near future
Deepika Padukone Birth Chart Analysis
For the whole of 2018 and 2019, wily Saturn traverses through Sagittarius. During transit through Sagittarius Saturn is to cross over the radical position of Venus, Sun, and Mercury. Saturn traverses through the third house now. This movement of Saturn can lead to a change of equation in a close relationship. Some controversy about her role is envisaged here. Deepika Padukone, Famous Bollywood Actress can get a different kind of role to perform. This is to work well for her in enhancing her prospects and acceptability about her acting ability. On average movement of Saturn through Sagittarius is to present progressive for Deepika.
Crunch in the story comes when malefic Ketu enters Sagittarius from around March 2019. Movement of Ketu and Saturn can present new challenges for Deepika, Famous Bollywood Actress . She has to work for extended hours at times. She needs to be cautious in her utterances in public. Deepika Padukone, Famous Bollywood Actress is to get an opportunity to perform in Hollywood. This can prove to be a hard task for her. She needs to have a strong sense of commitment to succeed in her pursuit here. Some kind of controversy may bother her. She needs to keep her cool and handle the provocative situations tactfully.
From around March 2019 malefic shadow planet, Rahu moves in Gemini a sign ruled by Mercury. Rahu now moves through the ninth house in her chart. This can lead to more visits to a foreign country for work. This leads to enhance her reputation as a seasoned established Actress. Movement of Rahu can lead to more meaningful connections abroad.
Around May 2018 to around end of October Mars moves through its sign of exaltation Capricorn. Mars now traverses through the fourth house and in process crosses over the radical position of Jupiter stationed therein. This movement of Mars can lead to polluting harmony in the confirmed relationship. She may incline to look for an option for a long-term relationship. Deepika Padukone, Famous Bollywood Actress can consider making good use of her savings. A kind of eventful time now for here during movement of exalted Mars through the fourth house. Ambition is to run high here. She needs to keep her cool and handle the tricky situation much tactfully. She can become choosier in selecting her role in the movie.
From around August to end of the year 2018, ruler of the Ascendance Venus moves through own sign Libra in the Ascendant. Movement of Venus here is to increase the acceptance level for Deepika, Indian Film Actress. Her performance in the film is to receive a positive response from the public. She can receive an award for her performance. Her films here to become a big hit this time around. In her personal life, she is to remain happy.
Until the beginning of October 2018, Jupiter traverses in air sign Libra and passes through the first house. During transit through the first house, Jupiter crosses over the radical position of Mars, Moon, and malefic Ketu. This movement is indicative of progressive period for Deepika Padukone, Famous Bollywood Actress. She is to accept a different kind of role to perform and receive loud applauds from the public at large. She being clever is to make good use of this favorable transit period to enhance her fees to her advantage. She is to make her position stronger on the financial front.
From around beginning of October 2018 until most part of the year 2019 Jupiter remains in fix natured water sign Scorpio and pass through the second house. In the process, Jupiter is to cross over the radical position of Saturn stationed therein. This is indicative of learning time for her. She is to learn few more things about her trade. She is to sharpen her skills and become more popular by her committed performance. Deepika Padukone, Famous Bollywood Actress is to get encouraging opportunity to showcase her talent. In short transit of Jupiter in air sign Libra and water sign Scorpio is to prove fruitful for Deepika.
Is your career not churning much headway? Do you need better career solutions? Get your Strength Reading For Career today and overcome odds in your career.
Must Read: About Kangana Ranaut Horoscope and About Neha Kakkar Horoscope