Diwali Festival
Published On : October 28, 2018
|
Author : Astrologer Pt Umesh Chandra Pant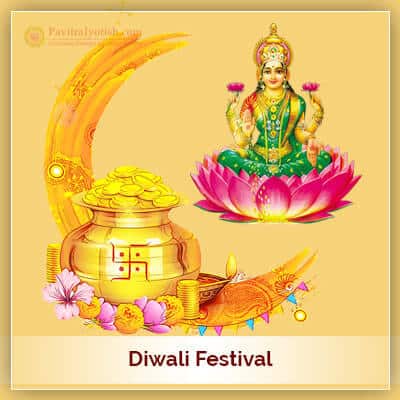 Useful And Sharable Details About Significance Of Diwali
Importance of Festival of Lights Deepawali and Its Significance
India is a land replete with religious and devotional festivals, each marking fervency and joviality among countless enthusiasts. People hold reverence of time-honored festivals in their hearts and celebrate them in such splendor that the sheen and remembrance of fiestas never dies down. Diwali is one such festival. It is known for its ever-increasing sanctity among its countless enthusiasts from across India, and some parts of the overseas lands as well. Diwali is one of the most revered and a pious festival deeply entrenched in Hindu culture. It is usually celebrated on October or November every year. This time the revered festival of Diwali is to be held on the month of November 12, 2023.
About Diwali
Diwali is known as the festival of lights in India. Traditionally, it is one of the most revered occasions celebrated by Hindu, Jain, Buddhists and Sikhs communities. They commemorate Diwali as the victory of lights over darkness, which in literal sense, means that no matter how powerful an evil force; it is fated to meet with its end finally. Today the Indian Festival of Diwali has become a worldwide phenomenon called as festival of lights. It is hailed in symbolic row of clay-prepared lamps called diyas, according to Skanda Purana. During the occasion, indoor and outdoor places are given spotless cleanliness. Diyasand colorful bulbs are lit around every corner of homes to greet Mata Lakshmi on Diwali.
Every festival of India bears a certain kind of mythological connection, and Diwali is also one of the fiestas bearing a religious and mythological link to the goddess Laxmi and Lord Ganesha. Both the deities signify fortune, knowledge, wisdom, prosperity and spiritual enlightenment.

History of Diwali
The festival of Diwali is a harbinger of harvest season, a trend pioneered in ancient India. The religious books of Skanda Purana and Padma Purana, written in Sanskrit texts, tell a detailed account of Diwali or Deepavali. Skanda Purana has referred the festival as the source of life-sustaining cosmic energy and light.
Another historical reference of Diwali is found in Sanskrit play of the King Harsha's Nagananda in which the festival is named as Deepapratipadutsava. The translation of this name is light of first day festival. It is said to have originated because newly wedded couples were offered lit-clamps as gifts.
A well-known Sanskrit poet, by the name of Rajashekhara mentioned, in his Kavyamimamsa about Diwali. He called it a tradition in which people whitewashed their homes and adorned their home environment, streets, and markets with oil lamps in the night.
Al Biruni, a Persian traveller and historian, mentioned Diwali as the festival of Hindu held on the appearance of New Moon in Kartika month.
History also says that Mughal emperor Akbar gave Diwali a due honor and participated in the festival without discrimination. Sir William Jones, a noted philologist, also mentioned in his book, The Lunar Year of the Hindus, about Diwali, calling it a five-day festival held in the period of Aswina-Cartica.
Reasons why Diwali is celebrated
From the standpoint of ethics, the reason to celebrate Diwali points to the direction of its moral messages, such as victory of light over darkness, triumph of knowledge over ignorance, and conquest of good over evil force.
Diwali is celebrated with utmost religious adherence and ritual grammar in conjugation with the traditions the festival aligned with it. According to a popular tradition, the reason to celebrate Diwali is because this day marked Lord Rama's victory over demon Ravanaas mentioned in the epic, Ramayana. According to Ramayana, when Lord Rama was serving exile for 14 years in the jungle with his younger brother, Lakshmana, and wife Sita, the tyrant king of Lanka, Ravana, driven by the lust of power and arrogance, abducted Sita, leaving Rama no option but to retort so as to break free his wife from the clutch of Ravana. This ultimately led to a pitch-war between Rama and Ravana. The war finally concluded with Ravana being killed by Rama, and Sita being freed from his captivity. The victory of Lord Rama was celebrated with great pomp and shows by the subjects of Ayodhya on return of Rama, Lakshmana and Sita.
Diwali is celebrated because the associated deity of the festival, Laxmi, was born out of churning of the cosmic ocean, the process called Samudra manthan. The deity wedded to Lord Vishnu which later was commemorated with great splendor leading to festivity of Diwali thence.
According to Vaishnavism Tradition, goddess Lakshmi is considered Supreme Divine Being as goddess of wealth and prosperity. She is the consort of supreme Lord Vishnu. During Samudra Manthan, Laxmi came in her first incarnation during Amavasya of Kartik month. Therefore, Diwali is celebrated as the birthday of goddess Laxmi, considering she came into being from churning of cosmic ocean.
Another reason for celebrating Diwali relates to the fifth incarnation of Lord Vishnu as Vamana in order to rescue Lakshmi from the captivity of King Bali.
The celebration of Diwali has its mythological account with the incident involving Lord Krishna when he killed Narakasura, the ruler of the kingdom Pradyoshpur. The son of BhooDevee, Narakasura was a tyrant king. The boon of Brahma made him omnipotent. Blinded by his power and pride, he held captive of 16,000 women. The intervention of Lord Krishna to put an end to the tyranny of Narakasura came into light when celestial bodies pleaded him to kill the despotic king. Krishna, with his wife, Satyabhaamaa, engaged in pitch battle with Narakasura. The war concluded with Narakasura's ending at the hands of Satyabhaamaa.
According to Mahabharata, when Pandavas (Yudhishthira, Bhima, Arjuna, Nakula, and Sahadeva) completed their exile for 13 years as a result of banishment sentenced by Kauravas in the aftermath of their defeat in the game of dice, their return was celebrated with Diwali by the subjects of Hastinapura.
Diwali is also celebrated to commemorate coronation of the greatest king of Ujjain, Vikramaditya, who sreigning is considered the best of all rulings ever happened in India.
Diwali marks the day when the founder of Jainism, Mahavir Tirthankar attained his Nirvana or omniscience, when he was 42.

Diwali – Festival of Lights
Diwali is the festival of lights. It is a symbolic festivity broadly acknowledged all across India and on the world stage. This is the day marking the inception of auspiciousness. It is believed to promote the doctrine of victory of light over darkness or triumph of good over evil force. Today Diwali is a worldwide fiesta celebrated with great honor for deity Laxmi and lord Ganesha.
The Diwali Panch Parva Festival of lights, Diwali is also harbinger of spotless cleaning conspicuous when people clean their homes, utensils and ensure sanitation of every nook and corner of the streets during the day. Experience prosperity and abundance of wealth with 5 Days Diwali Lakshmi Puja.
On the second day, people are seen giving eye-catching decorative styles to their homes, including clay lamps and various design patterns called Rangoli and also tiny colorful light bulbs. The worship of goddess Laxmi is held during third day of Diwali in which prayer is offered to goddess Lakshmi and lord Ganesha with sweets, flowers, chants of mantras and Aarti.
It is said that Laxmi Poojan during Diwali brings forth infinite growth in the financial aspect of your life, meaning boundless prosperity and growth happen in the life of devotees if Mata Laxmi and Lord Ganesha are worshipped under proper rituals. Consult to PavitraJyotish for Lakshmi and Ganesh Poojan on Diwali.
The fourth day of Diwali involves friends and relatives visiting each other's place with gifts and Diwali greetings. Diwali festival is wrapped up on fifth day during which brothers pay visit to the homes of their married sisters and enjoy lavish meal.
Diwali Celebration and Maa Lakshmi Puja
Diwali is mostly recognized with lights and worship of goddess Laxmi and lord Ganesha. In addition, the day is harbinger of peace and prosperity for devotees enabling them to bask in forever happiness. Diwali celebration involves worship of goddess Lakshmi considered the Supreme Divine Being born out of churning of cosmic ocean. She wedded to Lord Vishnu.
Also called DHANLAKXMI, goddess Mata Laxmi is offered prayer and greetings by devotees during the occasion of Diwali. In some parts of India, the idols of Mata Lakshmi are worshipped and immersed during the conclusion of the festival.
Regarded as goddess of boundless fortune, Maa Lakshmi is believed to bless the devotees with material and spiritual opulence. She removes their obstacles, enabling them to enjoy each and every moment of their lives with peace and luxury.
It is believed that Lakshmi Poojan during Diwali is auspicious as the deity is invited to the homes of devotees to partake with valuable gifts and blessings of peace and prosperity. On the night of Diwali, goddess Lakshmi roams the earth and feels invited to the home that is decorated with light bulbs and diyas placed at doorsteps, windowsills and every corner of the residence. Apart from goddess Laxmi, prayer is offered to Lord Ganesha and Kubera. Mata Laxmi is symbolized by wealth and prosperity which is why importance of Lakshmi Poojan during Diwali is higher.
The story of Why Laxmi and Ganesha Both Are Worshipped On Diwali
There is a mythological tale as to why Lakshmi and Ganesha both are worshipped during Diwali. As the story goes by, once Mata Laxmi was preoccupied with vanity that she is the only divinity of wealth and so, she went on extolling herself in front of Lord Vishnu, her husband. At this, Bhagwan Narayan made Mata Laxmi understand that a woman full of whatsoever virtues is not considered complete until she bears progeny.
The implication was that since Laxmi was without the virtue of motherhood, she, therefore, was not complete. This explanation of Lord Vishnu apparently saddened Mata Laxmi and then she sought the help from goddess Parvati, the consort of Lord Shiva. Mata Laxmi pleaded Mata Parvati to let her adopt one of the two sons of her (Parvati) so that she could be blessed with motherhood.
Reluctance soon engulfed Mata Parvati as she knew that Lakshmi Mata has the tendency of moving from one place to another too frequently, a reason that deeply concerned Parvati if she allowed Laxmi to adopt one of her sons or not, because child needs continuous caring, while Laxmi is never constant.
However, when Mata Laxmi assured Mata Parvati that she would take a good care of the child and bless him with all happiness. Convinced Parvati then agreed to let her adopt her son, Ganesha. Elated Laxmi blessed Ganesha to have happiness and prosperity. He was also granted the boon to be worshiped first during Diwali. Lord Ganesha is symbolized by knowledge and wisdom while goddess Lakshmi is symbolic of wealth and prosperity.

Experiencing Diwali Festival in India
India is enkindled in colorful vibrancy of diya lamps and colorful bulbs during Diwali. This explains why visiting the country during the occasion of Diwali is an experience that will remain imprinted on your memory lane, giving you a nostalgic experience of the festivity throughout your life. This is the occasion India witnesses the unity in diversity. The whole ambience is dressed in twinkling and shining lights, marking Diwali as one of the most revered occasions. Elation blooms in the hearts of devotees by celebrating Deepavali with great pomp and shows.
In Goa, there is an age-old tradition of burning the effigy of demon Narakasura, an activity that marks triumph of good over evil force. In Mumbai, one can spot the never-forgettable splendor of the city's sky witnessing a row of fireworks busting into pulsating sparks, glittering and illuminating the night sky beautifully.
In Odisha, Diwali is celebrated with special regards, a tribute offered to one's forefathers. The festival is started by lighting jute sticks and family members of devotees chant mantra in tribute to their forefathers praying for their peace and salvation.
In Kumaon of India's Uttarakhand State, celebration of Deepawali is celebrated as devotees paint thresholds of their homes in red using the art called Aipan.  This art involves Geru; a thickly-built pattern placed on the doorsill and is painted with rice solution to red patterns, a symbolic gesture to welcome advent of Diwali and Mata Laxmi to home. People also draw footprint of the deity in beautiful patterns on Diwali.
Jaipur in Diwali becomes at the height of its beauty with Jaipur Shopping Festival, a celebrated organized on Diwali in which traders partake to carry out promotion of their trades in Rajasthan. Besides, cultural shows and performances are also organized in the city during the festival of Diwali.
Therefore, from Kolkata to Mumbai and all parts of India, experiencing Diwali festival in the country is an experience that will never fade into oblivion in your memory lanes.
Our offers
As a leading professional establishment for accurate and reliable solutions in astrology, PavitraJyotish offers a myriad of products and service solutions dedicated to wellbeing of your life in its every aspect, such as health, career, finance, marriage, business, love relationship, and other personal ones.
Our Diwali Laxmi puja offers for devotees and our esteemed clients involve detailed puja according to specific time of Muhurta. We carry out Laxmi puja with rituals such as Laxmi Strotam path, Homam conducted under Pradoshkal Muhurta Timing, Nisheeth Kaal Muhurta Timing, and Mahanisheeth Kaala Muhurta Timing as deemed appropriate.
Laxmi puja on Diwali with rituals will be conducted by four learned pandits under the guidance of Pt. Umesh Chandra Pant Ji.
We also offer free gifts on Lakshmi puja, which are:
Siddh Asht Lakshmi Yantra
Special Gift As Per Your Problem
Note: The free gifts bear no charge and are home-delivered free of cost.
Book your Diwali Laxmi puja and we will conduct it in your name with proper Vedic rituals.
Top Reasons to Book Diwali Lakshmi Puja from PavitraJyotish:
A team of learned and experienced professional pandits.
Puja conducted under rituals and ingredients as recommended in Vedic Shastra.
Proper assistance to your questions regarding Laxmi puja.
Cost-free energized and activated gifts home-delivered to your address.

Conclusion
Diwali is famed for being one of the most auspicious festival seasons marking beginning of seasonal harvest, peace and prosperity. Countless devotes from all across India and world pay their tribute to goddess Lakshmi and lord Ganesha during Diwali, seeking blessing of eternal prosperity and peaceful living from the deity.
Several mythological and cultural references lay the background of Diwali as the important devotional festival, being celebrated with utmost adherences and rituals. Spotless cleaning at homes and around surroundings is undertaken during Diwali, with people taking care of decorating their homes with colorful light bulbs and diya lamps. It is believed that on Diwali Mata Laxmi roams the earth and is pleased to enter into a home that is decorated with diya lamps and well-cleaned.
Symbolic of wealth and prosperity, deity Lakshmi is worshipped during Diwali and prayer is offered to her by devotees to bless them with wealth and happiness. Lord Ganesha is also worshipped on Diwali to bless the devotees with knowledge, wisdom, and prosperity. Book your Diwali Mahalakshmi Puja by our Puja and Anushthan Services by Reliable and Learned Pandits.
Is being rich an unfulfilled desire in your life? Our Asht Lakshmi Puja can solve it for you.
Read more Articles: Celebrate Diwali Panch Parva the Glorious Festival of Prosperity and Diwali Laxmi Puja Method (Vidhi)