Higher Education Problems Solution Astrology
Published On : January 15, 2021
|
Author : Astrologer Pt Umesh Chandra Pant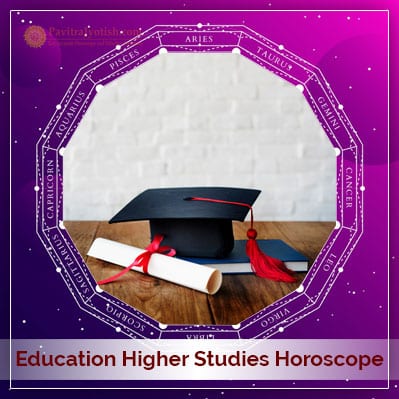 Get higher education problem solution based on the experience of our higher education in astrology expert. This astrological offering aims at clearing a student's path for brighter academic future through on the dot counseling offered by the expert.
Need To Choose The Best Academic Course For A Bright Future Employment
Students base their future employment on present academic choices, like pursuing MBA, MCA, PHD, UPSC and a miscellaneous variety of innumerable job-oriented programs. However, to follow the course of an academic action requires students to undertake a lot of responsibilities, one of them is to ensure that you have a proper understanding of which course to choose and which one to avoid that doesn't suit your personality or future employment purpose. Based on today's wise decision in choosing the right academic course, the pursuit of bright employment later in your life will lay its foundation. Otherwise, a lack of insight could cost you dear in your future. Even psychological doctrine suggests that a person should select the academic course best-suited to his individuality so that it will pave the path for better employment opportunities later in his/her life. Today's students need to have that kind of consideration. Otherwise, the fate of several students being rendered unemployed will also be their destiny if they don't act wise in choosing the right academic course for a rewarding future employment opportunity.
Attain quality Astrological Solution for your academic issues with our higher education future predictions astrology offering Higher Education Problem Solution for your needs. Use our higher education in astrology encompassing astrological remedies for higher education. We offer effective study problem solution by astrology and its inherent principles complying with Vedic Astrology.
How to solve higher education through astrology?
Higher education lets you to climb up the ladder to success and in turn prosperity. Higher education is key to make way for progress in life. Acceptance level for you in social circle also enhances. You have a purpose to follow for moving ahead. Higher education is equated to have Master's degree and doing research for PhD degree. Achieving these degrees enhances your chance to have a respectable position in job coupled with handsome salary. Good salary helps you make your family feel happy and contended.  With having handsome salary gives you opportunity buy things you always cherished. Higher education opens door of prosperity in due course of time.
Astrological musings for higher education
The ninth house is linked with higher education. The second house is about getting a degree. Position of ruler of ninth house signifies factors leading to higher education. Positive influence of benefic over the ninth house and the second house enhances chances of success in getting a degree in higher education. Similarly, if ruler of these houses is in company of a strong benefic or being influenced by benefic person's chances of getting higher education increases. For doing research and getting PhD is surely a difficult task. Person has to work hard for at least couple of years consistently. If there any education related query please get your Education Report.
1) Higher Education Case Study 1
Gender: Male
Date of Birth: 4-January-2000
Birth Time: 11:15 AM
Place of Birth: Shillong, Meghalaya, India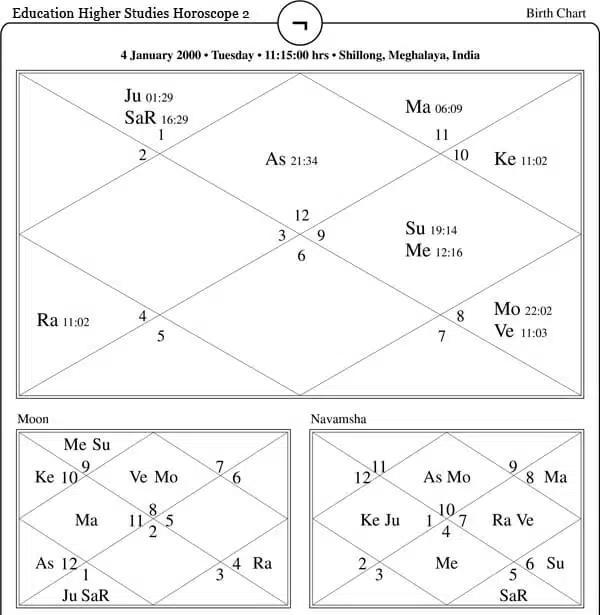 Male is born with Pisces Ascendant. Jupiter rules Ascendant sign Pisces. Jupiter is in first of fire sign Aries and along with retrograde Saturn gets posited in the second house. This position surely supports the concern to get a suitable degree. Ruler of the ninth house linked with higher education is in last of air sign Aquarius and stationed in the 12th house. Moon and Venus occupy the ninth house. Mercury along with mighty Sun is in last of fire sign Sagittarius and gets posited in the tenth house. This union of Sun and Mercury works well for concern male to have good grasp of things and learns encouragingly. Viewing planetary positions the concern Male is likely to go abroad to get higher education and succeed in getting suitable degree.
2) Higher Education Case Study 2
Gender: Male
Date of Birth: 6-April-1995
Birth Time: 14:6:00
Place of Birth: Faridabad, Haryana, India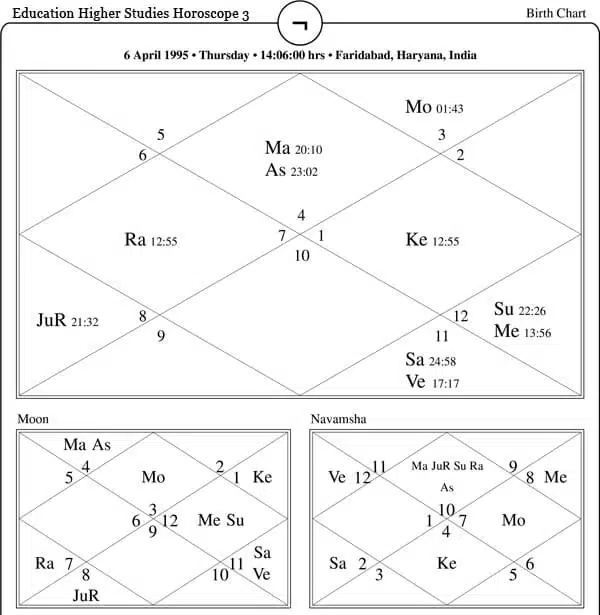 The Male is born with Cancer Ascendant. Moon rules the Ascendant sign Cancer. Moon is in first of air sign Gemini and posited in the 12th house. Ruler of the ninth house linked with higher education Jupiter is retrograde in a fix nature water sign Scorpio and stationed in the fifth house. Retrograde Jupiter has positive influence over the ninth house along with Sun and Mercury posited therein. Union of Sun and Mercury enables the concern male to have a quick grasp of things and learn well enough. Positive vibes of Jupiter works well for concerned male to achieve success in getting a degree in higher education.
Want to get astrological remedies for higher education? Hire our astrologer expert at handling study problem solution by astrology and its principles. Prepared for your needs also encompasses Education Report, Remedial Solution For Education issues and of course Gemstone Recommendation For Education. Besides, our premium offer of Education Ask 1 Question enables you find answer based on your academic quandary.
Also Read:  Education Problems Solution Astrology and Career Problems Solution Astrology