Lord Shri Krishna
Published On : September 2, 2018
|
Author : Astrologer Pt Umesh Chandra Pant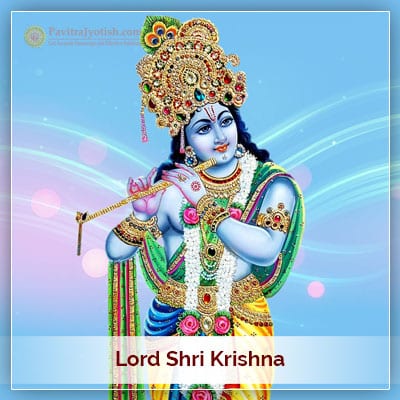 Divine Lord Shri Krishna, And Other Details Surrounding His Divinity
About Lord Shri Krishna
India assumes as a demographic land of various festivals, each dedicated to specific deity being revered by overwhelming devotions and reverence of enthusiastic devotees. Lord Shri Krishna is one such divine being held in deep regards by his countless devotees all over the country. Every part of the nation witnesses jubilance and fervor of Krishna devotees, a sight bearing an unmistakable reality of visibly impressive devotions of the followers of Lord Krishna, who is also known as Yadunandan, Brijesh, Gopal, Adidev and Devkinandan etc. Book your Shri Krishna Puja today, remove evil forces from your life, be with ceaseless peace & prosperity.
The Life Of Lord Krishna
In Mathura
Lord Krishna is the eight avatar/incarnation of Lord Vishnu in Dvapara Yuga. The purpose behind divine incarnation of Lord Vishnu as Krishna was all about destroying counterproductive evil forces from the earth, which in those times of Dvapara Yuga, were on prime and confining the lives of terrorized people into a ceaseless misery. Those were times when certain evil forces were in the process of their perilous growth intended to hold the world order in captive of their tyranny. In those accursed times of evilness, the birth of Lord Krishna traversed all ways from Vaikunthdham (dwelling place of Lord Vishnu and Goddess Lakshmi) down to the prisoner cell of Mathura where his parents, Devaki and Vasudeva were held captive by tyrant king, Kansa, also the brother of Devaki and maternal uncle of Krishna.
Since Kansa was cursed that the eight sons born from his sister will be the reason of his doom, he then held her captive along with her husband and kept them on constant vigil by guards. King Kansa killed all the six infants out of indescribable cruelty. Balarama was the seventh child who miraculously was moved to Rohini's womb and so escaped being harmed by Kansa. Meanwhile, the divine stroke of miracle happened in such a way that when eight son, Krishna, was born, all the guards drowsed to sleep and doors of the cell unlocked, allowing Vasudeva to surreptitiously carry baby Krishna in a basket outside the prison cell. He crossed the Yamuna River where newborn Krishna was shaded by the giant hoods of king cobra, Vasuki, from the heavy rainfalls.
In Gokul, Vasudeva landed at the house of Nand Maharaj and gently placed bay Krishna beside asleep Yashoda, wife of Nand. Thence Vasudeva came back to the prisoner cell of Mathura with Yashoda's daughter Ekanamsha, whose thunderous voice later informed Kansas about the birth of his doom elsewhere, before vanishing into the sky.

In Gokul
Killing Putana, the demoness
Soon the news about the birth of Krishna by Yashoda broke out all over Gokul. Krishna's birthday was celebrated for great jubilance for many days. His life in Gokul went on playing with his childhood friends (cowherds) and Balrama. The news about the birth of Krishna also reached to king Kansa who understood that the baby was the one prophesied to be his doom. Finally he sent his favorite demoness Putana to kill Krishna. Unfortunately, the plan backfired, as baby Krishna sucked the life out of the demoness, when she disguised as a pretty woman, was trying to breastfeed baby Krishna with her venomous breasts.
Krishna also killed other demons, such as Sakatasura and Trinivarta in Gokul.
A notable incident of Krishna's childhood in Gokul is that when Yashoda Maiya insisted him on opening his mouth, baby Krishna refused to comply. Mata Yashoda was thinking that Krishna may have eaten a harmful substance and so, out of natural motherhood concerns, she pressed upon him to open his mouth. Krishna refused many times until Yashoda forced him otherwise. When Krishna opened his mouth, Yashoda, out of sheer wonderment, witnessed the vast universe, planetary objects, stars, countless particles, deities, and celestial entities being traversed in the mouth of Krishna! The magnitude of such witness was beyond her ability to sustain and so, Yashoda fainted. When she regained senses, she had no memory of what transpired just then in front of her own eyes when Krishna opened his mouth. Book your Shri Krishna Janmashtami puja today, remove evil forces from your life, be with ceaseless peace & prosperity.
In Vrindavana
Controlling Kaliya Naag
Vrindavana was located close to famous Yamuna River, which at the time was at the tipping point of being poisonous. This was all because of Kaliya Naag, a gigantic serpentine with many hoods, whose poisons contaminated the waters of Yamuna with deadly venoms. So powerful was the venom of Kaliya that it created a fatal heat force up to many feet from the surface of the river, killing any bird in flight within its deadly range. Lord Krishna thought of teaching a lesson to the intractable Kaliya and so he climbed up the tree of Kadamb nearby the river and from there, he jumped into the deadly river. His stunt was witnessed by his petrified friends; one of them soon informed Yashoda and Nand about Krishna's foolhardy act who came running to the river only to find their son being disappeared into the water. Underground the river, Krishna had a fierce duel with Kaliya when the later refused to kowtow to his request of being placed somewhere else. Soon Krishna popped out of the river with submissive Kaliya holding baby Krishna on his hoods. The dance of Krishna on the hoods of Kaliya presented quite a mesmeric views blended with awe and respect to the onlookers.
Killing Bakasura
Lord Krishna ended the life of demon, Bakasura, when he tried to upside down a cart loaded with pans and utensils on him in a vile effort to kill baby Krishna. However, Lord Krishna simply touched the wheel of the cart with his toe and the cart went flying in the sky, killing the demon then and there.
Killing Aghasura
Aghasura was a demon and elder brother of Bakasura and Putana. To kill Lord Krishna to avenge on his siblings, he disguised as a giant boar and lay motionless in a jungle where friends of Krishna played. By the gigantic size of his serpentine body, he was mistaken as a mountain cavern by Krishna's cowherd friends, each entered into its mouth one by one. Trapped inside of it, they shouted for an assistance which moved Krishna to their rescue. Lord Krishna sized up his body beyond the extent of what was permissible by the demon to endure and so, his mouth cleaved open, out of which all the friends came out unscathed.
Killing Dhenuka
Demon Dhenuka or dhenukasura inhabited in the forest teeming with pastures and palm trees. The sweet fragrance of the vegetation wafted across the forest and reached to Krishna, Balrama and cowherd friends playing nearby the forest. The aroma lured them to the palm trees where Dhenuka and his attendants, all disguised as donkeys, attacked on them. According to Harivamsa purana, Krishna held Dhenuka by his feet and whirling him around several times, tossed his body to the far across a mountain. The remaining attendants were all killed by Balrama and Krishna, thus setting the forest free from the demons.

In Nandagrama
Lord Krishna spent seven to ten years of his childhood in Nandagrama and performed some of notable activities as follows:
Lifting Govardhan Hill
Braj people who worshiped Indra, the god of lightning, thunder, storms, and rains, was dissuaded by Krishna not to worship Indra and instead focused on their Karma regarding farming and sustenance of their livestock. This infuriated god Indra, who then wrecked thunder, lighting and heavy rainfalls on Braj as a way of teaching the inhabitants a lesson for their defiance. The deluge created by estranged Indra posed a grave risk for Braj people and their livestock, who then sought help to Lord Krishna, who then lifted the entire Govardhan hill on his little finger. This provided a sufficient safety net for the entire people of Braj and their livestock from the heavy downpour accompanied by thunderstorms. The dance of the havoc created by Lord Indra continued for seven days but none was harmed who took shelter under the Govardhan hill. Finally, subdued and embarrassed, Lord Indra caved in, and stopped the rainfalls, sending a ripple of cheers to the inhabitants of Nandagrama, which also marked the festival of Govardhan Hill.
Meanwhile, Lord Krishna has also played with Gopis known as Raas Leela which finds a great place in mythology about his courtship with Radha and other gopis.
Back in Mathura
Killing of Canura and Mustika
A fierce hand to hand combat or wrestling match between Lord Krishna versus Canura and Lord Balarama versus Mustika in the courtyard of king Kansa, led to the death of Canura and Mustika by the hands of their combatants.
Killing of Kansa, the tyrant king
When the wrestling match ended with the killing of Canura and Mustika by Krishna and Balarama respectively, the infuriated Kansa ordered his soldiers to drive away from both the winners out of Mathura, confiscate the property of cowherd and nab Nanda Maharaj. Enraged king sought killing of Vasudeva and Ugrasen (Kansa's father), along with supporters of whom Kansa assumed were working for hand in glove with his enemy, Krishna.
However, his wrath and ire did no effects on imperious Lord Krishna as he held the tyrant king by the clump of his hairs and knocked him down on the wrestling mat with his unparalleled force. Kansa was killed and his dead body then was dragged by Krishna out in the open ground allowing spectators to witness the incident undreamed of.  Book your Shri Krishna Janmashtami puja today, remove evil forces from your life, be with ceaseless peace & prosperity.
Other works are done in Mathura by Krishna
Association with Garga Rishi
Garga Rishi holds a never ceasing fame of being one of the most esteemed saints of Vedic sages, who also authored Garga Samhita that details the life of Krishna. Krishna had association with the sage with whom he chanted Gayatri mantra.

With Sandipani Muni
Lord Krishna was disciple of the esteemed sage, Sandipani. The Gomti Kund near the Ashrama of Sandipani Rishi became consecrated with confluence of all the holy waters of different centers as summoned by Krishna so that his Guru wouldn't have to suffer traveling other holy places. The legend had it that after speedy completion of studies, Krishna asked his preceptor about Dakshina as he preferred, of which Guru Sandipani demanded resuscitation of his son who was presumed to be dead in the ocean of Prabhasa.
Both Krishna and Balarama travelled to the designated place of Prabhasa only to find that a conch demon known as Shankhasura ran away with the son to his hideout called Panchajanya. Unfortunately, the son was not found in the conch, forcing Krishna and Balarama to approach to Yama with the conch and blew it with such a force that it shook the entire Yamaloka. When Yama asked for the reason of Krishna's visit, the Lord requested him to restore the life of his teacher's son, which Yama obliged immediately. Finally Krishna and Balarama returned to their preceptor with his son, thus fulfilling guru dakshina. The Panchajanya conch endeared Krishna so much that he held it with him, blew it during Mahabharata as the chariot of archer Arjuna.
With Sudama
During academic pursuit under the guidance of Guru Sandipani Rishi, Lord Krishna befriended with a classmate named Sudama, with whom he performed the relationship of friendship unconditionally. Even today the friendship of Krishna-Sudama is told with honor in folklore.
As long Krishna stayed in Mathura, he provided a great respite to the city from many demons, including Dhenukasura, Pralambasura, Aristasura (the bull demon), Kesi (the horse demon), and Vyomasura (the sky demon).
Dwaraka Establishment
Lord Krishna settled in Dwaraka with wife Rukamani which was the gigantic impressive mansion with 900,000 of "crystal and silver as well as emerald-decked" royal palaces built on the submerged land of the ocean. Anecdote of Mahabharata suggests that Dwaraka was attacked by king Salva but was defeated in retaliatory action of Lord Krishna, though the war inflicted heavy damage on the beauty of the city.
Apart from Rukamani, Krishna also married to seven other queens, including 16,000 princesses whom he rescued from the despotic ruler of Pragjyotisha, Narakasura. A fierce battle between them in which Narakasura unleashed 11 Akshauhinis onto Krishna led to the defeat and death of Narakasura.
Role of Krishna in Mahabharata, Death
Lord Krishna played a cardinal role in Mahabharata. Even though he held the omnipotent divine figure and could have concluded the historical battle between Pandavas and Kauravas in a day yet assumed the role as a chariot and guide for the legendary archer, Arjuna. He preached Arjuna of what we know today Bhagavad-Gita based on which, Arjuna attained transcendental awareness of being righteous and karma-oriented, in spite of impregnability of the circumstances posed in front of him.
Krishna was a keynote spokesperson/envoy on behest of Pandavas sent to the kingdom of Kauravas, Hastinapura, to place in front of Duryodhana the demand of Pandavas about returning the property, which he held unlawfully, back to its real owner Pandavas, a proposal contemptuously denied by the stubborn Duryodhana. He arrogantly said not to give even a parcel of land spaced on the pinch of a needle, one of the most important statements that seeded the ground for Mahabharata battle among Pandavas and Kauravas.
Though Lord Krishna could have ended the war easily helping Pandavas to reclaim their lost kingdom, yet he preferred to help them by being chariot and guide to Arjuna, also his brother-in-law, as Krishna married off his sister Subhadra to him.
The result of Mahabharata came to its conclusion, with Pandavas declared winner, on the cost of destruction of Kauravas dynasty, which later earned Krishna the curse of Gandhari about the destruction of Yadavas under his helpless watch and he will meet his own end at the hand of a hunter. Subsequent results post many years of Mahabharata proved the manifestation of the curse of Gandhari, as Krishna and Balarama both couldn't save Yadavas destroying one another. They fled away to a forest where Krishna met his end exactly as cursed, by Jara hunter. However, it was a way of Krishna toward concluding his Avatar, also known as Swargarohana by honoring the curse of Gandhari with his end.
Love Problem Solution Astrology offered by the Best Astrologer In Delhi Near Me, India makes sure that you attain peaceful solution for your troubled love life. With our comprehensive solutions, you will end up living peacefully with your love partner with renewed romance.
Lord Krishna as a protector of Dharma
Lord Krishna is hailed as the protector of dharma because in his ideology, partiality of people based on religion, casts and creeds had no place and so contribution toward reestablishing world peace and harmony was preached. Different sources of mythology present depiction of Krishna in their own respective ways, but everything finally boils down to this key conclusion that the divine being of Lord Krishna was Samdarshi (one who treats everyone equally, impartial).
Lord Krishna propagated the doctrines of dharma in Bhagavad-Gita by conjoining it with "Karma" and "Yoga" accentuating its values with spiritual enlightenment and karma-centric adherence of the seekers.
Sri Krishna Janmashtami and its Importance in Our life
Sri Krishna Janmashtami is one of the most revered festivals dedicated to Divine Almighty Lord Krishna to celebrate his birth at a time when the mounting force of evil forces was at the prime of their devious growth, an obvious threat to the world order. The importance of Krishna Janmashtami relates to the triumph of good over evil forces indicating that no matter how difficult the bad force may be, it is fated to meet its final end in disgrace while the place of truth and righteousness always prevails in honor. Janmashtami celebration of Lord Krishna by enthusiastic devotees presents the vibrancy of festivities that India holds since time immemorial legacy of which is honorably upheld and carried forward generation to generation, with its prestige intact and super shined. Book your Shri Krishna Janmashtami puja today, remove evil forces from your life, be with ceaseless peace & prosperity.
Importance of Sri Krishna Janmashtami:
Harbinger of positivity that evil forces always fall to their ending.
The growth of spiritual enlightenment in the devotees of Lord Krishna.
Krishna being the destroyer of evil forces, his Janmashtami is believed to prevent devotees from negative influences.
Perpetual peace and prosperity dawn upon by the blessing of Krishna on his staunch devotees.
Conclusion
Lord Krishna was an omnipotent divine figure whose eight avatars as Krishna was to serve the purpose of restoring world peace by destroying evil forces. From his birth to adulthood and the day of his ending, he lived the life engulfed with a vibrancy of sheer uniqueness.
Our Chandra Puja offers one solid divine solution to mental infirmity. Become wiser and level-headed in tough times.
Also Read: Holi Festival of Colours – Rangwali Holi OR Dhulandi and Skanda Shashti Vrat and Devshayani Ekadashi