Saturn in Sagittarius And Its Effect on Prospects of India
Published On : November 5, 2017
|
Author : Astrologer Pt Umesh Chandra Pant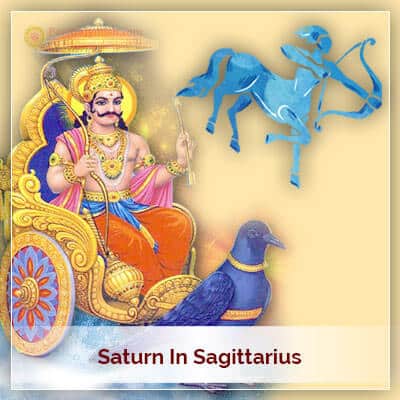 Saturn Transiting In Sagittarius, Possible Effects In India
Saturn in Sagittarius And Its Effect on Prospects of India: How it is to affect prospects of India more so on the economic front
Saturn is measured as most favorable (Yog Karka) for Taurus Ascendant. In India's independence time chart Taurus Ascendant emerges with malefic Rahu present therein. This can be attributed struggling time for the country initially. A lot of water has flown through in holy river Ganga since independence. Meaning lot of changes, development has happened after independence. After an opening of the economy in the year 1991, during the prime ministership of P. V. Narasimha Rao Indian economy has changed and developed a lot. Now Indian economy is credited with being one of the fastest growing economies.
However, latest report about slowing down of growth rate has become the talk of the town. There is a lot of criticism about moves made by the present government in recent past. Demonetization and hasty implementation of GST is held as the culprit for slowing down of the economy by critics. Now we try to analyze astrologically how the economy is to look at transit of Saturn in Sagittarius. Get your own horoscope analysis and effective solutions.
Astrological Chart Of India Independence Day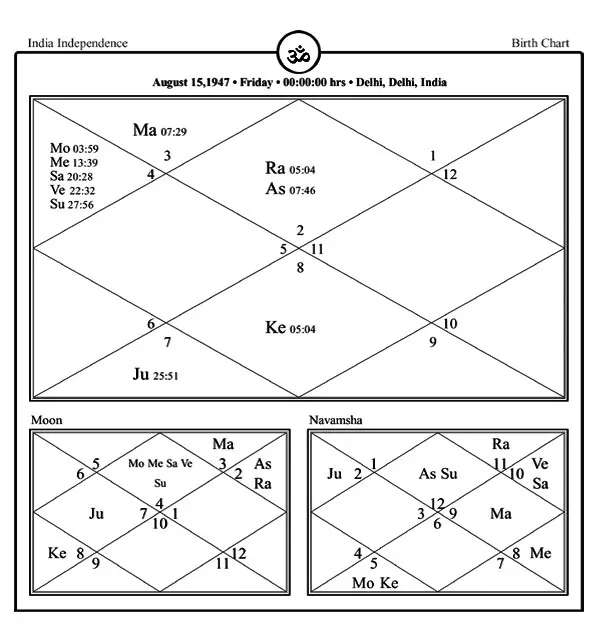 Saturn being Yog Karka for Taurus Ascendant, its movement carries a lot of importance. From 26th October, Saturn makes move into a dual-natured last of fiery sign Sagittarius. Saturn now moves through the eighth house. Saturn moves in direct opposition to the second house. The second house is mainly about national wealth. It is also concerned with purchasing ability of people, financial stability, and strength of the currency, budget and also balance of trade. As a ruler of the 12th house Mars is present in the second house. Saturn is to move in direct opposition to natal Mars. However, the good news is about Jupiter return. Jupiter is in air sign Libra and moves through the sixth house. Jupiter has aspect over the tenth and second house along with the 12th house.
Transiting Saturn is to also view the fifth and the tenth house as well. The fifth house rules emotional stability, communal harmony and intellectuals as well. It is concerned with investment, stock exchange and speculative orientation of people. Moral and values of people are indicated by the fifth house.
The tenth house is about administration, parliament, law and order and foreign trade.
Now as a basic principle, an aspect of wily Saturn over a house, sign, and the planet is expected to lead to disruption, disturbances. The direct opposition has more intensity. Viewing this, the purchasing ability of people at large is likely to be adversely affected by the transit of Saturn in Sagittarius through the eighth house. Gemini is linked with communication, transport. Disruption in communication is envisaged. The balance of trade is likely to be affected. For resolving your problem Talk to Astrologer can help your cause.
Influence of Saturn over the fifth house does not spell well for emotional stability and lead to communal disharmony at some place. People are to be inclined towards speculation oriented activities. Volatility in the stock exchange is envisaged. Sensex may see new highs and sudden lows. Moral and values of people may see the notable dip.
The aspect of Saturn over the tenth house can disturb foreign trade and government is to be concerned about law and order in some part of the country.
At the same time, Jupiter moving through the sixth house has aspect over the second and the tenth house along with over the 12th house. This may lead to spending money for development purpose. Influence of Jupiter is to have kind of protective influence. This is work well in minimizing damage caused by movement of Saturn.
However, from around October 2018, Jupiter makes move into a fix natured water sign Scorpio. Now protective influence of Jupiter is not available. Relationship with neighbors can cause concern.
From around March 2019, Ketu enters Sagittarius and Rahu shifts into Gemini. Now Saturn and Ketu move through the eighth house and Rahu in the second house. This movement of Rahu and Ketu can lead to adverse effect on matters related to the second house. Purchasing ability of people at large is to be affected notably. The growth of the economy can be badly affected. Foreign trade may take a dip. Picture about the economy is to look kind of hazy during movement of Saturn in Sagittarius. Change of sign by shadow planets Rahu –Ketu from around March 2019 can have a negative effect on the economy as a whole.  Purchasing ability of people at large is to be adversely affected. Balance in foreign trade is also to be affected.
Conclusively it is a very much challenging time for a recovery of the economy in ensuing couple of years for India.
Book an appointment with Renowned Astrologer Delhi NCR Pt Umesh for consultation by either Phone Consultation or meeting in person to get the right answer to your concerns and applicable remedy to soar over obstacles and move ahead on road to progress and happiness.
Must Read: Mercury Transit in Scorpio (Vrishchik Rashi) on 2nd November 2017 and Sun in Scorpio (Vrishchik Rashi) on 16th November 2017