Skanda Shashti Vrat
Published On : June 28, 2022
|
Author : Astrologer Pt Umesh Chandra Pant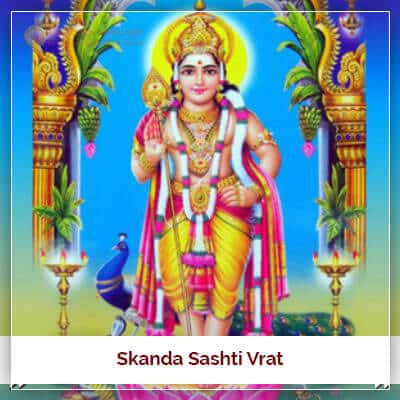 Skanda Shashthi Vrat And Its Importance
This vrat/fast is observed in order to please the lord Karthikeya and attain his divine devotion. A synonymous name of lord Karthikeya is Skanda. And this fast/vrat is famous because of that name of the lord, considering significance of this vrat has been talked at length in Skanda purana. In addition to it, there are countless narratives found in Shiva and other different Puranas extoling the grandeur of lord Skanda and his devotions. Some people, due to their individual conflict and place-wise difference, observe this vrat on Shukla paksha of Ashadha and Chaitra Shukla paksha. And there are also those sections of people who worship and observe Skanda Shashthi vrat on Shashthi tithi of Kartika Paksha. So, whatever Tithis that fall on this month are considered very auspicious for doing Skanda Shashthi vrat. On being asked regarding this vrat by sage Narada, Lord Vishnu answers that doer of this vrat attains elimination of all his sins and gets blessed with progeny. The commander-in-chief of Gods, this vrat is considered very auspicious and giver of divine favors, plus blessing childless couples the offspring, thus putting an end to their sorrows of bearing no child. Rules and self-control must be followed a day before starting Skanda Shashthi vrat. This is very popular in South India. Shashti tithi of Chaitra Shukla is considered very optimal time for doing this vrat. However, due to conflicting assumptions and place-wise differences, some people celebrate this vrat on Shashthi tithi of Kartika month and Ashwini month. Lord Karthikeya is also known and worshipped by other different names, like Kumar, Skanda, Shadanan and Murugan. People get knowledge and wisdom by worshiping the lord. Following this vrat marks dawn of religious results in people. This puja and vrat are extremely essential for domestic peace and prosperity, considering a home without peaceful ambience becomes the madhouse of everyday scuffle. Hence, one should observe this vrat
Puja-Methods For Skanda Shashthi Vrat
Devotees observing Skanda Shashthi vrat must exercise self-control and regularity a day before the vrat. This is mandated to ensure sanctity of celibacy and one's own purification. If eating non-vegetarian diets, kindly avoid them to get yourself ready for vrat. Wake up early in the morning, finish your daily routines, and make a stock of all puja-related essentials, such as new outfits, toys, Diya and flowers, garlands, cashews, almonds, and sweets made by coconuts. Collect a branch of banyan tree and a blue flower, sit on a clean seat, remember the God, do self-purification, and lit up Diya. Alternatively, you can get puja done in a shadopchar method by a learned Brahman priest. Offer your puja to lord Skanda, and pray to him for the fulfillment of your desires/wishes.
Story Of Skanda Shashthi Vrat
One of the many stories about Skanda Shashthi vrat is briefly described here – Once Chyavana suddenly suffered a great deal of pain in his eyes. Despite many treatments, the disease didn't let up. Finally, he lost his eyesight. Later, he observed Skanda Shashti Vrat on the advice of someone else, and his eyesight returned. Another important tale suggests that blessing of lord Skanda brought dead infant of Priyavrat into life. This story is found in Brahmavarta Purana. Six Kritikayas raised lord Karthikeya born out of the divine lights of lord Shiva. Monster Tarakasura, whose tyranny caused innumerable pains on earth and to Gods, was finally killed by lord Kartikeya, who was appointed commander-in-chief of Gods. Due to his upbringing done by six Kritikayas, lord Kartikeya is the God having six faces. He is providing great respite to divine beings from the tyranny of devil force.
Must Read:
Lord Shri Krishna and Anang Trayodashi Vrat and Hal Shashti Vrat