Ask 3 Questions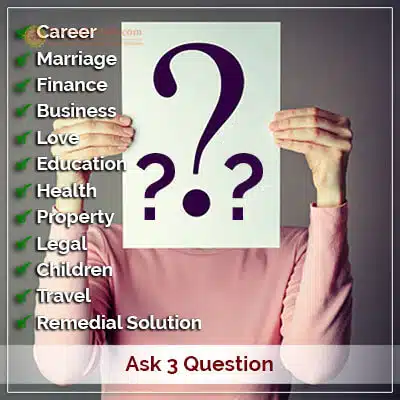 Three Answers Of Your Questions Simplifying Your Life's Problems
Ask 3 Questions that literally discomfort you and get their trusted answers from our Renowned Astrologer, Pt. Umesh Chandra Pant. You can avail this service for any 3 questions, be it related to any areas such as your career, marriage, marital issues, progeny, professional & personal front, and get the suitable remedies too based on the analysis of your birth chart.
Important Information About Ask 3 Questions
Service Name: Ask 3 Questions, Service Type: Astrological Guidance and Solution, Language: English, Service Mode: Online (By e-mail only), Delivery: 5 Days, Features: Guaranteed solutions, Reliable services, Extensive results and best standard format of PavitraJyotish (YOUR REPORT WILL CONTAIN – Read it below), Benefits: It helps you setting short and long term goals with solution of your personal problems positively.
Why Ask 3 Question Report?
In case of any 3 questions bothering you every time, you can order Ask 3 Question Report to enable you with the most accurate answers predicted by our expert Best Astrologer In India along with the suitable remedies too, that would be helpful tool to get rid of your doubts or problems.
How Does It Work?
1. Share your birth details and ask your queries/problems.
2. Make the payment.
3. We will send an email for reconfirmation of your birth details through your registered email id.
4. After confirmation, within next 5 working days, we will provide detailed report as per our standard format and reply to your specific questions (Your Report Will Contain – Read it below).
5. You will receive your personalized report at your registered email id.
6. Read your report, and feel free to contact us via e-mail if you feel like having any doubt. We will respond you shortly by reverting your e-mail.
Get your 5 Year Prediction, Life Reading Report, Child Scan Horoscope, Health Report that will ensure you stay informed with our latest astrological solutions. Make your life blessed with success with our year-wise predictions and comprehensive reports.
Info
Delivery : 7 Days
Get your manually analysed and Hand-Written report by expert Astrologer.
What Ask 3 Questions Report Will Contain?
1. Astrological Details of your Horoscope chart (i.e. Complete basic information, Ascendent, Rashi, Nakshatra, Placement of Planets, Dasha & Antardasha)
2. Response to your 3 questions
3. Lucky measures to benefit to you (Lucky number, days, metal, time, direction & gemstone)
4. Mantra and Puja Remedies
5. Lucky Yantra and Rudraksha
6. Important tips to make situations easier for you

Benefits Of Ask 3 Questions
1. You will be able to form your steps ahead once you know the possible areas of strength and work upon the areas of concern.
2. Having known the choice possible, you can avoid the weak areas and focus your attention on areas that are benefic in your life so that you can enjoy a blissful marital life.
3. Despite the apparent confusions, you will be able to understand your love and take a decision wisely.
4. Your fear, apprehension, worries and stress will be reduced.

Hear From Our Customers
I made telephonic consultation with astrologer Umesh Pant Ji, and in duration of nearly 30 minutes that followed, I came across valuable solutions to all 3 questions that I put across to him in anticipation of having great answers. Honestly, I never met anyone dedicated and intelligent professional of such a great magnitude. For those looking for quality astro solution, it makes sense to consult Umesh Ji. I found him extremely friendly and experienced. Moreover, he is at ease with any astro questions with prompt answers.
Vikram Chauhan, Delhi, NCR
Umesh Ji is one of those rare professional who knows his subject and is a true guide. He has been helping me for quite some time now. His simple and effective advices have helped me to cope up in times of difficulties and are showing results. He has been a friend , guide and mentor for me and I wish him all success in his future services for mankind.
Debraj Chaki, Kolkata (West Bengal)