Baglamukhi Anushthan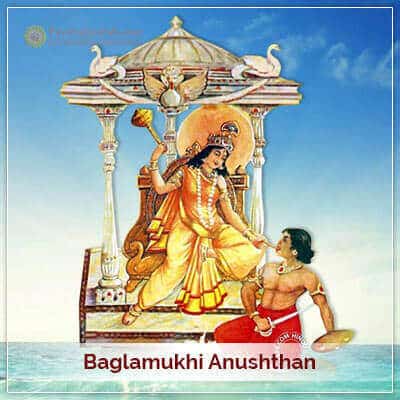 Baglamukhi Anushthan is done to please Maa Baglamukhi and it helps to defeat all internal and external enemies such as krodh, lobha, moha etc. We perform this Anusthan by following all the rules and rituals. Maa Baglamukhi is believed to have ultimate powers that remove all problems and sins and ensure victory and valor in the life of devotees. This Anusthan has powers to turn ignorance into knowledge, defeat to victory and the person is able to discover his hidden powers that enable him to get success and happiness in life. We provide our services of Anusthan at very prices to the devotees.
Complimentary Gifts:
Siddh Sampoorn Badha Mukti Yantra
Siddh Baglamukhi Kavach
Info
Delivery: 7 days According to Muhurta.
The scholars and pundits of Pavitra Jyotish have performed your puja, for amazing and miraculous relief from suffering and alleviate your problems.
Customer Care
If you have any query or need further clarification
Call +91-11-26496501