Blue Sapphire (Neelam) 1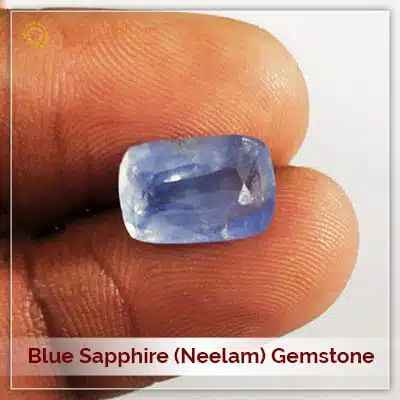 Blue Sapphire (Neelam) Gemstone For Peaceful Lifestyle
Lab Certified Blue Sapphire Gemstone (Neelam Ratna)
The Blue Sapphire is commonly known as Neelam. Blue Sapphire (Neelam) Gemstone corresponds to hard taskmaster Saturn. If you are experiencing hardship, uncertainty in career, low on finance, increase in expenses, not getting due recognition for your effort, blame it on wily Saturn. A weak Saturn can rob you of comforts, luxury, and progressive career. The position of Saturn particularly when in retrograde mode is indicative about manifesting deeds of past life. if you use your authority for self and ignore ethical way of doing things, Saturn is not to take it kindly and render due punishment. A strong well position Saturn prompts you to take firm decision for well being of people around you lets you enjoy a highly responsible position in career and if interested in politics Saturn is helping you climb up the ladder without hiccups. Strong Saturn works well to high-level knowledge about spirituality and follows practices to experience that eternal bliss. At PavitraJyotish.com, you can buy original Lab Certified Blue Sapphire Gemstone or Original Neelam Ratna Gemstone at nominal price at Religious Products Store.
Product Information For Blue Sapphire (Neelam) Gemstone
Product Name: Blue Sapphire (Neelam) Gemstone, Colour: Blue, Shape: Oval Or Rectangular Or Square, Weight: Approx. 6 Carat, Origin: Sri Lanka (Ceylon), Quality Effects: Energized by Scholar Pundits, Treatments Applied: Unheated and Untreated, Gemstone Type: Lab Certified, Certification: Authentic Lab Certified, Ideal For: Bracelets Or Necklace Or Ring, Usage/Application: Wearing method provided to you with Gemstone, Brand: PavitraJyotish, Packaging Type: Box, Guarantee: Best Quality Gemstone With Assurance of PavitraJyotish.com.
How Does It Work?
1. Share your gemstone energization (puja) details, your wishes, complete address with postal pin code and phone number for dispatching authentic and 100% original Blue Sapphire (Neelam) Gemstone.
2. Make the payment.
3. Once you have an order for the gemstone, you will receive an order confirmation email at your registered email id.
4. We will send an email for reconfirmation of your energization (puja) details, and your address through your registered email id.
5. After confirmation of your email, we will process your order and make the ring and energize the gemstone according to your best muhurta.
6. After that, we will send the gemstone by post or courier at your mentioned address. It will take 1-2 weeks to process your order for gemstone.
7. After dispatching the product, we will send tracking details of it by your registered email.
8. When you receive a gemstone please confirm through an email.
9. Open the parcel, read our instructions and wear the same.
Benefits Of Wearing Energized Blue Sapphire (Neelam) Gemstone
1. This enables you to take right decision firmly.
2. You trade cautiously and not get pushed by impulse.
3. Helps to have a steady progressive career.
4. Prudence is the buzz word for you.
5. You command respect in the social circle.
6. Helps you to hold a responsible position in career.
7. A business person can strike a big-ticket deal.
Weight: 6 Carat ( 1 Carat = 200 mg)
We have developed a proprietary method to cleanse, energize and attune Gemstone and especially for you. It is based on our deep research and understanding of the Vedas and related astrological scriptures.
Make your life blessed with peace and happiness with our products, Zircon, Ruby (Manik) Gemstone, Hessonite (Gomed) Gemstone, Cat's Eye Gemstone. They are powerful because of energization through religious processes. Choose the one best suited to your needs at the most affordable price.
Info
Delivery: 2 Week
Outside India an additional shipping and handling cost of USD 30