Business Ask 1 Question – Detailed Guidance
Date : June 11, 2016
|
Author : Astrologer Pt Umesh Chandra Pant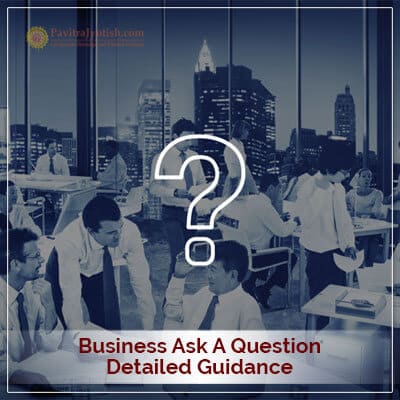 Important Information About Business Ask 1 Question – Detailed Guidance
Service Name: Business Ask 1 Question – Detailed Guidance, Service Type: Astrological Guidance and Solution, Language: English, Service Mode: Online (thru email reply), Delivery: 5 Days, Features: Guaranteed solutions, Reliable services, Extensive results and best standard format of PavitraJyotish (YOUR REPORT WILL CONTAIN – Read it below), Benefits: It help you set short and long term goals with solution of your personal problems positively.
How Does It Work?
1. Share your birth details and ask your queries/problems.
2. Make the payment.
3. We will send email for reconfirmation of your birth details through your registered email id.
4. After confirmation, with in next 5 working days, we will provide detailed report as per our standard format and reply to your specific questions (Your Report Will Contain – Read it below).
5. You will receive your personalized report on your registered email id.
6. Read your report, if you have any doubts feel free to contact us through email and we will respond definitely.
Accurate And Detailed Business Guidance For Your Commercial Growth
Ups and downs in business are the most expected turn of events. Sometimes the business falls into a situation making you unable to manage things properly. So, what are your options to manage the difficult situations in your business? Will you handle it head-on or follow an exit using a safer alternative? If these business questions drive you to find their proper solutions, here's Astrological Business Ask A Question Detailed Guidance!
Studied and done by one of the most Reputable Best Astrologer in Delhi India, Pt. Umesh Chandra Pant, your Business Astrological Horoscope is the portfolio of business answer for your dream that you want to achieve.  Meticulously prepared, our Business Horoscope guides you into the pursuit of fruitful result with great business analysis.
Career Ask 1 Question, 2021 Ask 1 Question, and so others are premium ranges of astrological services involving instant astro-solutions for your problems, and many more exclusive benefits. In addition, Aquarius Monthly Horoscope lets you access information for your benefit to enhance your knowledge or get updated of what activities you should plan in a month for your individual success in your chosen calling.