Business Report 7 Year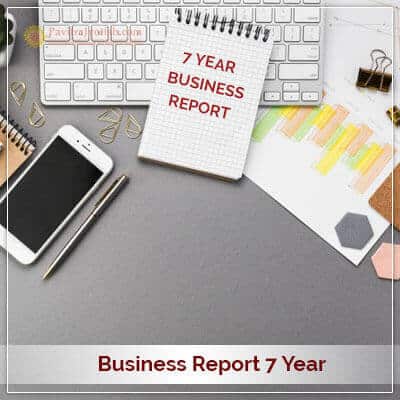 You can't predict in what way your business would move in today's extremely challenging marketplace. How future will hold for your venture is something that is beyond one's control to foretell. However, astrological interpretation of your commercial venture will give you. Best Guidance and Remedies Solution to your business, helping you make a right decision and avoid risks.
Business Report 7 Years consists of your Business Horoscope helping you understand your zodiac position and its relevance in the context of your business. That said, you will be guided to comprehend the business opportunity coming into your life, and analysis to choose a business path in accordance with your zodiac position.
The difference between choosing Business Report 10 Year and that of 7 years is that the former one can be chosen for the long-term purpose of your commercial venture so that you stay updated with any astrological implications that might affect your business in a certain way. The one for 7 years can be chosen if you want to see the result of astrological prediction regarding your business for a relatively shorter term. Therefore, you can opt for a business report for shorter years, and if the result is impressive, you can choose the business report for more than 7 years.
Info
Delivery : 5 Days
Get your manually analysed and Hand-Written report by expert Astrologer.
Customer Care
If you have any confusion or need further clarification please contact our customer care.
Call +91-95821 92381 and 011-49901368
Your Report Will Contain:
1. Astrological Details of your Horoscope chart
2. Astrological analysis of your situation
3. Response to your question
4. How to make use of this report
5. Lucky measures to benefit to you (Lucky number, days, metal, time, direction and gemstone)
6. Effect of ascendant and ascendant lord
7. Effect of your Moon Sign
8. Detailed report of Seven Years in 4 quarters each
9. Mantra and Puja Remedies
10. Accurate remedial measures for your problems (Lucky Yantra and Rudraksha)
11. Important tips to make situations easier for you

Benefits of this report:
1. You can take smarter, calculated decisions, with a clear view of the upcoming situation.
2. The solutions to your confusions and problems will be resolved and thus empower you to face the odds with adequate protection
3. Risks in your business will be reduced
4. You will be confident to take wise decisions since the problems will be handled with ease. This will help in clear thinking and happier planning ahead.

Testimonials:
I express my heartiest gratitude to Mr. Umesh Pant for having provided me a great business report that continues to guide me with its comprehensive details about my future business. I had opted for this service from Pandit Ji in light of struggles and loss I was making in my business. No sight of profit was visible then. Driven to depression, I took many wrong decisions in my business. At last great supports were provided by Pandit Ji. It was good to report to him in depth for my future business.
Rajendra Chowdhury, Bilaspur, Chattishgarh
I was suggested to seek a solution to my problems by Astrologer and consult Pt. Umesh Chandra Pant. I followed his advise and was suggested to pooja of Sfatik Sri Sri Yantra and other vedic astro remedies by the astrologer. This proved to be extremely helpful. My business is recovering and my financial situation has also improved. I have a high regard for astrologer Umesh, who helped me in my tough times. I can never forget his contribution.
Rajeev Hasija, Malviyanagar, Delhi