Business Report 7 Year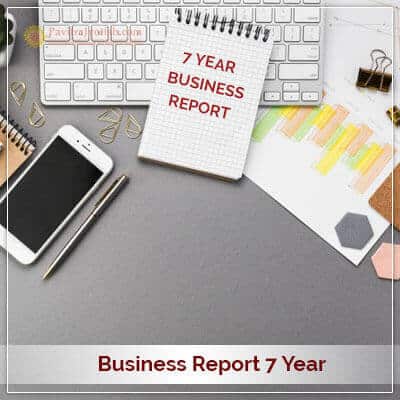 Achieve Success, Growth, And Innovations In Your Business
Business Report 7 Years is a perfect guide for your running business prepared on the basis of your birth chart, mahadasha, transits, 7th house of business partnership and the planetary placements in horoscope. The arising zodiac sign in your horoscope tells the most profitable area in business and what business opportunities to expand at large scale to obtain maximum benefits along with suitable remedies to help you in multiplying your profit. Get Business Horoscope report 7 years.
Important Information About Business Report 7 Year
Service Name: Business Report 7 Year, Service Type: Astrological Guidance and Solution, Language: English, Service Mode: Online (By e-mail only), Delivery: 5 Days, Features: Guaranteed solutions, Reliable services, Extensive results and best standard format of PavitraJyotish (YOUR REPORT WILL CONTAIN – Read it below), Benefits: It helps you setting short and long term goals with solution of your personal problems positively.
Why Business Report 7 Year?
Do you wish to expand your business? But getting stuck with the idea of whether it will be good to take decision or hold the decision for the next couple of years, then Business Report 7 Year looks good for you to provide you an apt solution with your good period to initiate any activity or the bad one period to avoid any major investments along with the suitable remedies to help you with long term prosperity.
How Does It Work?
1. Share your birth details and ask your queries/problems.
2. Make the payment.
3. We will send an email for reconfirmation of your birth details through your registered email id.
4. After confirmation, within next 5 working days, we will provide detailed report as per our standard format and reply to your specific questions (Your Report Will Contain – Read it below).
5. You will receive your personalized report at your registered email id.
6. Read your report, and feel free to contact us via e-mail if you feel like having any doubt. We will respond you shortly by reverting your e-mail.
Book our premium services including Career Report 7 Year, Career Report 10 Year, Business Report 2 Year, Business Report 3 Year and get desired success in your chosen field of endeavor. Each of these services consists of certain miracle solutions for any trouble plus effective guidance for your assistance.
Info
Delivery : 5 Days
Get your manually analysed and Hand-Written report by expert Astrologer.
What Business Report 7 Year Will Contain?
1. Astrological Details of your Horoscope chart (i.e. Complete basic information, Ascendant, Rashi, Nakshatra, Placement of Planets, Dasha & Antardasha).
2. Response to your question.
3. Business as noted from your kundali.
4. Prediction of the next 7 years in 4 quarters.
5. Lucky measures to benefit to you (Lucky number, days, metal, time, direction and gemstone).
6. Mantra and Puja Remedies.
7. Lucky Yantra and Rudraksha.
8. Important tips to make situations easier for you.

Benefits Of Business Report 7 Year
1. You can take smarter, calculated decisions, with a clear view of the upcoming situation.
2. The solutions to your confusions and problems will be resolved and thus empower you to face the odds with adequate protection.
3. Risks in your business will be reduced.
4. You will be confident to take wise decisions since the problems will be handled with ease. This will help in clear thinking and happier planning ahead.

Hear From Our Customers
I express my heartiest gratitude to Mr. Umesh Pant for having provided me a great business report that continues to guide me with its comprehensive details about my future business. I had opted for this service from Pandit Ji in light of struggles and loss I was making in my business. No sight of profit was visible then. Driven to depression, I took many wrong decisions in my business. At last great supports were provided by Pandit Ji. It was good to report to him in depth for my future business.
Rajendra Chowdhury, Bilaspur, Chattishgarh
I was suggested to seek a solution to my problems by Astrologer and consult Pt. Umesh Chandra Pant. I followed his advise and was suggested to pooja of Sfatik Sri Sri Yantra and other vedic astro remedies by the astrologer. This proved to be extremely helpful. My business is recovering and my financial situation has also improved. I have a high regard for astrologer Umesh, who helped me in my tough times. I can never forget his contribution.
Rajeev Hasija, Malviyanagar, Delhi