Career Ask 3 Questions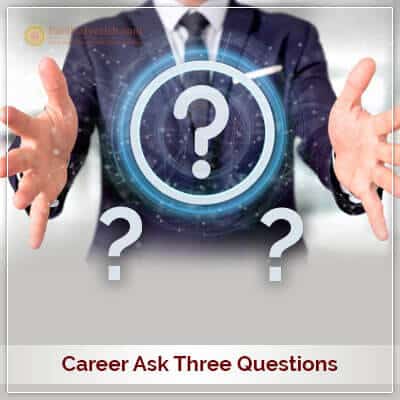 3 Career Answers Solving The Puzzle Of Your Great Career Quandary
Facing issues or getting difficulty to be entitled to your drawn endeavours at work? Thus, to help you with such issues, we come up with a solution for you. Ask any 3 questions related to your career and get an accurate answer from our expert Online Astrologer India based on the planetary alignments in your birth chart especially the rising Zodiac Signs in concerned houses.
Important Information About Career Ask 3 Questions
Service Name: Career Ask 3 Questions, Service Type: Astrological Guidance and Solution, Language: English, Service Mode: Online (By e-mail only), Delivery: 5 Days, Features: Guaranteed solutions, Reliable services, Extensive results and best standard format of PavitraJyotish (YOUR REPORT WILL CONTAIN – Read it below), Benefits: It helps you setting short and long term goals with solution of your personal problems positively.
Why Career Ask 3 Question Report?
Career Ask 3 Question report is perfect report to order if you have any 3 doubts related to your career in your mind. By means of this report, you will get the maximum accuracy in predictions and perfect astrological remedies to be followed to accompany you in rising towards career pursuits.
How Does It Work?
1. Share your birth details and ask your queries/problems.
2. Make the payment.
3. We will send an email for reconfirmation of your birth details through your registered email id.
4. After confirmation, within next 5 working days, we will provide detailed report as per our standard format and reply to your specific questions (Your Report Will Contain – Read it below).
5. You will receive your personalized report at your registered email id.
6. Read your report, and feel free to contact us via e-mail if you feel like having any doubt. We will respond you shortly by reverting your e-mail.
Device best success appropriate for your business, finance, education or get good grade in education or achieve growth in your career with our services like Business Report 1 Year, Finance Report, Education Report, Career Report 2 Year. Accomplish your dream in reality with our prompt assistance.
Info
Delivery : 5 Days
Get your manually analysed and Hand-Written report by expert Astrologer.
What Career Ask 3 Questions Report Will Contain?
1. Astrological Details of your Horoscope chart (i.e. Complete basic information, Ascendant, Rashi, Nakshatra, Placement of Planets, Dasha & Antardasha).
2. Response to Your 3 question.
3. Lucky measures to benefit to you (Lucky number, days, metal, time, direction and gemstone).
4. Mantra and Puja Remedies.
5. Lucky Yantra and Rudraksha.
6. Important tips to make situations easier for you.

Benefits Of Career Ask 3 Questions
1. You can make smarter, calculated decisions, with a clear view of the upcoming situation.
2. The solutions to your confusions and problems will be resolved and thus empower you to face the odds with adequate protection.
3. You will be confident to take wise decisions since the problems will be handled with ease. This will help in clear thinking and happier planning ahead.

Hear From Our Customers
I Found panditji in Google and met him. I was facing a lot of problem in my life. none of my plans used worked out. I got proper answer related my issues. He has guided us properly with his accurate predictions and remedies. There is no doubt that panditji is the best destination to get all types of astrology services. I will recommend his astrology services to all.
Girija, Ghaziabad, UP
Long-time back, I had consulted to Pandit Ji for detailed guidance regarding my career. I requested him to prepare horoscope for my career as it was in topsy-turvy situations due to reasons beyond my understanding. His help and acute analysis over astrological interpretations of my situations was impressive. His advice was the most efficient one which led me to believe that not everything was bad in my career.
Sunil Hardikar, Mumbai, Maharashtra