Career Report 1 Year (10% Off)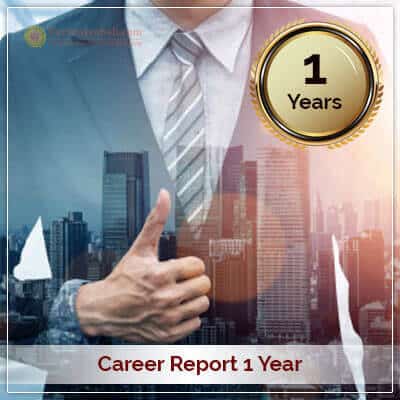 Comprehensive Career Prediction and Solution Report
This is one of the most comprehensive career prediction and solution report for next 1 year by PavitraJyotish.com. 
Career has a major role in life. Choosing right kind of career is also vital. In order to cater to career-oriented ones, PavitraJyotish has this unique Career Report of 1 Year. In this report, we tell you about prospects in a career. Whether you have a chance to get promoted or entrusted with the important task. The Career Report can also forewarn you about pitfalls or any possibility of a break. If you are eager for a change, this yearly career report lets you know the right time to change. How you to get along with your boss during the year are is also revealed in this yearly report.  Any improvement needed in your working methods is also mentioned here.
Our Chief Astrologer Pt. Umesh Pant is the person you can trust to guide you about your career. Umesh has a deep knowledge of Vedic Astrology. With his vast knowledge and years of practical experience, he has acquired skills to prepare a personalized yearly career report to help plan your activity in advance. He can also let you know about some simple remedy to have a flourishing career. Let our astrologer guide you with their advice and remedies.
Pavitrajyotish.com is such an endeavor to bring to you the personalized answer to your question, will provide the optimum remedial measure using the appropriate Gemstone, Rudraksha, Mantra, and Yantra.
Info
Delivery: 5 Days
Get your manually analysed and Hand-Written report by expert Astrologer.
Customer Care
If you have any confusion or need further clarification please contact our customer care.
Call +91-95821 92381 and 011-49901368
Your Report Will Contain:
1. Astrological Details of your Horoscope chart
2. Astrological analysis of your situation
3. Response to your question
4. How to make use of this report
5. Lucky measures to benefit to you (Lucky number, days, metal, time, direction and gemstone)
6. Career as noted from your kundali
7. Your Progression in Career
8. Year in a Nutshell
9. Detailed break (Analysis) for entire year
10. Mantra and Puja Remedies
11. Accurate remedial measures for your problems (Lucky Yantra and Rudraksha)
12. Important tips to make situations easier for you

Benefits of this report:
1. You can take smarter, calculated decisions, with a clear view of the upcoming situation.
2. The solutions to your confusions and problems will be resolved and thus empower you to face the odds with adequate protection
3. Risks in your profession will be reduced
4. You will be confident to take wise decisions since the problems will be handled with ease. This will help in clear thinking and happier planning ahead.

Testimonials:
I suggest everyone to at least go for career report 1 year service provided by astrologer, Umesh Pant Ji. This is beneficial in the sense that you get the clear picture of your career related issues in advance of their occurrence. It's like getting the glimpse of your future. Besides, I found him very down to earth but equally very professional astrologer. Moreover, consultation fee is also very affordable, much to the relief of everyone who doesn't have enough funds to afford the expensive fees of other astrologers.
Nitesh Kummarnath, Bhubaneswar, Odisha
I was searched panditji thru Google. Many heartful thanks to panditji for your career report. Blissful and life changing experience from astrologer umesh. Your good name in my heart and for any referral. Many thanks for your great help sir. Always regards
Dan Bahadur, Kathmandu, Nepal