Career Report 10 Year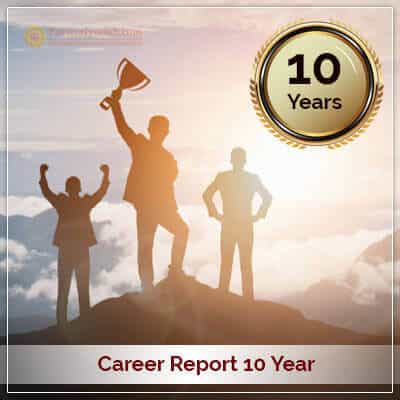 So you've come across a career related issue and decided to choose someone specialist to prepare a Career Report 10 Years. It is indeed a right decision as it will foretell which type of job will get you success with fewer risks in your career, based on your zodiac sign, Horoscope Chart and its relation to transits.
Career report is the detailed analysis of your career-related situations to understand in what manner your career will turn up, in accordance with your zodiac and astrological transits which influence it. In your Career Horoscope, prepared by our Renowned Astrologer, Pt. Umesh Chandra Pant, we make a deep analysis of every area in the order of its preference. We help you understand career options you must choose to gain more rewarding result. Our Career Astrology analysis allows us to develop a well-planned career report 10 years. It is a comprehensive detail of foretelling your job in its year-wise calculation and counseling you correct ways for your Career Growth.
Info
Delivery : 5 Days
Get your manually analysed and Hand-Written report by expert Astrologer.
Customer Care
If you have any confusion or need further clarification please contact our customer care.
Call +91-95821 92381 and 011-49901368
Your Report Will Contain:
1. Astrological Details of your Horoscope chart
2. Astrological analysis of your situation
3. Response to your question
4. How to make use of this report
5. Lucky measures to benefit to you (Lucky number, days, metal, time, direction and gemstone)
6. Effect of your Ascendant
7. Effect of your Moon Sign
8. Detailed report of Ten Years in 4 quarters each
9. Mantra and Puja Remedies
10. Accurate remedial measures for your problems (Lucky Yantra and Rudraksha)
11. Important tips to make situations easier for you

Benefits of this report:
1. You can take smarter, calculated decisions, with a clear view of the upcoming situation.
2. The solutions to your confusions and problems will be resolved and thus empower you to face the odds with adequate protection
3. Risks in your work will be reduced
4. You will be confident to take wise decisions since the problems will be handled with ease. This will help in clear thinking and happier planning ahead.

Testimonials:
I approached Pt. Umesh Chandra Pant and we get astrology report. The answers were clear, correct predictions he shown me right path of life. I will recommend Pt. Umesh.
Sudarshan Singh, Faridabad, Haryana
I consult Umesh Ji frequently for his astrological solutions and trust me, I was quite amazed and overwhelmed by the sheer amount of professionalism he maintained in his service. His professional manner and gentle decorum is what makes personal interaction with the astrologer a fruitful serendipity. Even knowing so much about astrology, he is far from arrogance and ego. I had subscribed to his career report for 10 years, as I wanted to have comprehensive astro reports over my volatile career so that I could plan for my future career effectively. Pandit Ji offers curative solutions, and in my case, his suggested remedial measures have worked well.
Divya Papne, Dehradun, Uttrakhand