Career Report 5 Year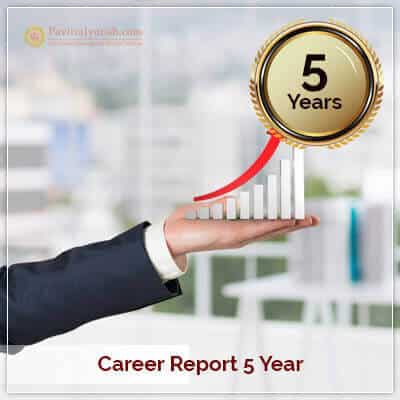 The problem in a career is always expected. Sometimes you get stuck with a wrong job as progressive headway seems impossible. Sometimes you land a wrong job as it is financially not rewarding. Therefore, problems in career are fated to happen. However, there is always a solution to career-related issues one of them is Astrological Career Report.
At PavitraJyotish, we offer Career Report 5 Years. This comprehensive horoscope entails fine points and astrological niceties. Guidance and Career Astrology aiming to help you make a right career choice is offered in the horoscope. You are edified how a particular job would lead you to success in your life. Based on the analysis of your astrological transit and its corresponding influence on your zodiac, we churn out a best Remedial Solution For Career. Our Renowned Astrologer, Pt. Umesh Chandra Pant resolves your grievances caused by unfavorable planetary movements in your career.
Info
Delivery : 5 Days
Get your manually analysed and Hand-Written report by expert Astrologer.
Customer Care
If you have any confusion or need further clarification please contact our customer care.
Call +91-95821 92381 and 011-49901368
Your Report Will Contain:
1. Astrological Details of your Horoscope chart
2. Astrological analysis of your situation
3. Response to your question
4. How to make use of this report
5. Lucky measures to benefit to you (Lucky number, days, metal, time, direction and gemstone)
6. Effect of your Ascendant
7. Effect of your Moon Sign
8. Detailed report of Five Years in 4 quarters each
9. Mantra and Puja Remedies
10. Accurate remedial measures for your problems (Lucky Yantra and Rudraksha)
11. Important tips to make situations easier for you

Benefits of this report:
1. You can take smarter, calculated decisions, with a clear view of the upcoming situation.
2. The solutions to your confusions and problems will be resolved and thus empower you to face the odds with adequate protection
3. Risks in your work will be reduced
4. You will be confident to take wise decisions since the problems will be handled with ease. This will help in clear thinking and happier planning ahead.

Testimonials:
I am sharing my views & opinion. I feel that its really true person & always guide in positive direction.
Ashutosh, Gurgaon NCR
Choosing career report for 5 years was from astrologer Umesh Ji was a decision that I am glad to have made. I consulted him because I wanted to know details pertaining to my career and issues associated with it, including frequent unemployment conditions I was forced to face over the last few months. Pandit Ji has provided me well-detailed career report and particulars of the report are quite helpful. Thanks to him for being so helpful in my needs. Had it been not his timely assistance, my career life would have been on shaky grounds.
Vikram Walia, Delhi