Chandra Puja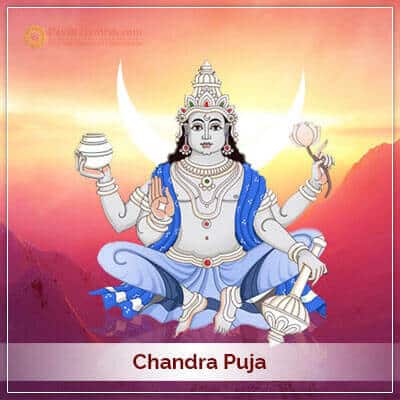 Gain Peace Of Mind And Serenity With Chandra Puja
Chandra Puja or Moon Puja is dedicated to Lord Chandra. Chandra is the planet Moon in Vedic astrology, which rules over the mind, emotions and sentiments of the person. Control mental instability and psychological problems with Chandra Puja as offered by Pavitra Jyotish through its team of dedicated and qualified pandits scrambled to organize the Moon Pooja or Chandra Grah Puja Vidhi and Mantra under proper rituals for you.
Moon is the closest planet to earth and plays very prominent role in Astrology. Hindu Calendar is prepared with the help of Chandra or Moon's transit in certain signs. This motion or transit of Moon causes the happening of particular event in one's life. Thus, calculations and predictions are based on the transit of Moon in Vedic Astrology.
Why Chandra Puja is performed?
Chandra as represented by the planet Moon is the ruling planet of our mental stability and security. When it gets afflicted in one's horoscope, it causes the issues related to mental health, bad relations with mother or mother figure, mood swings, confusion etc. Native may not get the good support from others in life. To help you with the stability, security and Peace Of Mind, Chandra puja is performed.
Important Information About Chandra Puja
Puja Name: Chandra Puja, Puja Purpose: Blessing Of Lord Chandra, Duration of Puja: 10-12 Hours with 3 Pandits, Ideal days for worshipping: Monday, Activities for Moon Puja: Poorvang Karma, Puja of Lord Chandra (as per auspicious Muhurta), Ashtottara Namavali Path, Chandra Stotra path, 11000 (Eleven Thousand) Chanting of Chandra Dev, Homa (Havan) and Prayer of Lord Chandra, Important: We will send Puja Images at your registered email, Assurance: PavitraJyotish assure you best puja according to shastra, Special For You: Special and powerful gift.
What we will do?
1. Once you have booked the Puja, you will receive a booking confirmation mail.
2. You will be informed by your registered email, when your puja will be organized and what to do on the day of the puja yourself.
3. After Confirmation, we will worship (Ritual) for you according to Muhurta.
4. After Puja completion, we will send your siddh Yantra (Free Gift) and Prasadam through courier or by post.
5. Open the parcel, read our instructions and wear the siddh Yantra or establish siddh yantra on your worship place.
Benefits Of Sri Chandra Pujan
1. To strengthen the planet Moon in ones' horoscope, Chandra Pujan should be performed.
2. For those who have a weaker Moon in their respective horoscopes.
3. For those getting the malefic influence over Moon such as Saturn, Rahu and Ketu in horoscope.
4. For those suffering from stress, anxiety, depression, or any psychological problems.
5. Helps one to maintain cordial relations with mother or motherly figure.
6. Health of mother gets improved.
7. Control your wavering mind, confusion and illusion.
8. Concentration in studies increases and focus will be there.
9. People getting conflict in daily personal life should perform this pujan.
10. It increases the power of memory.
11. Chandra pujan blesses the native with prosperity and happiness.
12. The benefits will be more if it is performed on Maha Shivratri Festival to get the blessings of Lord Shiva.
13. It is best remedy for those undergoing with the Mahadasha or Antardasha of planet Moon to control its negative impact on life and provide security.
Activities For Chandra Dev (Moon Planet) Devotees
1. Purvang Karma (Ganesh Pujan, MatraPujan, Abhyudaya, Punyawachan, KalashSthapana, Rakshavidhan, Navgrah Puja).
2. Puja of Lord Chandra Dev (as per auspicious muhurta).
3. Ashtottara Namavali Path, Chandra Chalisa path.
4. 11000 (Eleven Thousand) Chanting of Chandra Dev.
Mantra – Om Shram Shreem Shroum Sah Chandramase Namah (ॐ श्रां श्रीं श्रौं स: चन्द्रमसे नम:).
5. Homam (Havan).
6. Lord Chandra Prayer and Aarti..
Complimentary Gifts
Special gift as per your problems.
We expertly organize/conduct Ketu Puja, Navgrah Puja, Durga Puja, Saraswati Puja on the request of our client so that positive effects of the same can supervene in their lives, thus helping our clients attain peace and success in their daily pursuit.
Info
Puja Schedule:: Within 7 days, According to Muhurta.
The scholars and pundits of Pavitra Jyotish have performed your puja, for amazing and miraculous relief from suffering and alleviate your problems.