Child Scan Horoscope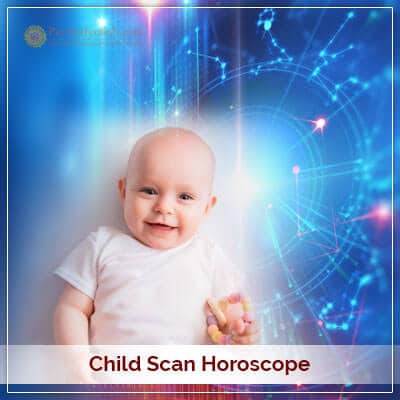 Get Horoscopic Solution For Your Child's Bright Future
New Born Baby Horoscope Predictions
Get the Child Scan Horoscope Report to enable a bright future for your kid. The report includes the complete analysis of birth chart, planetary alignments & their impact, Health, wealth, career of your child, any Dosha associated as child gets born with Gandmool Nakshatra or any malefic Dosha afflicting kid's life as well as family member's life. To help you with this, suitable remedial measures are also informed.
Important Information About Child Scan Horoscope
Service Name: Child Scan Horoscope, Service Type: Astrological Guidance and Solution, Language: English, Service Mode: Online (By e-mail only), Delivery: 5 Days, Features: Guaranteed solutions, Reliable services, Extensive results and best standard format of PavitraJyotish (YOUR REPORT WILL CONTAIN – Read it below), Benefits: It helps you settting short and long term goals with solution of your personal problems positively.
Why Child Scan Horoscope Report?
Child Scan Horoscope is good to report for your newborn baby as you will be assisted with the complete analysis of Kundali of your newborn baby, health, family prosperity along with influential astrological solution and remedies to make your life of your Kid more prosperous and take necessary step if any Dosha is found.
How Does It Work?
1. Share your birth details and ask your queries/problems.
2. Make the payment.
3. We will send an email for reconfirmation of your birth details through your registered email id.
4. After confirmation, within next 5 working days, we will provide detailed report as per our standard format and reply to your specific questions (Your Report Will Contain – Read it below).
5. You will receive your personalized report at your registered email id.
6. Read your report, and feel free to contact us via e-mail if you feel like having any doubt. We will respond you shortly by reverting your e-mail.
Avail Remedial Solution for Personal Issue, Horoscope Reading, Annual Birthday Report, Gemstone Recommendation for prompt solution in your chosen endeavor. A predicted solution for your current plight can be offered by our expert astrologer during astrological consultation.
Info
Delivery : 5 Days
Get your manually analysed and Hand-Written report by expert Astrologer.
What Child Scan Horoscope Report Will Contain?
1. Astrological Details of your Horoscope chart (i.e. Complete basic information, Ascendant, Rashi, Nakshatra, Placement of Planets, Dasha & Antardasha).
2. Response to your question.
3. A complete analysed report about your Child.
4. Planets and their influences.
5. Health of the New Born.
6. General Luck of Father/Mother/Brother/Sister, etc. of the New Born.
7. Astrologically suggested name of the New Born.
8. A copy of the Birth Chart made on the basis of Indian System.
9. Prosperity/Happiness/Joy in the family, if any by the birth of the new born.
10. Information about Education, Career, Ambition, Health, Finance, Property, Family and Relations, Love, Marriage and Children.
11. Lucky measures to benefit to you (Lucky number, days, metal, time, direction and gemstone).
12. Mantra and Puja Remedies.
13. Lucky Yantra and Rudraksha.
14. Important tips to make situations easier for you.

Benefits Of Child Scan Horoscope
1. You can take smarter, calculated decisions and plan your times ahead.
2. The guidelines will help you to make the right moves and avoid a possible pitfall.
3. The report will help you to note the time period for possible fructification of your concern.
4. You will be confident to take wise decisions since the problems will be handled with ease. This will help in clear thinking and happier planning ahead.

Hear From Our Customers
I would like to thank pundit ji for getting me out of where I was stuck. Your remedies have given me hope and I feel am out of all the misery and problems I was suffering from. Thank you pundit ji for making my life a better place. Thanks for all your time. Pranaam
Bikramjeet Deb
Astrologer Umesh is a genuine person who has the complete knowledge of Jyotish in entire Delhi. Umesh is like a family now to me. I have consulted them often, and the results have been very good and their analysis straightforward. When I confused about my career and it turning into a boring story, I consult Astrologer Pant and now very happy. I will advise them in each new work. thanks to Astrologer UmeshJi
Naveen Verma