Child Scan Horoscope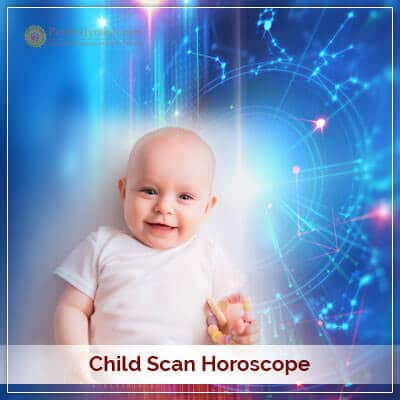 New Born Baby Horoscope Predictions
Birth of a child is always a happy event in the family. At the same time, many questions come up about the newborn. Is the child born in any malefic Nakshatra; like Moola, Jyeshtha or Ashlesha? In that case, rush to Pandit Ji to know more about the kid. Parent of the child is keen to know about health prospects, now and in future as well. Another question is that how the birth of the child is to work for mother, father, and sibling if any. Is the birth of the kid bringing more prosperity to family and all concerned? Parents are also eager to know about education prospects for the newborn. Future career prospects of the kid are to be is also goes through the mind of parents. Knowing about the due remedial measure for any upcoming problem in future is also the concern of parents. We prepare Kundli for the new Born to have insight about future of the kid. Get your new born baby Horoscope Predictions.
Child Scan Horoscope report covers all above-mentioned aspects (future prospects) when preparing the report.
Info
Delivery : 5 Days
Get your manually analysed and Hand-Written report by expert Astrologer.
Customer Care
If you have any confusion or need further clarification please contact our customer care.
Call +91-95821 92381 and 011-49901368
Your Report Will Contain:
1. Astrological Details of your Horoscope chart
2. Astrological analysis of your situation
3. Response to your question
4. How to make use of this report
5. Lucky measures to benefit to you (Lucky number, days, metal, time, direction and gemstone)
6. A complete analysed report about your Child
7. Planets and their influences
8. Health of the New Born
9. General Luck of Father/Mother/Brother/Sister, etc. of the New Born
10. Astrologically suggested name of the New Born
11. A copy of the Birth Chart made on the basis of Indian System
12. Prosperity/Happiness/Joy in the family, if any by the birth of the new born
13. Mantra and Puja Remedies
14. Accurate remedial measures for your problems (Lucky Yantra and Rudraksha)
15. Important tips to make situations easier for you

Benefits of this report:
1. You have all Astrological details of the child.
2. You know about effects of planets in Kundali of the Kid.
3. Present and future health prospects are known by you and in turn due care in this regard.
4. You know about happiness, prosperity to follow after birth of the child.
5. You know about due remedial measure to handle any problem in future.

Testimonials:
I would like to thank pundit ji for getting me out of where I was stuck. Your remedies have given me hope and I feel am out of all the misery and problems I was suffering from. Thank you pundit ji for making my life a better place. Thanks for all your time. Pranaam
Bikramjeet Deb
Astrologer Umesh is a genuine person who has the complete knowledge of Jyotish in entire Delhi. Umesh is like a family now to me. I have consulted them often, and the results have been very good and their analysis straightforward. When I confused about my career and it turning into a boring story, I consult Astrologer Pant and now very happy. I will advise them in each new work. thanks to Astrologer UmeshJi
Naveen Verma