Users Testimonials (Reviews)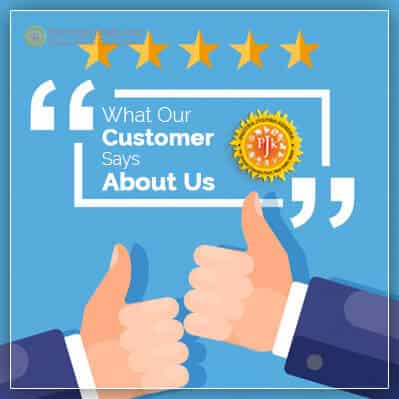 The Golden Words Of Customers In Praise For Pt Umesh Chandra Pant
People Say About – Astrologer Umesh Chandra Pant
Among Best Astrologer in Delhi reviews shared by our experts and customers from across India and abroad, PavitraJyotish Kendra is one of the platforms receiving rave Astrologer Pt Umesh Testimonials, thanks to its powerful, timely, and accurate Online Vedic Astrology Services.
Best Astrologer in South Delhi Pt Umesh Chandra Pant and Pavitra Jyotish Kendra have been a source of solutions for many people from last 15 years. Within this period many people came to us with their kundali, we also have made predictions, given solutions to many of them. While serving our knowledge of astrology for the betterment of all the people who have asked for our help and services, we have received numerous emails, Comments and phone calls about their experiences. It's not possible to share all those experiences with you for the lack of space. Therefore we are sharing some of the experiences below. We hope by reading their experiences you would also like to gain by Jyotish Shastra. One of the elite and skilled astrologists, Umesh Chandra Pant, has brought correct predictions for over a decade to his customers, and they have voiced their opinions positively. Here are some of the great claims many individuals have said about World Famous Jyotish Pandit in India Pt Umesh Chandra Pant – Pavitra Jyotish Kendra and his wonderful Astrology Services!
User Reviews – Pavitra Jyotish Kendra
Panditji Namaskar, I am Dr Alok Jain. I met you and followed your advice. I was facing certain difficulties in life But with your blessings and remedies got cure and benefits, thank you will keep in touch with you.
I was facing so many problems in my life. I was not getting a job anywhere else. I can honestly say that, I have searched in Google – best astrologer in Delhi and I met with Pandit Ji. After meeting with Pandit Ji my confidence label has been improved. He provides me some astro remedies regarding job. Now I am working in Noida and enjoying my job. Pt Umesh Ji remedies have proven very helpful to me. He is very patient and explains things in great detail. Thank you for your true advice. I recommend to all to meet with Pandit ji for astrology advice. Always regards pandit Ji
It was a great experience with Pt.Umesh Ji, he gives great solutions, advice to your problems related to any kind of fields. we have benefited from his accurate solutions and advises , his predictions always comes true and they are very fruitful in the end. His knowledge has helped us in many ways, it has definitely benefited us.
I would like to say one thing regarding Pandit Umesh Ji is his simple and easy solution of every problem of our life. He always suggest very easy and simple solution for even a very complex issue. You can follow his solution very smoothly. And the result is always 100%. I must say that do not waste your time & money, just meet Pandit Ji. You will be always happy! Thanks
Debraj Chaki, Kolkata (West Bengal)
Umesh Ji is one of those rare professional who knows his subject and is a true guide. He has been helping me for quite some time now. His simple and effective advice have helped me to cope up in times of difficulties and are showing results. He has been a friend , guide and mentor for me and I wish him all success in his future services for mankind.
I found Acharya Umeshji by surfing on internet through Google. I have been to few astrologers regarding the issues of my problems and was not completely satisfied with the answers or predictions. Normally the astrologers advice that they will perform puja on our behalf and they charge the amount from us. The good thing I like about Acharya Umeshji that he asks us to perform the puja as per our problem which is very simple and not complicated. The remedies advised by him are very helpful and easily affordable. After consulting him I found changes. Thank you Acharya Umeshji for your guidance and showing me the right path.
Astrologer Umesh provides accurate and timely solutions based on his practical experience. His remedies have proven very helpful to me. His advice on different spheres like education, professional life and other fields are very effective. He is very patient and explains things in great detail. The gemstones he suggests are also very effective and bear results. Would suggest those seeking astrological advice and solutions should visit him once.
Rajeev Hasija, Malviya Nagar, Delhi
I was suggested to seek a solution to my problems by Astrologer and consult Pt. Umesh Chandra Pant. I followed his advise and was suggested to pooja of Sfatik Sri Sri Yantra and other Vedic astro remedies by the astrologer. This proved to be extremely helpful. My business is recovering and my financial situation has also improved. I have a high regard for astrologer Umesh, who helped me in my tough times. I can never forget his contribution.
I was consult to Pt Umesh for horoscope reading. I feel that Pandit ji really true person and guide very well. I followed the remedies and another astrological guide of Pandit Ji and so relaxed. He is a genuine person and complete knowledge of astrology. I recommend Pandit Ji to everyone who wants the actual guidance of astrology. Always regards to pandit ji.
I approached Pt. Umesh and we get astrology report. The answers were clear, predictions correct and they even told us the bitter truth. Whatever happened, but I am now relaxed. I will recommend Pt. Umesh
I came to know about Pavitra Jyotish Kendra from the internet. I took an appointment from Umeshji and met him…Umeshji is a man of principle and truth. He provide me with very much tremendous and appropriate remedies,to solve my problems.The remedies suggested by Mr.Umeshji is very applicable and easy to do…Today i am very much satisfied with his remedies…Currently,I got a good job and the things are happening well around me..I am very much thankful to Umeshji for his timely suggestions…
I am sharing my views & opinion. I feel that its really true person & always guide in positive direction.
Astrologer Umesh is a genuine person who has the complete knowledge of Jyotish in entire Delhi.
Sanjay Raul, Mumbai (Maharashtra)
Astrologer Umesh is like a family now to me. i have consulted them often, and the results have been very good and their analysis straightforward. When I confused about my career and it turning into a boring story, I consult Astrologer Pant and now very happy. I will advise them in each new work. thanks to Astrologer Umesh.
Malvieka Joshi, Gurgaon NCR
My experience has been very rewarding and all the solutions given by Pandit Umesh Ji have shown very positive results. They have instilled hope and positivity in me and are able to handle my life better. He is able to show a direction and is a beacon and panacea for all problems that we face in life.
I had a problem involving my marital life. I have never had a good life. I was facing so many problems. My family was worried too. Then I decided to consult an astrologer and choose Pt Umesh in Google search. Pt Umesh Advice me to do some Vedic remedies. Now my marital with family life is happy. Definitely, astrologer Umesh is a brand in astrology services in India. Regards to Panditji
I am impressed with Pt Umesh Chandra's Astrology services. Liked the advice provided by Mr Umesh. Thanks for your true services.
Sudarshan Singh, Faridabad (Haryana)
I approached Pt. Umesh Chandra Pant and we get astrology report. The answers were clear, correct predictions he shown me right path of life. I will recommend Pt. Umesh.
Umeshji remedies have proven very helpful to me.He is very patient and explains things in great detail. The gem stones he suggests are also very effective and bear results. Thank you Acharya Umeshji for your guidance and showing me the right path.
Pranita Jain, Chicago (USA)
I was introduced to Acharya Umesh ji through my sister. Thanks to his guidance and upaya, I got positive results in my legal dealings. I am very grateful for his timely intervention and support. And highly recommend him.
Prof. Gaurav Gangwar, Chandigarh (Punjab)
I know Umesh ji for around one year. I was going through bad phase in life and It was difficult for me to come out. I have searched so many astrologers and their motifs were earning money and I have wasted a lot of money. But in the case of Umesh ji he used to be very true and his remedies are more of doing by me. So by doing these remedies to large extent those problems have been finished. I am following these remedies which are easy in doing but of course one take out time from busy routine of life. He is good person tells very clearly what a person is supposed to do. I believe astrology alone can never help but certainly it can guide life into direction, the karma is very important and rest leaves it on God.
Dan Bahadur, Kathmandu, Nepal
I was searched panditji thru Google. Many heartful thanks to panditji for your career report. Blissful and life changing experience from astrologer umesh. Your good name in my heart and for any referral. Many thanks for your great help sir.
I know Pt Umesh Chandra and his esteemed astrology organisation Pavitra Jyotish Kendra last 6 years. Astrologer Umesh has a lot of knowledge of astrology and specially effective remedies. 6 years ago i was so much worried and contact to panditji. As per advice of panditji I choose to wear pearl and 8 mukhi rudraksha. This was the most wonderful decision for me. It helped me a lot of deal with my problems and to eliminate them altogether. Now my family life and business etc is so good. I always remember to panditji for their guidance and help. I recommend for all.
I Found panditji in Google and met him. I was facing a lot of problem in my life. none of my plans used worked out. I got proper answer related my issues. He has guided us properly with his accurate predictions and remedies. There is no doubt that panditji is the best destination to get all types of astrology services. I will recommend his astrology services to all.
Gaurav Dhama, Meerut (UP)
I was having many problems in my life for past few years. than i got in touch with panditji umesh ji …since then i have just been following his advise and slowly my problems have faded away and my life has come on a positive track with his guidance and advise…and his predictions have been accurate….i have full faith and trust in him.
वास्तव मे ज्योतिष एक चमत्कारिक विज्ञान है , इसका सही सही अहसास तब हुआ जब पंडित जी से संपर्क हुआ | काफी सारी समस्याये थी, हल कुछ भी सूझ नहीं रहा था | उमेश जी ने ज्योतिष के माध्यम से मुझे मेरी जन्म कुंडली देखकर कुछ प्रयोग करने को कहा जैसे रत्न धारण, यन्त्र पूजन एवं व्रत | इन बताये गए प्रयोगों से मुझे चमत्कारिक लाभ हुआ | मै पंडित उमेश जी का ह्रदय से आभारी हूँ
Harish Tiwari, Hardwar (Uttarakhand)
Hi this is Harish from New Delhi. I was facing lot of problems in life. on the advise of Pndit Umesh i choose to wear emerald as a remedy. This was the most wonderful decision I had ever made , since it help me a lot of deal with my problems. Thanks to pandit ji i always remember and regards to pandit Umesh for their astrological guidance and help.
I got in touch with Pandit Umeshji through the web and have found his guidance very very helpful. The suggestions he proposed were very easy to follow and very effective. I can feel a positive difference in general for sure. I have found Umeshji to be very patient and everything was explained to me very well on the phone and in the packet that he has mailed to me. I highly value and regard Umeshji's knowledge and guidance. I will continue to consult him in the coming years. Thank you Panditji.
Vinod Kumar, Ghaziabad (UP)
I met to the Pandit Ji for problem related to my health and career. I had followed the way which is suggested by him. Which is very much helpful for me to come out from problems.
Rajat Sharma, Sirsa (Haryana)
There is no way to doubt Pandit Umesh Chandra pant and his knowledge, he is marvelous. I was struggling with career and state of mind wasn't good however, I consulted pandit ji and his simple and effective remedies brought wonderful changes in my life. There was certain mahadasha and difficult time was going on, he guided me to make the best of this time and recommended wonderful remedies for betterment. His remedies certainly helped me in a short span of time and now I can see change in my mental state and remedies are wonderful. You can certainly trust him for astrological consultation and the best part he always give you time if there is certain doubt in your mind. I made a wonderful decision and I will also suggest you to make one. A total gratitude for this amazing man.
A day was searching in Google about astrologers in Delhi and find in first page Pt Umesh Chandra Pant. I opened up their website and read in details of Pandit Umesh Ji. Then I decided that to meet him. I take prior appointment with pandit ji. I am extremely surprised with their effective remedies. Really I have gained a lot. Panditji's remedies are very cheap and effective. I must say that all met once. And also recomend Umeshji for all of peoples who belive in astrology science.
Vinita Jharia, Bhopal (MP)
I feel human life is full of struggles,but when it comes to our kids it is painful like anything. It was turning point of my daughter's carrier. She is very good in studies but she was not getting what she wanted. I was very worried about her. Then i got contact no. of Pavitra Jyotish Kendra (Respected Pt. Umesh Chandra Pant). I discussed my daughter's problem, after analyzing her horoscope, he suggested some simple remedies which were very effective. Now my daughter has got what she wanted. One can definitely trust him for astrology consultation and one more thing Pt. ji is so patient and listens without getting irritated. I am smiling today just because of him. Amazing experience.
Pandit Umeshji has been a great support to us. His advice was quite helpful. He is a man of high integrity. He was very patient and kind enough to be available whenever his advise was required. His easy remedies gave positive results. Thanks & Regards.
Arunima Negi, Dwarka, Delhi
It was a nice experience for me , he gives right advises to our problems , his knowledge has helped me anyways.
Savita Sharma, Rohini, New Delhi.
Panditji Umesh pantji is very patient and suggest very simple vedic solutions which give a lot of peace of mind as well as lost confidence. I got the great help in one of my major problems of life and my belief in astrology have been strengthened. Thank you panditji.
Ruchi Chauhan, Ghaziabad, UP
If one thing that defines best astrologer in Delhi, Umesh Ji is his ability to provide prompt and accurate solutions to any problem related to astrology. Mine was associated with the marital scuffle that was going intense day after day. I asked four questions to the astrologer in order to ensure if the answers genuinely meant to serve my purpose. Frankly, Umesh Ji answered all my questions using his deep wisdom and knowledge of Vedic astrology. I recommend his service.
I met astrologer Umesh Ji and to tell the truth, I was spellbound by his magnetic energy. I had a horoscope reading and got inspired by his prudent analysis of my life's trajectory. I found him gifted, down to earth, professional, and very savvy for his acute understanding of my circumstances so better.
Prashant Kumar, Ghaziabad, UP
Pt. Umesh Chandra Pant is one of the best astrologer I met till now. His accuracy in future predictions is very accurate. He has given me the perfect remedies for my career problems. Now my career is going in the right direction. Thanks a lot Pandit Ji.
Before subscribing to the year-wise astro service of PavitraJyotish, I asked 2 questions to astrologer Mr. Umesh Pant. The questions were very personal and reflected my agony. To my utter satisfaction and it was sort of unexpected as well, I was pleased to listen to his astro advice full of meaningful words and suggestions. None of my questions asked during the consultation was returned with an irrelevant answer. In fact, Umesh Ji patiently answered to them with remedial suggestions for my help.
Satish Pasrija, Mumbai, Maharashtra
In my experience, Pandit Umesh Chander 's astrological inferences are quiet near to reality as he blends traditional astrological knowledge with modern life styles and progress of mankind.
i would like to thank pundit ji for getting me out of where i was stuck . Your remedies have given me hope and i feel am out of all the misery and problems i was suffering from. Thank you pundit ji for making my life a better place. Thanks for all your time . Pranaam
Astrologer Umesh is a genuine person who has the complete knowledge of jyotish in entire Delhi. Umesh is like a family now to me. i have consulted them often, and the results have been very good and their analysis straightforward. When I confused about my career and it turning into a boring story. I consult Astrologer Pant and now very happy. I will advise them in each new work. Thanks to Astrologer Umesh Ji
A day I was searching internet about astrologers in Delhi and found page Pt Umesh Chandra Pant. I visited Pt. Umesh ji in 2014 when I was facing problems. He listened to all my problems carefully and patiently. Then he suggested some remedies which I am following 90days. I have observed major changes in myself that have made my life much more easier and tension free and from that day I am continuously take advice from him. I would recommend him to all people who need rightful guidance.
I am really glad to meet Pt Umesh ji, thank you so much pandit ji for helping me out with proper and genuine prediction, I had no clue why things were going wrong with me and I was misleading in my directions of career and personal issues, thanks for giving best solutions to approach my problems. Thanks, PavitraJyotish & Pt Umesh ji, it's beautiful.
Umesh Ji best astrologer in Delhi and provide the best remedies & solution to the problems
Came across this site over the internet, after being wooed to purchase two merchandise from other vendors that were garbage and a waste of money, I came across PT Umesh Chandra (blessed). From the very start he was very accommodating and nurturing, order was received in crisp condition the quality was more amazing than I anticipated. He sent all required details, and within few weeks everything he mentioned came to light. I am grateful to have pursued his services because I am living proof of the actual remedy prescribed by this Astrologer, I can ATTEST that they work 200%, but you have to believe. I was more flabbergasted by the fact I found this all this across the globe from North America, once again thank you for your remedy, and may more benefit from your expertise. Cheers!
Sandy from Russia with Love
i know pandit Ji from 2012. he helped me a lot when i was going through bad phase of my life
Remedies which he suggest are very effective and helpful
i have even took suggestions and remedies for my friends who live abroad even for them his remedies and suggestions worked
Pandit Pant is a well educated astrologer and communicates very well with his clients.
He patiently hears you out and than start explaining you the complete process in a simple lucid manner.
He will answer all the queries very patiently till you are completely satisfied unlike other astrologers who keep looking at their watch.
Another best part about Pant ji is that he will give you an e mail written in simple words with remedies and how to perform them effectively.
He is always available on phone and is ready to help you anytime .
He is a good human being and very good person to talk to and share your issues and concerns.
Highly recommend and probably the best astrologer in India.
Mahendra Chauhan, Ahmedabad
I have been using Pt. Umesh's service and guidance from last three years. All the yearly predictions are very accurate and has helped in taking the right decision at the right time. My life has become very happy and there is good growth in my wealth. I have also recommended it to my friends and family.
Pallawi Priya, Patna, Bihar
I have been taking consultation from Umesh ji from past 2years.His remedies helped me a lot when I was in the worst phase of my life. Now I consult him before taking any big decision of my life. I would like to thank umeshji for providing guidance and being the mentor in my life
Mardigrasqueenofthesouth K, Spain
Pranam -Thank you Pt Umesh for your kind and understanding customer-oriented focus. Extremely accurate thorough astrological report and great communication Om nama Shivaya
I consulted Umesh Ji, regarding career related problems. He suggested me some remedies and followed it. But as I had some doubt regarding financial issues again I consulted him. He said have patience and follow the remedies with sincere devotion. And this time slowly it started to show effects. Whenever I had doubts I consulted him and he did not
Charge me anything for that purpose.
Once I told him some things didn't work and within few days he replied saying customers feedback is important to us and it will help us serve better.
Thank you Umesh Ji for cooperating and enlightening your customers problem
Jasumati Joshi, Abu Dhabi, UAE
I have consulted Pandit Umesh Pant ji and have got excellent results. His remedies are very precise and catered to every individual. I am very happy with his timely advise and always being supportive. i would recommend him to all people who needs rightful guidance.
Prashant Khandelwal, Bangalore
I visited Pandit ji regarding job and seeking advice for future. I must say that he was very patient in listening and understanding my queries and have provided me with great advice along with some simple remedies. I got great results. One of the best things with Panditji is that he gives ample of time until one is satisfied.
He is the best astrologer I have ever met.
I visited Pt. Umesh ji last year when I was facing problems. He listened to all my problems carefully and patiently. Then he suggested some remedies which I am following from the last 9 months. I have observed major changes in myself that have made my life much easier and tension free. I recommend him to every person who is facing problems in life and is looking for a simple solution.
Jyotish Umesh Chandra pant is one person you can depend on. His remedies are best.