Education Ask 3 Questions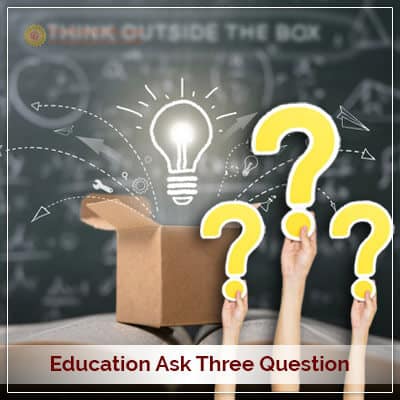 Why Settle In Failure When We Answer Your Academic Success?
If you are looking for an in-depth understanding and guidelines about education and have more than one question in your mind, get our Education Ask 3 Questions report, prepared through the proper analysis of birth chart, 5th house of education and Karak Planet Jupiter along with lord of intellect Mercury.
Important Information About Education Ask 3 Questions
Service Name: Education Ask 3 Questions, Service Type: Astrological Guidance and Solution, Language: English, Service Mode: Online (By e-mail only), Delivery: 5 Days, Features: Guaranteed solutions, Reliable services, Extensive results and best standard format of PavitraJyotish (YOUR REPORT WILL CONTAIN – Read it below), Benefits: It helps you settting short and long term goals with solution of your personal problems positively.
Why Education Ask 3 Question Report?
Students having multiple doubts can order Education Ask 3 Question, with the help of this report, they would be assisted with the "to the point answers" or any 3 questions related to Education along with effective remedial measures. A student may ask any query such as issues in studies, suitable field of study or any other things.
How Does It Work?
1. Share your birth details and ask your queries/problems.
2. Make the payment.
3. We will send an email for reconfirmation of your birth details through your registered email id.
4. After confirmation, within next 5 working days, we will provide detailed report as per our standard format and reply to your specific questions (Your Report Will Contain – Read it below).
5. You will receive your personalized report at your registered email id.
6. Read your report, and feel free to contact us via e-mail if you feel like having any doubt. We will respond you shortly by reverting your e-mail.
Get success through our services such as Business Report 10 Year, Gemstone Recommendation for Finance, Gemstone Recommendation for Education, Strength Reading for Career. Affordable and prompt, our services are result-oriented in making your dream come true.
Info
Delivery : 5 Days
Get your manually analysed and Hand-Written report by expert Astrologer.
What Education Ask 3 Questions Report Will Contain?
1. Astrological Details of your Horoscope chart (i.e. Complete basic information, Ascendant, Rashi, Nakshatra, Placement of Planets, Dasha & Antardasha).
2. Response to Your 3 question.
3. Lucky measures to benefit to you (Lucky number, days, metal, time, direction and gemstone).
4. Mantra and Puja Remedies.
5. Lucky Yantra and Rudraksha.
6. Important tips to make situations easier for you.

Benefits Of Education Ask 3 Questions
1. You can plan your future and take up your further education without much confusion.
2. On being aware of the your positive and negative traits, you can easily put your best foot forward and avoid the negatives.
3. Your immediate problem will be addressed and thus your line of further education will be clear to you to make your mind easily.

Hear From Our Customers
I approached Pt. Umesh Chandra Pant and we get astrology report. The answers were clear, correct predictions he showed me right path of life. I will recommend Pt. Umesh.
Sudarshan Singh, Faridabad, Haryana
I opted for astrological service, at Pavitra Jyotish Kendra. The reason being I was curious to satisfy my query as to what would be the direction of my education in future. Three questions that I asked its astrologer were returned with best answers, much to my satisfaction. It was great to have interaction with the leading astrologer. Very down to earth and cordial in the manner he is.
Amit Bhardwaj, Hisar, Haryana