Education Ask 3 Questions – Detailed Guidance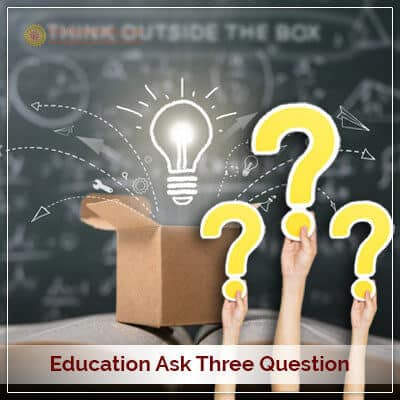 For a brighter career in life, the importance of quality education is unquestionable. Success never comes to those who are not qualified in terms of right education and experience. This underscores why education should be chosen wisely. Astrological Guidance in the context of helping you with right education questions comes handy as best help is offered in the details of your Education Horoscope, prepared by Famous Astrologer at PavitraJyotish.
If you are looking for an in-depth understanding and guidelines and have more than one question in your mind, it will be helpful for you to take help of Vedic Astrology. Thus you will address these questions, find the solution and move forward with your confidence. You save time, energy and money in fruitless pursuits once you are equipped with proper guideline through the horoscope analysis of your questions.
If you have come across the term 'Education Ask 3 Questions Detailed Guidance' over the internet, make no doubt that the term is associated with Astrological Education Solution provided to every seeker of right guidance with regard to their education choice. At PavitraJyotish, best Astrological Education Guidance is provided by the famous astrologer, Pt. Umesh Chandra Pant based on your personalized Horoscope Chart, planetary movements, and Astrological Transits.
Info
Delivery : 5 Days
Get your manually analysed and Hand-Written report by expert Astrologer.
Customer Care
If you have any confusion or need further clarification please contact our customer care.
Call +91-95821 92381 and 011-49901368
Your Report Will Contain:
1. Astrological Details of your Horoscope chart
2. Astrological analysis of your situation
3. Response to your question
4. How to make use of this report
5. Lucky measures to benefit to you (Lucky number, days, metal, time, direction and gemstone)
6. Impact of the Ascendant
7. Impact of the Moon Sign
8. Mantra and Puja Remedies
9. Accurate remedial measures for your problems (Lucky Yantra and Rudraksha)
10. Important tips to make situations easier for you

Benefits of this report:
1. You can plan your future and take up your further education without much confusion
2. On being aware of the your positive and negative traits, you can easily put your best foot forward and avoid the negatives.
3. Your immediate problem will be addressed and thus your line of further education will be clear to you to make your mind easily.

Testimonials:
I approached Pt. Umesh Chandra Pant and we get astrology report. The answers were clear, correct predictions he showed me right path of life. I will recommend Pt. Umesh.
Sudarshan Singh, Faridabad, Haryana
I opted for astrological service, at Pavitra Jyotish Kendra. The reason being I was curious to satisfy my query as to what would be the direction of my education in future. Three questions that I asked its astrologer were returned with best answers, much to my satisfaction. It was great to have interaction with the leading astrologer. Very down to earth and cordial in the manner he is.
Amit Bhardwaj, Hisar, Haryana