Best Astrologer in Delhi Near Me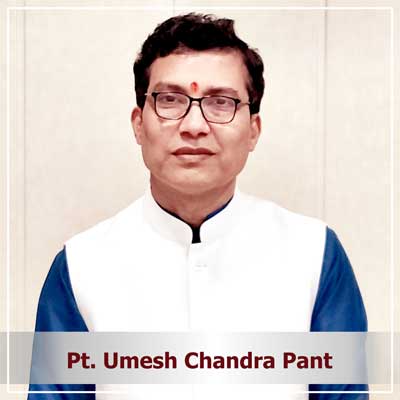 Reliable And Best Astrologer For Life Transformative Solutions In Astrology Near Me
About Astrologer Pt. Umesh Chandra Pant, Best Astrologer in Delhi
Pt. Umesh Chandra is broadly educated in the occult science of astrology know as Best Astrologer in Delhi, near me. He carries more than 18 years of considerable experience in the spiritual domain of  Vedic Astrology, spirituality, and allied science. He has carved out a notable niche in the art of accurate and precise Astrology Predictions. In spite of being already educated in the extensive degree of intelligence, the avid thirst for expanding knowledge to learn more has led Umesh Pant into a diverse area of astrological wisdom. He is still on the instructive path to acquire new skills and knowledge by participating in seminars, training programs, and perusing new courses.
Brought up and raised in a traditional Brahmin family, Pt. Umesh Chandra Pant picked up interest in astrology as an instinctive reflex when the likes of him in childhood used to spend their time in playing and cavorting with their peers. Today astrologer Pt. Umesh Chandra Pant is a renowned astrological consultant offering astrology counseling and consultation for the last 23 years.
During these time periods of astrological counseling and consultation services, he continued his pursuit of knowledge in astrology predictions, Horoscope Predictions, and Horoscope Reading and edified himself with astrology. Due to the blessings of Isht (Kuldevi) Jagdambey Mata, he developed spiritual power and knowledge of astrology. As of now, he is known as one of the best horoscope Astrologer in Delhi.
Famous and best Jyotish in Delhi, Pt. Umesh Pant does not need introduction today, considering his popularity that keeps increasing, kudos to his notable insights into astrology. To find any Best Astrologer in Delhi, near me is synonymous to Pt. Umesh Pant today, as he has proven with his knowledge and astrological expertise that he is indeed the master of his trade. He has helped countless people with best and accurate astrological predictions for their life's problems. He counseled the needy perturbed by ominous planetary movements and resolve their astrological issues.
Specializations
Astrologer Umesh Pant has made a considerable study on various numbers of horoscope books and developed significant expertise into it. He benefited thousands of people with his acute, correct, and wise horoscope predictions. He has also earned limelight in providing best astro-counseling to people through telephonic discussion or consultation. Phone Consultation is like having the Astrologer on Phone, and Umesh's friendly, professional, and composed manner in responding to astrological queries of people helped them find the most appropriate and relevant solution of problems which made their life miserable. Looking for the best answer to your questions? Ask questions and get to know reliable Astro answers from the Best Astrologer In South Delhi.
His specializations include horoscope predictions, Remedial Solution to issues like love education, personal, Vastu Shastra, marital, business, career, and a host of other astrological problems.
Assistance
With deep knowledge and expertise in astrological matters, Pt. Umesh Pant has benefited thousands of people coming from different backgrounds, be it business owners or common people. The remarkable thing about his predictive astrology is that his forecast bears close reality of future outcomes, with solutions fated to bless your life with restored peace and wellbeing.
In recognition of his great service made in the field of astrology and assistance provided to numerous people, he was conferred with prestigious awards – Jyotish Ratna, Jyotish Bhushan, Jyotish Prabhakar, Jyotish Shashtracharya, and Jyotish Rishi.
Best astrologer in Delhi
Umesh Pant, the Best Astrologer in South Delhi, is known as an award-winning astrologer. His astrological help provided to people were of greatest help as peace and wellbeing dwelled in their lives. Pt. Umesh is considered Renowned Astrologer in Delhi Near Me in the field of astrology, as his awards and valuable guidance to people both accentuate his credibility and the higher degree of distinction.
Famous astrologer
Astrology is a vast science. Understanding all the astrological aspects by which one can become a truly gifted astrologer is a task not only labor-intensive but also requires the considerable degree of honesty and dedication to earn it. Pt. Umesh Pant has shown that degree of passion and dedication when he was in pursuit of astrological knowledge and successfully accomplished the same before utilizing his earned knowledge and skill into helping the needy. His accolade 'Jyotish' bears the insignia of his commendable prophetic insights qualifying him to be the most renowned astrologer in Delhi near me who carries the responsibility known for helping the needy resolve their astrological issues.
The best celebrity Best Astrologer in India and famous Vedic astrologer, Pt. Umesh Chandra Pant is known among his enthusiasts as someone who has served the needy not from the monetary perspective but by broadening the size of his human side. This is the reason why unlike many other astrologers who made astrology a commercially driven profession, Umesh Pant, humanized this profession, earning trust and respects of the mass. Contact Astrologer Pt. Umesh for consultation via phone or meeting in person and get the answer to your query.
Awards Winner Best Astrologer In Delhi From 2017 to till 2023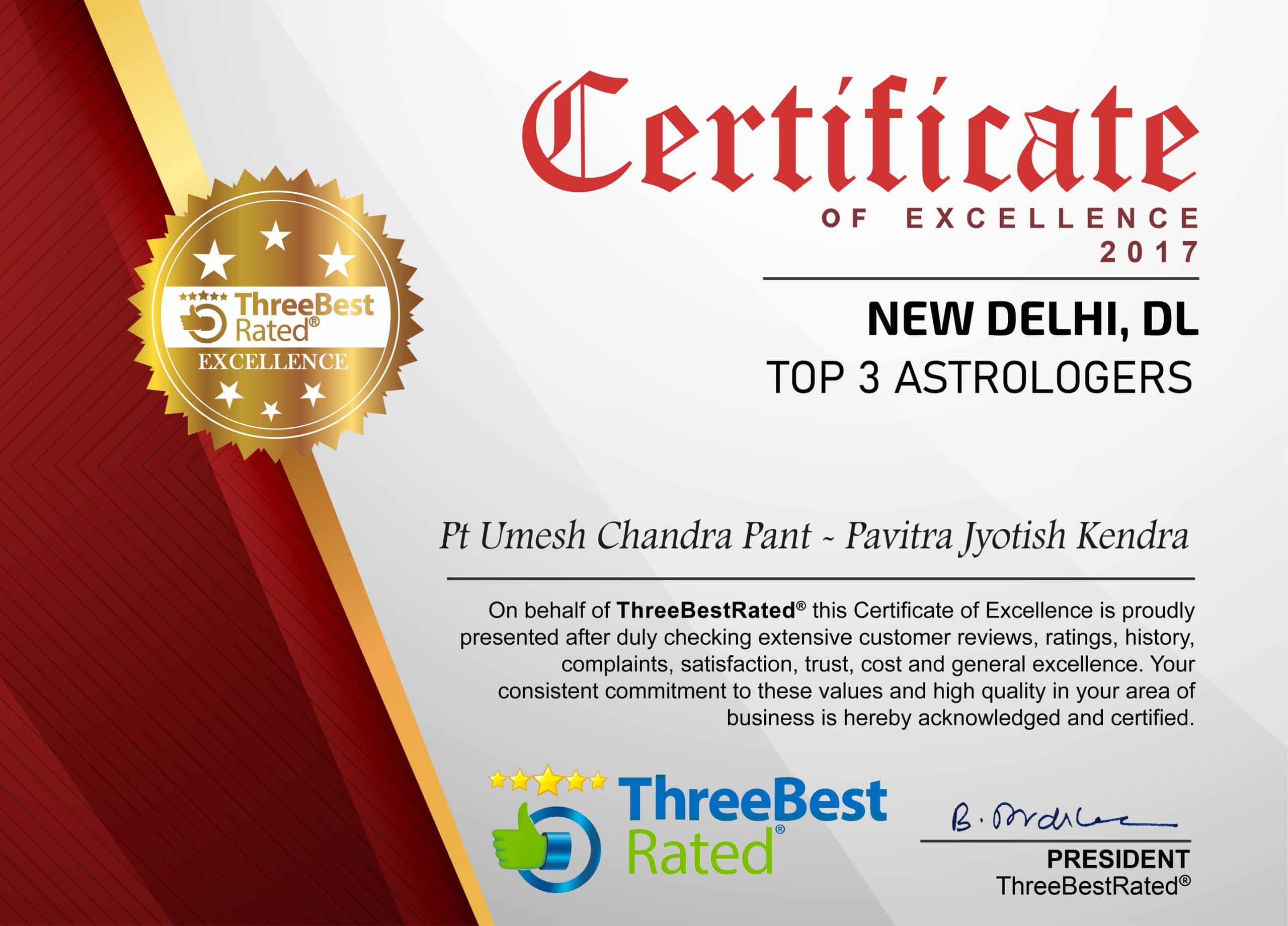 Astrologer Award 2017 Delhi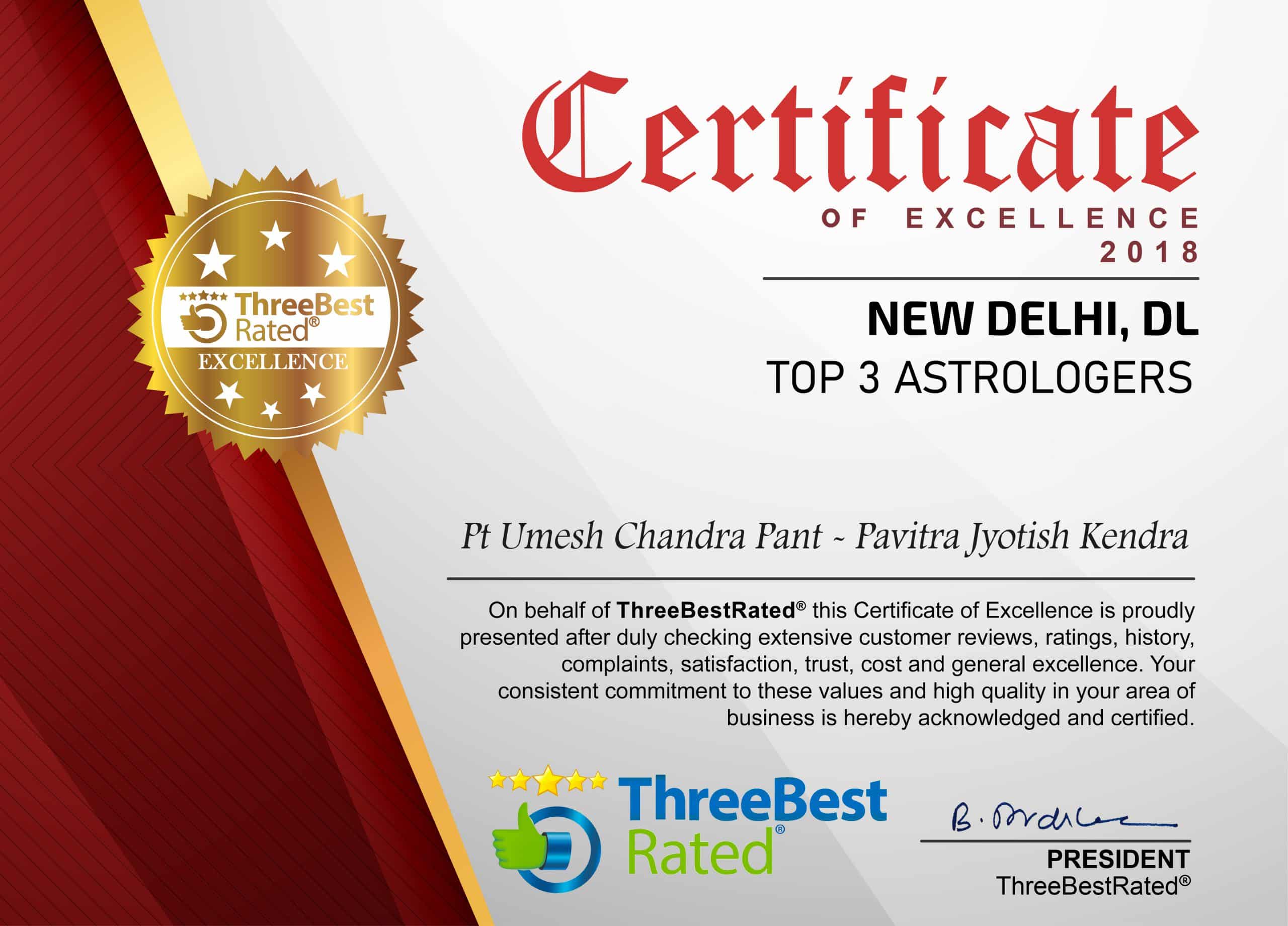 Astrologer Award 2018 Delhi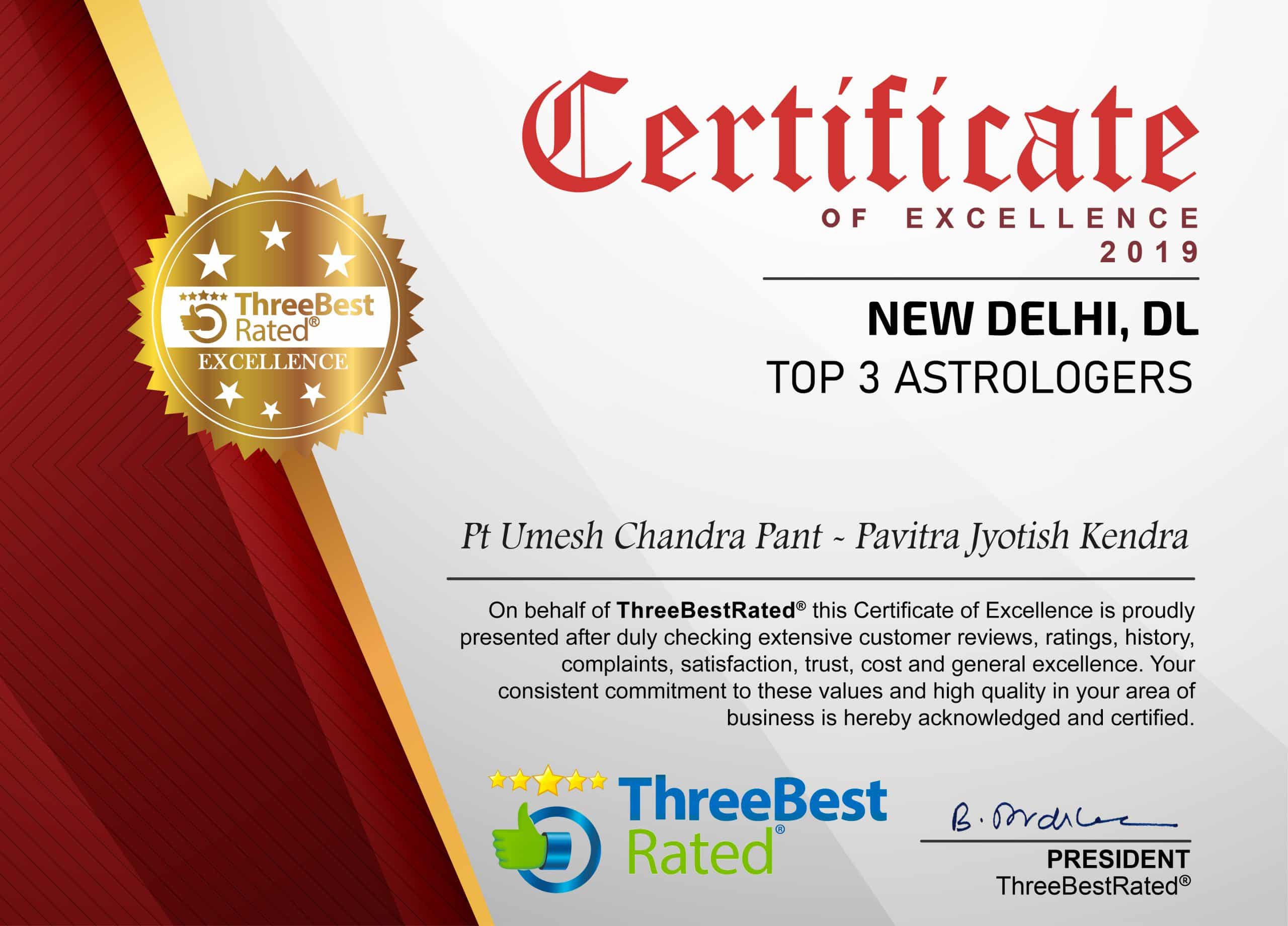 Astrologer Award 2019 Delhi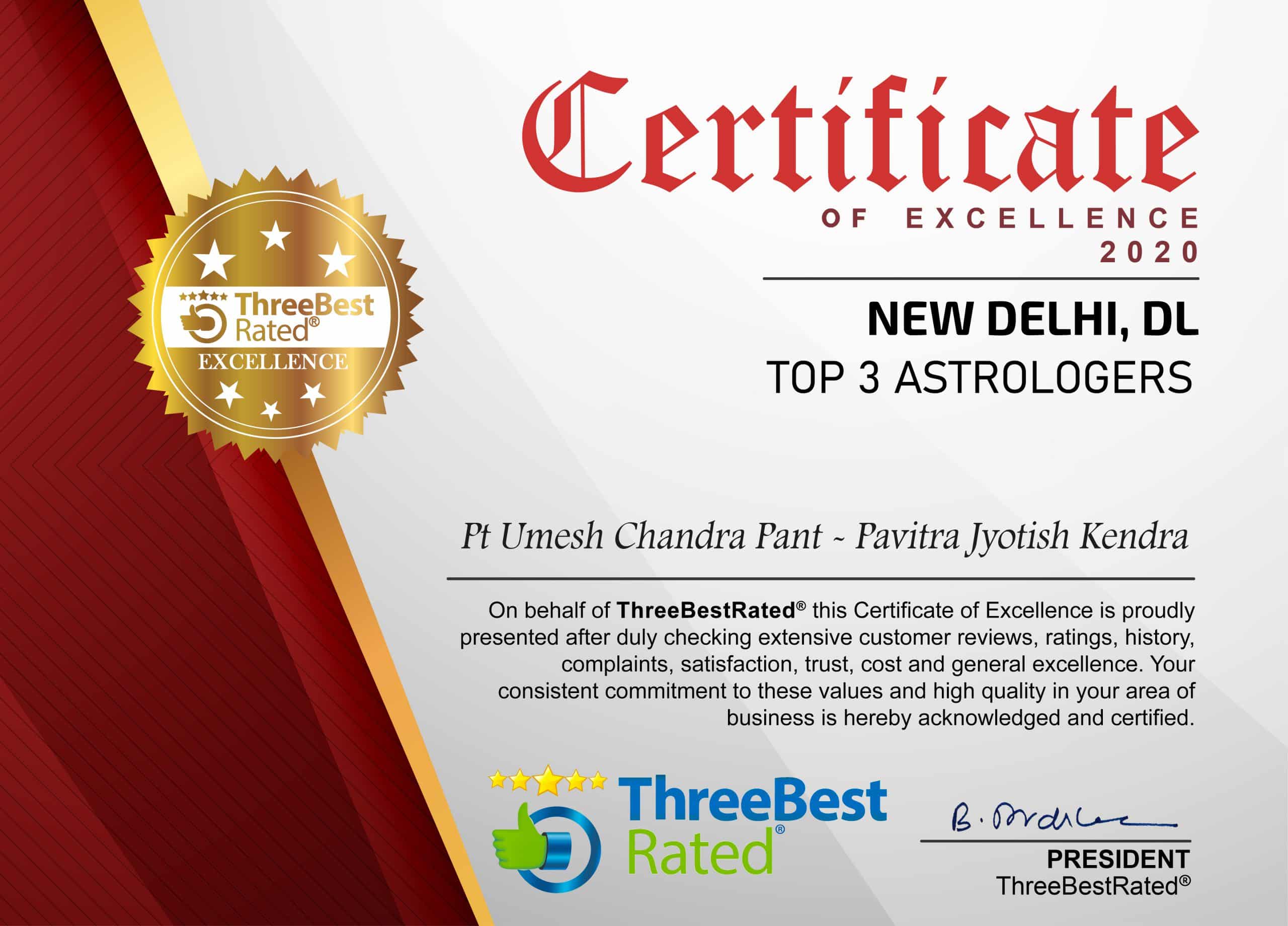 Astrologer Award 2020 Delhi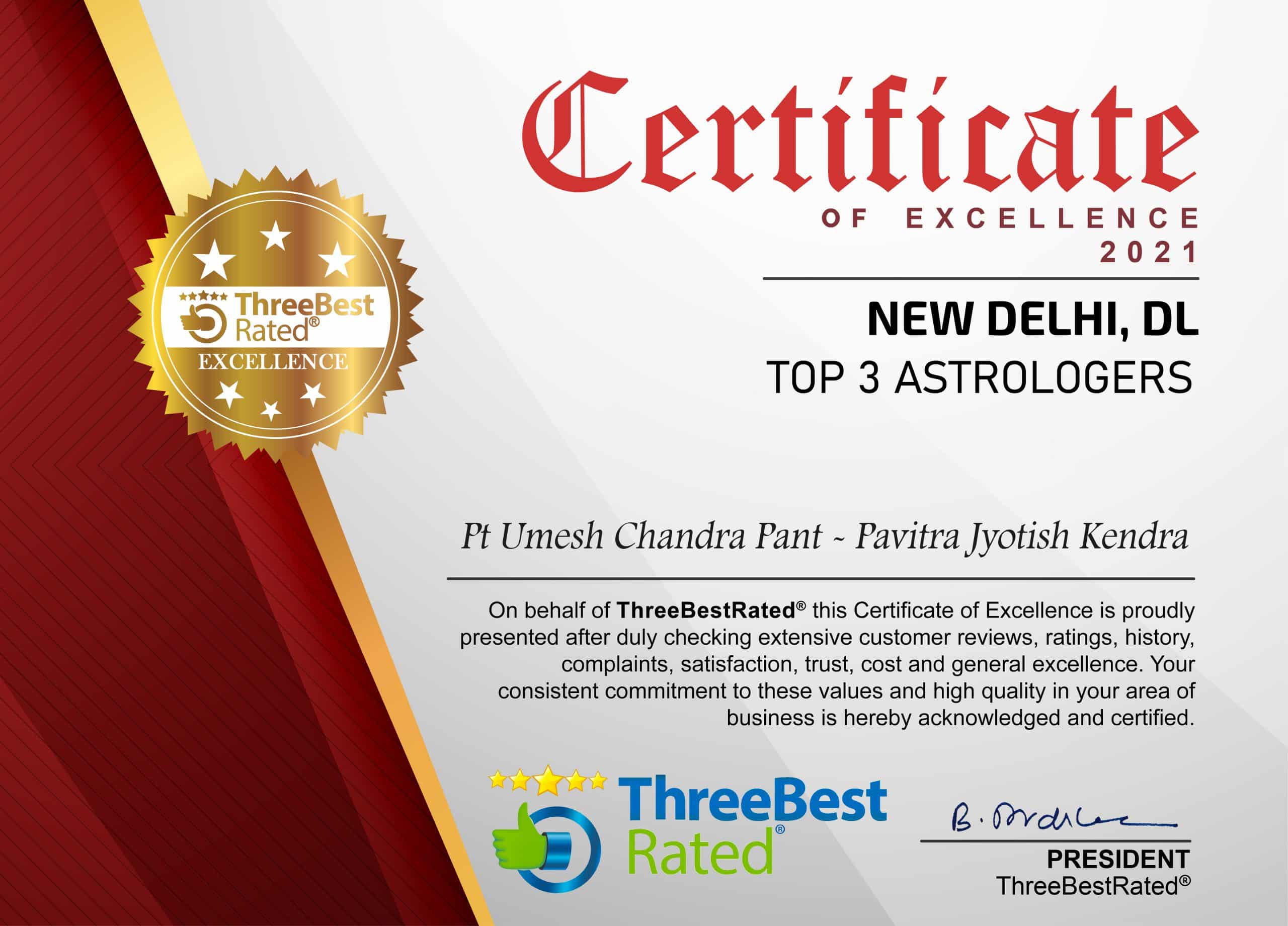 Astrologer Award 2021 Delhi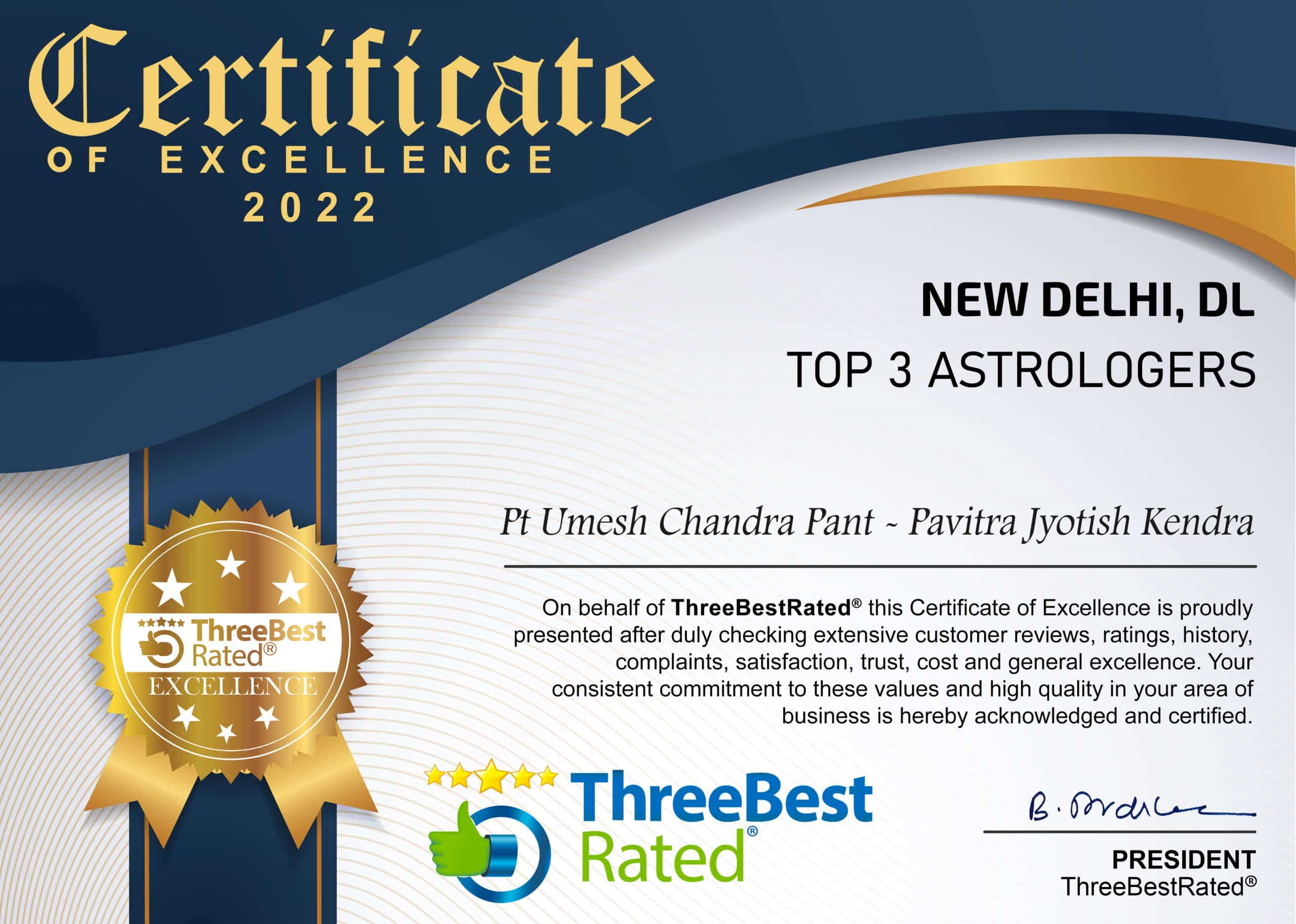 Astrologer Award 2022 Delhi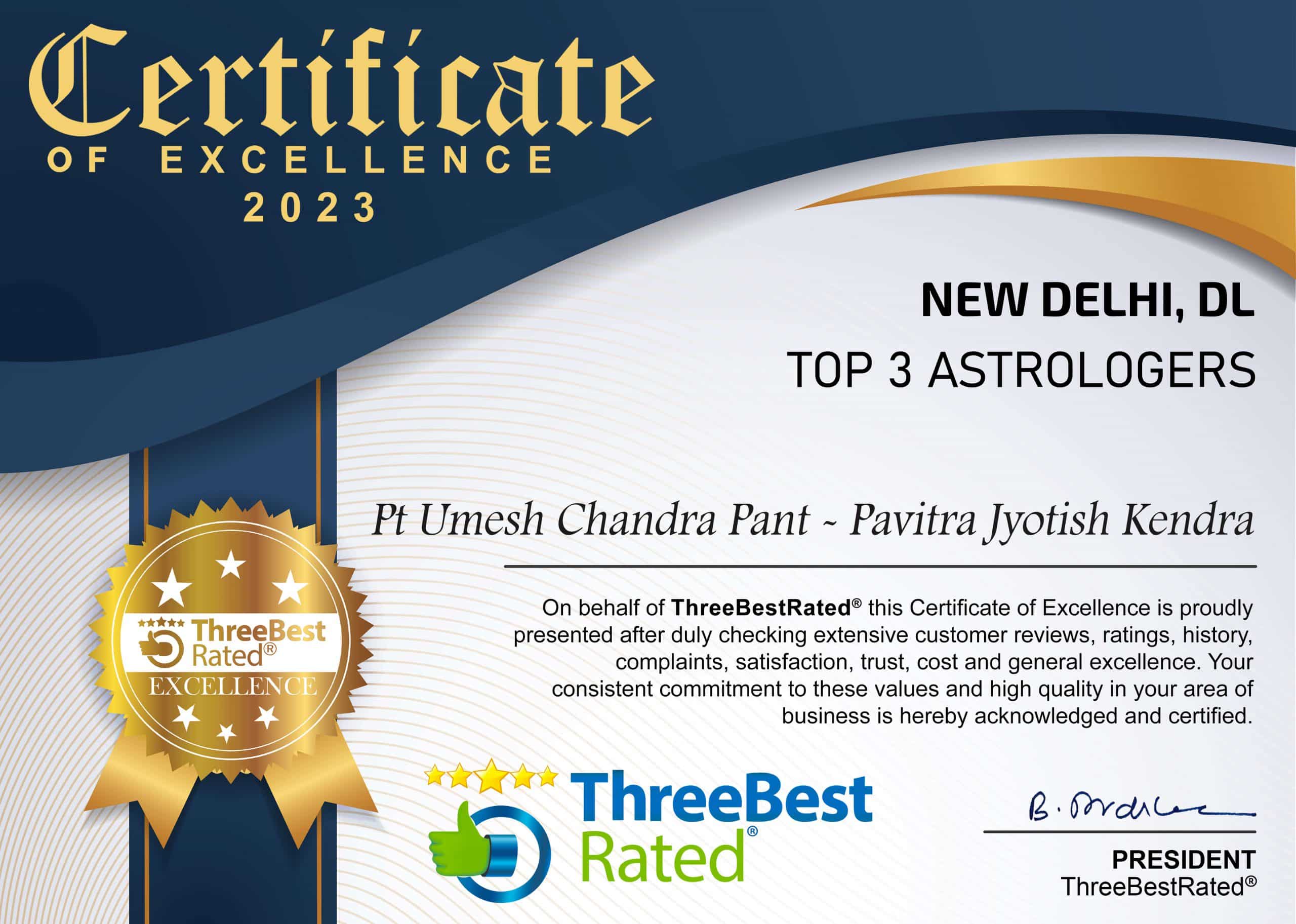 Astrologer Award 2023 Delhi