Finance Ask A Question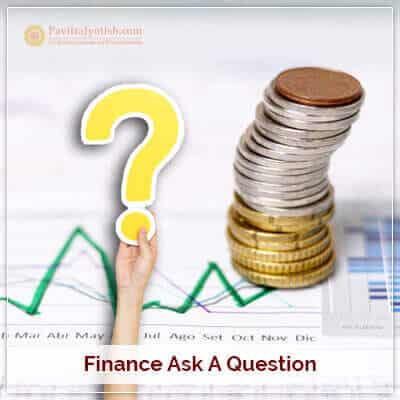 Ask Your Question For Finance
Astrology is a trusted science of powerful solutions for finance related quandary or problems in your life. Do you experience poverty? Is the money you earn not enough to support your financially? Is financial misery taking its toll on your life? You can opt for our astrology-centric, effective, and dependable solution for your financial situations with our "Finance Ask a Question". It is designed from a pure astrological point of empowering your life with financial richness, with suggestions and remedial measures as provided by our expert astrologer at PavitraJyotish based on your question and after-analysis of the same. You can ask here only 1 question related to Finance. 
Info
Delivery : 5 Days
Get your manually analysed and Hand-Written report by expert Astrologer.
Customer Care
If you have any confusion or need further clarification please contact our customer care.
Call +91-95821 92381 and 011-49901368
Your Report Will Contain:
1. Astrological Details of your Horoscope chart
2. Astrological analysis of your situation
3. Response to your question
4. How to make use of this report
5. Lucky measures to benefit to you (Lucky number, days, metal, time, direction and gemstone)
6. Impact of your ascendant and ascendant lord
7. Impact of your Moon
8. Mantra and Puja Remedies
9. Accurate remedial measures for your problems (Lucky Yantra and Rudraksha)
10. Important tips to make situations easier for you

Benefits of this report:
1. You can make smarter, calculated decisions, with a clear view of the upcoming situation.
2. The solutions to your confusions and problems will be resolved and thus empower you to face the odds with the adequate protection
3. You will be confident to take wise decisions since the problems will be handled with ease. This will help in clear thinking and happier planning ahead.

Testimonials:
I consulted UmeshJi, regarding career related problems. He suggested me some remedies and followed it. But as I had some doubt regarding financial issues again I consulted him. He said have patience and follow the remedies with sincere devotion. And this time slowly it started to show effects. Whenever I had doubts I consulted him and he did not Charge me anything for that purpose. Once I told him some thing's didn't work and within few days he replied saying customers feedback is important to us and it will help us serve better. Thank you UmeshJi for cooperating and enlightening your customers problem.
Gaurish Naik, Goa
In my experience, Pandit Umesh Chander's astrological inferences are quiet near to reality as he blends traditional astrological knowledge with modern life styles and progress of mankind.
Satish Pasrija, Mumbai, Maharashtra