Gemini Weekly Horoscope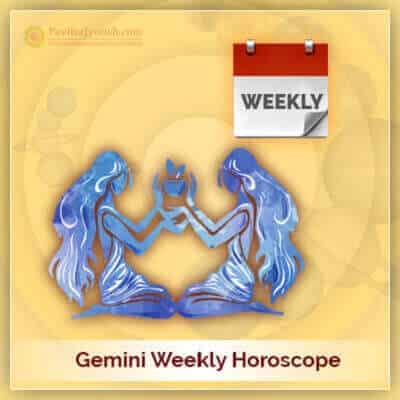 Plan Your Week Easily With Gemini Weekly Horoscope
Know about Gemini Weekly Horoscope Astrology (Born Between May 22 – June 21)
Gemini Weekly Horoscope is your astrological way to knowing auspicious times for managing your priorities on a weekly basis. It is guidance of opportunities bound to come in your life and other key events you must manage. Gemini week ahead is worth the deal for knowing your week and how to manage the same positively. Read Gemini Weekly Horoscope prediction.
Gemini Weekly Astrology Prediction for 20 March 2023 to 26 March 2023
20 March 2023 to 26 March 2023: During the beginning of the week, there will be a desirable progress in the financial matters for the Geminis. You would witness satisfactory growth in the incomes from the additional income sources. There are indications that you will have a fair amount of enhancement in your intellect and wisdom during start of the week.  If you are trying your luck in the competitive and sports sectors, this week would be a favorable time to achieve your targets. There will be a higher degree of bonding and harmony in your personal life during the first phase of the week. You will be jovial and easy going with your partner.  There are chances of getting mixed results in regard to health and many other areas during the middle of the week. During the third phase of the week, you would enjoy more happiness and prosperity. You will be able to enjoy a good level of physical fitness. You would gain an expensive item during the weekend. There will be good deal of benefits in the financial investments. Want to dealt with your personal issue with solid astro solution? Choose our astrological guidance and break free yourself from personal issues.
5 Year Prediction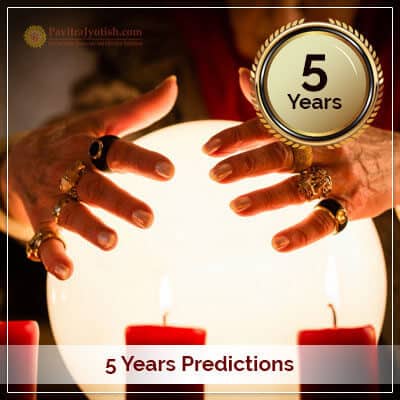 Our 5 years prediction is a comprehensive astro-service…