Gemini Weekly Horoscope
Know about Gemini Weekly Horoscope Prediction (Born Between May 22 – June 21)
Gemini weekly horoscope is your astrological way to knowing auspicious times for managing your priorities on a weekly basis. It is guidance of opportunities bound to come in your life and other key events you must manage. Gemini week ahead is worth the deal for knowing your week and how to manage the same positively.
Gemini Weekly Astrology Prediction for 30 March 2020 to 05 April 2020
30 March 2020 to 05 April 2020:  In the first two days of this week, the people of Gemini will remain with good opportunities to grow in their professional life. Your efforts will be successful very fast. You will be in a good position in the areas of wealth. By this you will continue to make your life a little bit more advanced. In the next two days of this week, you will be in your best effort to make your dreams come true. However your level of expenditure will be higher than before. By this you will be disturbed. There will be some problems related to health for the people who are not following their routine. Some of you, you can get alienated in some things and these things will stay connected to you. Your profit level will be increased in the last three days of this week. From this you will be happy. It will be a good time for health. Want to dealt with your personal issue with solid astro solution? Choose our astrological guidance and break free yourself from personal issues.
5 Year Prediction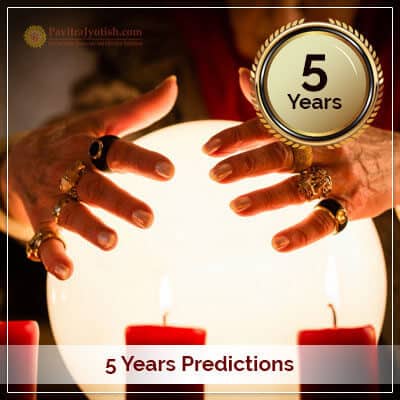 Our 5 years prediction is a comprehensive astro-service…