Gemini Weekly Horoscope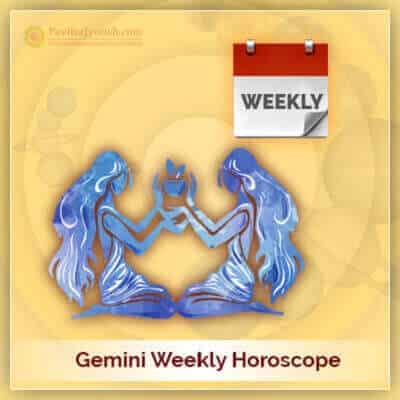 Plan Your Week Easily With Gemini Weekly Horoscope
Know about Gemini Weekly Horoscope Astrology (Born Between May 22 – June 21)
Gemini Weekly Horoscope is your astrological way to knowing auspicious times for managing your priorities on a weekly basis. It is guidance of opportunities bound to come in your life and other key events you must manage. Gemini week ahead is worth the deal for knowing your week and how to manage the same positively. Read Gemini Weekly Horoscope prediction.
Gemini Weekly Astrology Prediction for 27 June 2022 to 3 July 2022
27 June 2022 to 3 July 2022: Stars favour myriad areas and interests, this week. People involved in fields like medicine, commerce, film making, political sciences, engineering, construction etc. will be benefitted. If you put in your best efforts, you may manage to finish a long pending project. The positive results shall be visible; right from the week's beginning. Financially too, the stars shall be supportive. Towards the week-end, though, you will need to be careful against your rivals and opponents. In domestic sphere, mixed vibes will pervade. Ones planning to conceive shall have the cosmos on their side. You may be filled with the feelings of maternal love. In matters of heart and love, the results may remain just about average. Do not be too blunt or upfront in your responses in close relations. On the family front, it will be important for you to maintain your composure, in the event of an argument concerning vehicles/property/ inheritance. The tidings will not be helpful on the health front, unless you yourself put in efforts to maintain a healthy lifestyle. Want to dealt with your personal issue with solid astro solution? Choose our astrological guidance and break free yourself from personal issues.
5 Year Prediction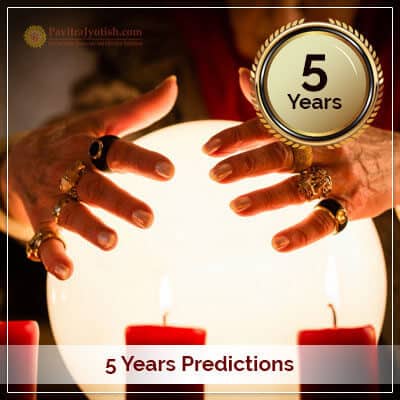 Our 5 years prediction is a comprehensive astro-service…