Health Report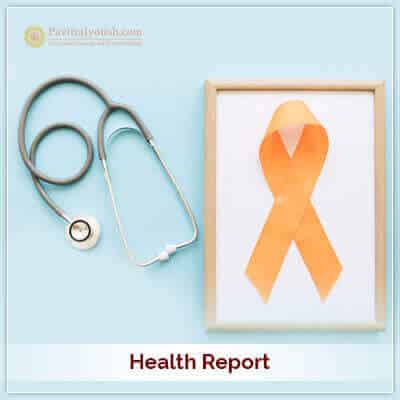 The importance of health outweighs that of money. Just as we need air to survive, a good health supports our life balance. Considering this, you will find our health report extremely helpful as it details key analysis of astrological transits and their repercussions on your Personalised Horoscope casting off certain influence in your health. In our report, you will be guided with invaluable details of your health as to which particular days would result in adverse effects on your health, risks to avoid for the sake of your health, and proper guidance to empower yourself with sound health.
At PavitraJyotish, our Renowned Astrologer, Pt. Umesh Chandra Pant, facilitates astrological coordination with people, helps them with health report based on the data provided by them. Get yourself benefited with most accurate Astrological Predictions on your health today by consulting our astrologer.
Info
Delivery : 5 Days
Get your manually analysed and Hand-Written report by expert Astrologer.
Customer Care
If you have any confusion or need further clarification please contact our customer care.
Call +91-95821 92381 and 011-49901368
Your Report Will Contain:
1. Astrological Details of your Horoscope chart
2. Astrological analysis of your situation
3. Response to your question
4. How to make use of this report
5. Lucky measures to benefit to you (Lucky number, days, metal, time, direction and gemstone)
6. Health as noted from your kundali
7. Your Progression in Health
8. Year in a Nutshell
9. Detailed report of the Year in 4 quarters
10. Mantra and Puja Remedies
11. Accurate remedial measures for your problems (Lucky Yantra and Rudraksha)
12. Important tips to make situations easier for you

Benefits of this report:
1. You can take smarter, calculated decisions, with a clear view of the upcoming situation.
2. The solutions to your confusions and problems will be resolved and thus empower you to face the odds with adequate protection
3. Stress due to ignorance will be reduced
4. You will be confident to take wise decisions since the problems will be handled with ease. This will help in clear thinking and happier planning ahead.

Testimonials:
I know Pt Umesh Chandra and his esteemed astrology organisation Pavitra Jyotish Kendra last 6 years. Astrologer Umesh has a lot of knowledge of astrology and specially effective remedies. 6 years ago i was so much worried and contact to panditji. As per advice of panditji I choose to wear pearl and 8 mukhi rudraksha. This was the most wonderful decision for me. It helped me a lot of deal with my problems and to eliminate them altogether. Now my family life and business etc is so good. I always remember to panditji for their guidance and help. I recommend for all
Ankit Jain, Delhi
I had my health report prepared from astrologer Umesh Chandra Pant Ji. The report was quite comprehensive from the viewpoints that it contains all the details for our health. For example, it contains astrological details of your Kundli, health according to Kundali interpretation, years in brief, and many other things which were of great importance. I have never seen such a dedicated professional in my life. I found his office very welcoming as well.
R M M Krishna, Karnataka