Horoscope Dosha And Remedies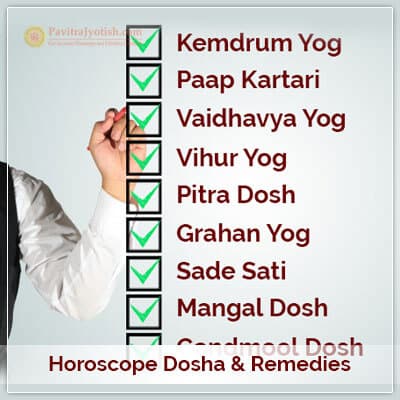 Get The Remedial Solutions For Wrong Dosha Situation
Get our Horoscope Dosha and Remedies enabling you to know any malefic combination of planetary alignments present in your horoscope called Doshas, and to get rid of Doshas such as Kaal Sarp Dosh, Pitra Dosha, GandMool Dosha, etc, find the actual astrological remedial measures after analyzing thoroughly your birth chart by our expert astrologer.
Important Information About Horoscope Dosha and Remedies
Service Name: Horoscope Dosha and Remedies, Service Type: Astrological Guidance and Solution, Language: English, Service Mode: Online (By e-mail only), Delivery: 5 Days, Features: Guaranteed solutions, Reliable services, Extensive results and best standard format of PavitraJyotish (YOUR REPORT WILL CONTAIN – Read it below), Benefits: It helps you setting short and long term goals with solution of your personal problems positively.
Why Horoscope Dosha and Remedies Report?
Horoscope Dosha and Remedies report are good to buy in order to negate the malefic impacts of any Dosha present in your Kundali. In case, you get stuck in one place and unable to move or progress in certain area even if you fulfill all the criteria, then this report looks more prominent tool for you to let you know your hurdles caused by certain dosha and get the instant remedial solution to negating the same.
How Does It Work?
1. Share your birth details and ask your queries/problems.
2. Make the payment.
3. We will send an email for reconfirmation of your birth details through your registered email id.
4. After confirmation, within next 5 working days, we will provide detailed report as per our standard format and reply to your specific questions (Your Report Will Contain – Read it below).
5. You will receive your personalized report at your registered email id.
6. Read your report, and feel free to contact us via e-mail if you feel like having any doubt. We will respond you shortly by reverting your e-mail.
Know the status of circumstantial involvement in terms of auspicious time, achieve solution for personal issues and gain positive results in life with our Dashafal Report, Janampatri, Remedial Solution for Personal Issue, Horoscope Reading.
Info
Delivery : 5 Days
Get your manually analysed and Hand-Written report by expert Astrologer.
What Horoscope Dosha And Remedies Report Will Contain?
1. Astrological Details of your Horoscope chart (i.e. Complete basic information, Ascendant, Rashi, Nakshatra, Placement of Planets, Dasha & Antardasha).
2. Response to your question.
3.Detailed Analysis of your horoscope Chart.
4. Report of the all important Yoga & Dosha in your Kundali and Solutions.
i) All Important Yoga in your horoscope & Benefit of Yoga.
ii) All Dosha in Kundali & all doshas solutions 1 by 1.
5. Lucky measures to benefit to you (Lucky number, days, metal, time, direction and gemstone).
6. Mantra and Puja Remedies.
7. Lucky Yantra and Rudraksha.
8. Important tips to make situations easier for you.

Benefits Of Horoscope Dosha And Remedies
1. You will be able to plan your short and long term goals on various dimensions of your life.
2. It will be easy for you to direct your attention to the plausible areas instead of wasting in meaningless pursuit.
3. You will be able to add value to your own life.
4. Stress and frustrations will be significantly reduced with your positive outlook.
5. Your fear, apprehension and anxiety will be reduced.

Hear From Our Customers
Umeshji remedies have proven very helpful to me.He is very patient and explains things in great detail. The gem stones he suggests are also very effective and bear results. Thank you Acharya Umeshji for your guidance and showing me the right path.
Vinayak, Dehradun
There is no way to doubt Pandit Umesh Chandra pant and his knowledge, he is marvelous. I was struggling with career and state of mind wasn't good however, I consulted pandit ji and his simple and effective remedies brought wonderful changes in my life. There was certain mahadasha and difficult time was going on, he guided me to make the best of this time and recommended wonderful remedies for betterment. His remedies certainly helped me in a short span of time and now I can see change in my mental state and remedies are wonderful. You can certainly trust him for astrological consultation and the best part he always give you time if there is certain doubt in your mind. I made a wonderful decision and I will also suggest you to make one. A total gratitude for this amazing man.
Rajat Sharma, Sirsa, Haryana