Janampatri (10% Off)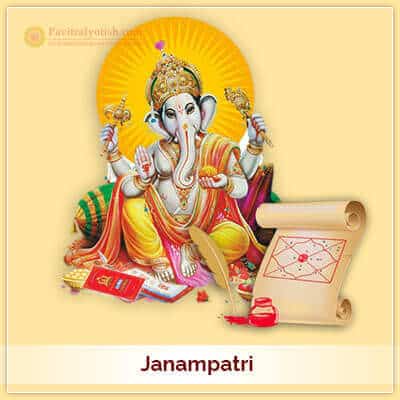 Janampatri or Birth Chart is considered to be more important than Horoscope Chart. The reason being, birth chart consists of details more accurate and thorough about the planetary position of your horoscope and its relative influences in your life. Astrological Predictions and solution derived on the basis of Janampatri reveal comprehensive details of a person's natural tendency, behavior, strength, weakness, and various other dimensions of his/her life.
At PavitraJyotish, we offer some of the most salient aspects of our Astrological Services, including Janampatri writing by our Renowned Astrologer. He is experienced, knowledgeable, and is capable of interpreting the complex Astrological Transit and their corresponding effects on your life based on the analytical study of your Janam Kundali.
Info
Delivery : 5 Days
Get your manually analysed and Hand-Written report by expert Astrologer.
Customer Care
If you have any confusion or need further clarification please contact our customer care.
Call +91-95821 92381 and 011-49901368
Your Report Will Contain:
1. Astrological Details of your Horoscope chart
2. Astrological analysis of your situation
3. Response to your question
4. How to make use of this report
5. Lucky measures to benefit to you (Lucky number, days, metal, time, direction and gemstone)
6. Impact of Ascendant and Ascendant Lord
7. Impact of Moon sign
8. Astrological Analysis of situation in chart
9. Education, Career, Ambition
10. Health
11. Finances and Property
12. Family and Relations
13. Love, Marriage and Children
14. Mantra and Puja Remedies
15. Accurate remedial measures for your problems (Lucky Yantra and Rudraksha)
16. Important tips to make situations easier for you

Benefits of this report:
1. You will be able to plan your short and long term goals on various dimensions of your life.
2. It will be easy for you to direct your attention to the plausible areas instead of wasting in meaningless pursuit.
3. You will be able to add value to your own life
4. Stress and frustrations will be significantly reduced with your positive outlook.
5. Your fear, apprehension and anxiety will be reduced

Testimonials:
It was a nice experience for me, he gives right advises to our problems, his knowledge has helped me anyways.
Arunima Negi, Dwarka, Delhi
I came to know about Umesh Ji when I brought Janampatri of 10 years old son to him. Pandit Umesh Pant Ji thoroughly studied my son's birth chart and predicted that everything including zodiac sign and others was fine unless a conflicting position of Rahu in my son's Rashi. Scared, I asked him if the planet Rahu would cause my son any harm in his future. At which Pandit assured me nothing would happen as he had reliable solution for it. Then he offered me certain remedial solutions based on study of my son's Kundali. I have personally observed that his suggestions worked well as my son's life is back on track and he is enjoying trouble free life.
Gaurav Shetty, Talengana