Jupiter Transit Report for your Business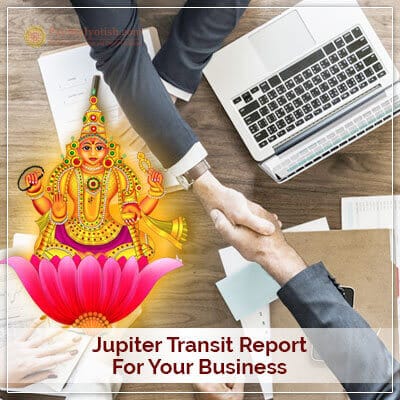 Jupiter is the most favourable planet that blesses your life with abundant richness and happiness if its cyclic transit is in favour. Considering business being vulnerable to ups and downs, it, therefore, gets important to have Jupiter transit report for your business prepared.
At PavitraJyotish, we prepare the transit report for Jupiter effects in your business as per chart, helping you understand how to maximize your situation effectively. Done by one of the most sought-after astrologers, Pt. Umesh Chandra Pant, our Jupiter transit report is comprehensive, detailed, and full of guidance to simplify your business life.
Info
Delivery : 5 Days
Get your manually analysed and Hand-Written report by expert Astrologer.
Customer Care
If you have any confusion or need further clarification please contact our customer care.
Call +91-95821 92381 and 011-49901368
Your Report Will Contain:
1. Astrological Details of your Horoscope chart
2. Astrological analysis of your situation
3. Response to your question
4. How to make use of this report
5. Lucky measures to benefit to you (Lucky number, days, metal, time, direction and gemstone)
Impact on your Business life
6. How much favorable or unfavorable is transit of Jupiter in Scorpio
7. Whether this is to help in pushing ahead your prospects on business front.
Special observations
8. Some notable developments are mentioned.
9. Mantra and Puja Remedies
10. Accurate remedial measures for your problems (Lucky Yantra and Rudraksha)
11. Important tips to make situations easier for you

Benefits of this report:
1. You get enough time to plan your activities in advance well enough.
2. The report lets you know when to press throttle to accelerate pace of progress.
3. The report also lets you know when to hold fire and maintain status quo.
4. You know in advance whether it is time for expansion.
5. You also know whether it is good time to launch a new product.

Testimonials:
Business is business. You are bound to experience downfall as you experience profits from it. However, when it comes to understanding transit movement of a certain planet in your Kundali that might impact your business badly, it makes sense to consult an astrologer in this connection. So, I consulted to Umesh Ji and sought his guidance about Jupiter transit in my Kundali. He assured me that its influence won't affect my business as per his remedial measures. I must say it was a practical solution to my concern and business condition.
Suresh Patnaik, Odisha
Astrologer Umesh is a genuine person who has the complete knowledge of jyotish in entire Delhi. Peeyush, Ajmer Astrologer Umesh is like a family now to me. i have consulted them often, and the results have been very good and their analysis straightforward. When I confused about my career and it turning into a boring story, I consult Astrologer Pant and now very happy. I will advise them in each new work. thanks to Astrologer Umesh.
Malti Mehra, Gurgaon NCR