Kaalsarp Dosh Nivaran Puja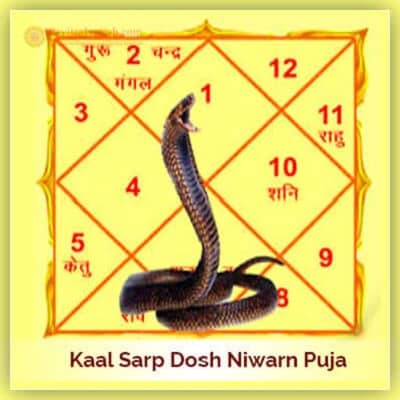 Know About Kaal Sarp Dosh Nivaran Puja
Rahu-Ketu Shanti Puja (Peace of Rahu-Ketu Planets)
Kaalsarp Dosha is a kind of dosha which gets formed when all the other 7 seven planets except north and south nodes of the Moon (Rahu & Ketu) are placed either side of the Rahu-Ketu axis. These 7 planets are namely Sun, Moon, Mercury, Mars, Jupiter, Venus and Saturn. This dosha creates obstacles in one's life in achieving desired or long term goals.
Kaal means "Time", Sarp means "Snake" and Dosha stands for the ill effects. This dosha makes one's life vulnerable in the absence of fulfilment of desires. It terms into the dangerous one and its shadow may not allow anyone to get the right thing at the right time. With the negative influence of this dosha, native suffers in all walks of life viz, finance, career, marriage, progeny etc, things either becomes very frustrating or comes with lots of delay in native's life. Now, that becomes the reason, Vedic Astrologer advise people to neutralize the ill effects of Kaal-Sarp Dosha as soon as possible to start attaining the fruitful results. Book Your Kaalsarp Dosh Nivaran Puja and get blessed.
Why  Kaalsarp Dosh Nivaran Puja performed?
The importance of Kaal sarp Dosh Niwaran Puja lies in the fact that it neutralizes its harmful effects from ruining your life. Depending upon the situation of how Kaalsarp Dosha has progressed, as per the detail of your horoscopic reading, Kaal Sarp Puja is recommended to be conducted accordingly, so that early neutralization of the same can save the life of individual affected by this harmful celestial influence.
If Kaalsarp Dosh Nivaran Puja is not conducted following the recommendation based on horoscopic reading of the same, the likelihood of encountering many unpleasant consequences in your life can't be ruled out. If left untreated, the harmful effects of Kaal Sarp Doshas could disrupt peace and prosperity of your life.
Important Information About Kaalsarp Dosh Puja
Puja Name: Kaalsarp Dosh Nivaran Puja, Puja Purpose: Blessing Of Lord Rahu and Ketu, Duration of Puja: 10-12 Hours, Ideal days for worshipping: Auspicious Muhurta as required, Activities for Kaalsarp Dosh Nivaran Puja: Poorvang Karma, Puja of Lord Rahu Ketu (as per auspicious Muhurta), Ashtottara Namavali Path, Rahu Ketu Stotra path, Homa (Havan) and Prayer of Lord Rahu-Ketu, Important: We will send Puja Images at your registered email, Assurance: PavitraJyotish assure you best puja according to shastra, Special For You: Special and powerful gift as per your problem.
What we will do?
1. Once you have booked the Puja, you will receive a booking confirmation mail.
2. You will be informed by your registered email, when your puja will be organized and what to do on the day of the puja yourself.
3. After Confirmation, we will worship (Ritual) for you according to Muhurta.
4. After Puja completion, we will send your siddh Yantra (Free Gift) and Prasadam through courier or by post.
5. Open the parcel, read our instructions and wear the siddh Yantra or establish siddh yantra on your worship place.
Effects of Kaalsarp Dosha:
Persons under the influence of Kaalsarp Dosh Nivaran Puja carry certain symptoms.
1. Dreaming about snake, most of the time.
2. Always feeling stressed out or not getting the mental peace.
3. Not being able to take a right decision due to confusion or wavering thoughts.
4. Low confidence & reduce longevity.
5. Loss of wealth, ill health, bad luck, disputes, anxiety.
6. Living a troubled relationship, delay in marriage, ruined marriage, progeny issues.
7. Having secret enemies around their lives.
Benefits Of Kaalsarp Dosh Nivaran Puja
1. The most auspicious time to get the puja done will be on Nag Panchami. During this day, the blessings from Nag Devta will be received to reduce the harm from snakes.
2. This puja helps one to resolve delay in marriage.
3. It helps one to solve marital issues. Issues related to progeny can also be resolved.
4. Problems related to finances or property can also be solved with the help of this puja.
5. Helps one to get rid of bad health and increases the longevity.
6. Problem related to education can be resolved by performing this Kaal Sarp Dosha Shanti Puja and success & growth will come to your way at work.
7. It eliminates physical, mental and financial problems from your life.
8. One's pursuit of peace and prosperity in life becomes easier due to Kaal Sarp Puja.
Activities For Kaalsarp Dosh Nivaran Puja
1. Purvang Karma (Ganesh Pujan, Matra Pujan, Abhyudaya, Punyawachan, KalashSthapana, Rakshavidhan, Navgrah Puja).
2. Puja of Rahu-Ketu Planet (as per auspicious Muhurta).
3. Ashtottara Namavali Path and Jup of Rahu Ketu Planet (Kaal Sharp Dosha).
4. Homam (Havan).
5. Lord Shiva, Rahu-ketu Planet Prayer and Aarti.
Complimentary Gifts:
Special gift as per your problems.
Our myriad range of puja related offerings include Gandmool Nakshatra Dosh Puja, Nakshtra Dosh Shanti Puja, Pitra Dosh Puja, Lord Vishnu Puja. Each of these offers serves a distinctive purpose in your life, such as simplifying problems, removing doshas, providing peace in life and correcting estranged relationship etc.
Info
Puja Schedule:: Within 7 days, According to Muhurta.
The scholars and pundits of Pavitra Jyotish have performed your puja, for amazing and miraculous relief from suffering and alleviate your problems.