Love and Marriage Prospect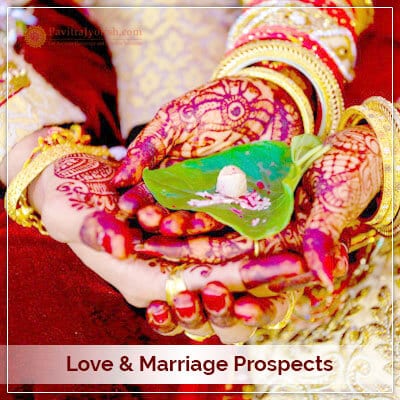 Here Is The Perfect Solution To The Delay Of Your Marriage
Love and Marriage Prospects is an explanatory Report guiding you about your love and relationship prospects, harmony in love life, arranged or love marriage on cards, characteristics about your love and life partner prepared on the basis of planetary alignments in birth chart, current transits, 5thand 7th houses of love and marriage respectively, Mahadasha and the condition of Karak planet Venus along with other influencing aspects. Get Love And Marriage Horoscope predictions.
Important Information About Love and Marriage Prospects
Service Name: Love and Marriage Prospects, Service Type: Astrological Guidance and Solution, Language: English, Service Mode: Online (By e-mail only), Delivery: 5 Days, Features: Guaranteed solutions, Reliable services, Extensive results and best standard format of PavitraJyotish (YOUR REPORT WILL CONTAIN – Read it below), Benefits: It helps you settting short and long term goals with solution of your personal problems positively.
Why Love and Marriage Prospects Report?
Love And Marriage Prospects report is a guide for you if you are facing issues in your love, relationship and marriage. Information about married life is given in this report and based on the analysis, the best time for happening of marriage is predicted and if any issue is found, suitable remedies are also informed.
How Does It Work?
1. Share your birth details and ask your queries/problems.
2. Make the payment.
3. We will send an email for reconfirmation of your birth details through your registered email id.
4. After confirmation, within next 5 working days, we will provide detailed report as per our standard format and reply to your specific questions (Your Report Will Contain – Read it below).
5. You will receive your personalized report at your registered email id.
6. Read your report, and feel free to contact us via e-mail if you feel like having any doubt. We will respond you shortly by reverting your e-mail.
We have served numerous clients with our comprehensive services, including Detailed Kundali Matching, Wedding Horoscope Report, Love Report, Marriage Report. Get positive growth, peace and prosperity in your life. Be known about your fate and its growth trajectory.
Info
Delivery : 5 Days
Get your manually analysed and Hand-Written report by expert Astrologer.
What Love and Marriage Prospect Report Will Contain?
1. Astrological Details of your Horoscope chart (i.e. Complete basic information, Ascendant, Rashi, Nakshatra, Placement of Planets, Dasha & Antardasha).
2. Response to your question.
3. Marriage as indicated in your Kundali.
4. Nature and Appearance of your Spouse.
5. Arranged or Love alliance.
6. Expected Time of Marriage.
7. Lucky measures to benefit to you (Lucky number, days, metal, time, direction and gemstone).
8. Mantra and Puja Remedies.
9. Lucky Yantra and Rudraksha.
10. Important tips to make situations easier for you.

Benefits Of Love and Marriage Prospect
1. You will be able to understand and thus move further in clarity.
2. Having known the positive and the negative aspects, you will be able to make your formulations accordingly.
3. Despite the apparent confusions, you will be able to understand your love and take a decision wisely.
4. Your fear, apprehension, worries and stress will be reduced.

Hear From Our Customers
I approached Pt. Umesh and we get astrology report. The answers were clear, predictions correct and they even told us the bitter truth. Whatever happened, but I am now relaxed. I will recommend Pt. Umesh
Shyam Sunder, Delhi
I was looking for prompt solution to my quandary that when I would tie the knot. Though it was difficult to preordain something like that but I was curiously on edge about the future of my marriage. On recommendation of a relative, I came to know about Pandit Umesh Chandra Ji that he is an award-winning astrologer. I met him face to face to know my marriage prospect and the exact nature our relationship. He told me strong and weak points of my marriage, saying which aspects of my wedding would be harmonious apart from many other important details. Later he offered remedial guidance and solutions which are still being followed by me. I am now married and glad to experience peace in my relationship. It all happened due to the blessing of Pandit Ji and his sheer level of professionalism.
Suresh Jain, Rajasthan