Love Ask 1 Question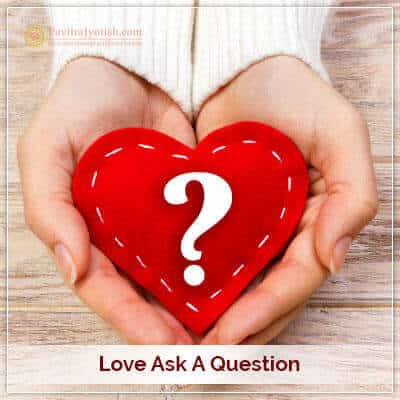 Get The Answer Of Your Love To Settle In Harmony
Love Ask 1 Question is a comprehensive report to answer your single query towards love and relationship. Anytime facing incompatibility, difficulty in maintaining balance between you and your love mate, just order our Love Ask 1 Question to resolve your current issues in love by means of complete analysis of your birth chart with respect to your love query.
Important Information About Love Ask 1 Question
Service Name: Love Ask 1 Question, Service Type: Astrological Guidance and Solution, Language: English, Service Mode: Online (By e-mail only), Delivery: 5 Days, Features: Guaranteed solutions, Reliable services, Extensive results and best standard format of PavitraJyotish (YOUR REPORT WILL CONTAIN – Read it below), Benefits: It helps you settting short and long term goals with solution of your personal problems positively.
Why Love Ask A Question Report?
If you have any issue related to your love life and unable to make it successful, then Love Ask 1 Question will help you to let you know the real cause of having that doubt in your love life and with the help of this report, suitable remedies are given to get rid of the certain problem in your love life.
How Does It Work?
1. Share your birth details and ask your queries/problems.
2. Make the payment.
3. We will send an email for reconfirmation of your birth details through your registered email id.
4. After confirmation, within next 5 working days, we will provide detailed report as per our standard format and reply to your specific questions (Your Report Will Contain – Read it below).
5. You will receive your personalized report at your registered email id.
6. Read your report, and feel free to contact us via e-mail if you feel like having any doubt. We will respond you shortly by reverting your e-mail.
Get your Detailed Kundali Matching, Wedding Horoscope Report, Love Report, Marriage Report and spell growth and desired solutions in your life. Our astrological solutions stand totally relevant based on your purpose in seeking success in your life.
Info
Delivery : 5 Days
Get your manually analysed and Hand-Written report by expert Astrologer.
What Love Ask 1 Question Report Will Contain?
1. Astrological Details of your Horoscope chart (i.e. Complete basic information, Ascendant, Rashi, Nakshatra, Placement of Planets, Dasha & Antardasha).
2. Response to Your 1 question.
3. Lucky measures to benefit to you (Lucky number, days, metal, time, direction and gemstone).
4. Mantra and Puja Remedies.
5. Lucky Yantra and Rudraksha.
6. Important tips to make situations easier for you.

Benefits Of Love Ask 1 Question
1. You will be able to make up your mind on love related matters, depending on the orientation of the planets.
2. Your doubt will be cleared so that you will be able to enjoy a blissful relation.
3. Having resolved all apparent confusions, you will be able to understand your love and take a decision accordingly.

Hear From Our Customers
Panditji Namaskar, I am Dr Alok Jain. I met you and followed your advice. I was facing certain difficulties in life But with your blessings and remedies got cure and benefits, thank you will keep in touch with you.
Dr Alok Jain, Delhi
I was not sure if the person I've fallen in love with would be a right fit for my life. Though we had been in love relationship for long, I had to clear off my doubt before skepticism gets the best on me. So, I consulted Umesh Ji with requests as to help me what options I have under the circumstances. He offered me astrological guidance, which I would like to say was really great and useful. Question asked of him was answered in its relevant manner.
Ashutosh, Ahmednagar, Maharashtra