Love Ask A Question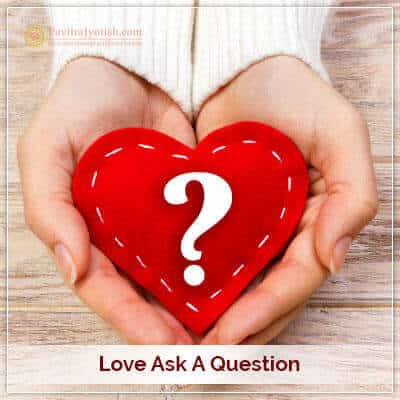 Feeling unsure of the love you've found for yourself? Being in love is surely a wonderful experience unless it is mutual. Unrequited love dies its natural death in due course of time. What are you supposed to do, then? Do you have love-related questions in mind? Would you like your love problems answered for good?
Meet Pt. Umesh Chandra Pant, a well-known figure having great knowledge of the occult science of astrology. He is Vedic Astrologer with many years of practical experience in astrology. His service about love ask a question is a comprehensive set of love relationship guidance to help you make a right decision without falling prey to pitfalls. At Pavitra Jyotish, thoughtful analysis in relation to your Horoscope Chart or Kundali helps us predict your love with suggestive guidelines, solutions, and remedies.
Info
Delivery : 5 Days
Get your manually analysed and Hand-Written report by expert Astrologer.
Customer Care
If you have any confusion or need further clarification please contact our customer care.
Call +91-95821 92381 and 011-49901368
Your Report Will Contain:
1. Astrological Details of your Horoscope chart
2. Astrological analysis of your situation
3. Response to your question
4. How to make use of this report
5. Lucky measures to benefit to you (Lucky number, days, metal, time, direction and gemstone)
6. Guidance on the causes for concern
7. Mantra and Puja Remedies
8. Accurate remedial measures for your problems (Lucky Yantra and Rudraksha)
9. Important tips to make situations easier for you

Benefits of this report:
1. You will be able to make up your mind on love related matters, depending on the orientation of the planets.
2. Your doubt will be cleared so that you will be able to enjoy a blissful relation
3. Having resolved all apparent confusions, you will be able to understand your love and take a decision accordingly.

Testimonials:
Panditji Namaskar, I am Dr Alok Jain. I met you and followed your advice. I was facing certain difficulties in life But with your blessings and remedies got cure and benefits, thank you will keep in touch with you.
Dr Alok Jain, Delhi
I was not sure if the person I've fallen in love with would be a right fit for my life. Though we had been in love relationship for long, I had to clear off my doubt before skepticism gets the best on me. So, I consulted Umesh Ji with requests as to help me what options I have under the circumstances. He offered me astrological guidance, which I would like to say was really great and useful. Question asked of him was answered in its relevant manner.
Ashutosh, Ahmednagar, Maharashtra