Love Report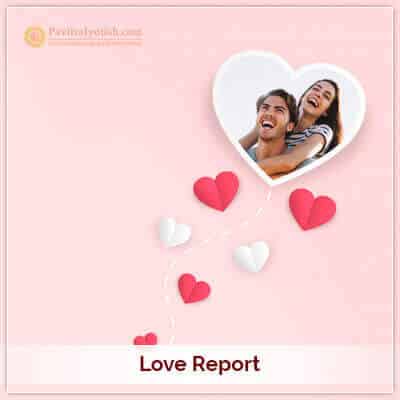 Are you in love or is it just a figment of your imagination? Do you always think like 'when will I get my soulmate'? It is an axiom that what we think about love in the first place turns out different from our expectations later, resulting in frustration and despondency. Moreover, when someone is in love, he/she sometimes feels unable to lay their thoughts on the line. If you experience something similar or are dealing with unrequited love, then our love report will help you understand the reality of your courtship with its Remedial Solutions.
Prepared by India's one of the most popular Vedic Astrologer, Pt. Umesh Chandra Pant, our Love Predictions are the analysis of integrative facts pieced together to churn out best remedial solutions to your love relationship related query. Our analysis is comprehensive in its nature of helping you with the most accurate and reliable predictions.
Info
Delivery : 7 Days
Get your manually analysed and Hand-Written report by expert Astrologer.
Customer Care
If you have any confusion or need further clarification please contact our customer care.
Call +91-95821 92381 and 011-49901368
Your Report Will Contain:
1. Astrological Details of your Horoscope chart
2. Astrological analysis of your situation
3. Response to your question
4. How to make use of this report
5. Lucky measures to benefit to you (Lucky number, days, metal, time, direction and gemstone)
6. Love as noted from your kundali
7. Your Progression in Love
8. Compatibility of your Love in Detailed
9. Life Challenges
10. Astrology based advise
11. Mantra and Puja Remedies
12. Accurate remedial measures for your problems (Lucky Yantra and Rudraksha)
13. Important tips to make situations easier for you

Benefits of this report:
1. You can take smarter, calculated decisions, with a clear view of the upcoming situation.
2. The solutions to your confusions and problems will be resolved and thus empower you to face the odds with adequate protection
3. Stress due to ignorance will be reduced
4. You will be confident to take wise decisions since the problems will be handled with ease. This will help in clear thinking and happier planning ahead.

Testimonials:
In my love report prepared by Umesh Ji, it was mentioned that the person I chose to be the love of my life would not be the same as I've dreamed about. At that time it was unbelievable until reality struck with me with serious blows of surprise. Yes, the loved ended in agony but I am happy that it was predicted much before and it at least gave me enough room not to repent for what's gone. Today the marriage report is helping me a great deal of favour as to planning out my life carefully and whether or not anyone in love relationship with me would be an ideal match for me. The report also details accurate remedial measure for my problems as well.
Manpreet Singh, Chandigarh, Punjab
I was having many problems in my life for past few years. than i got in touch with panditji umesh ji …since then i have just been following his advise and slowly my problems have faded away and my life has come on a positive track with his guidance and advise…and his predictions have been accurate….i have full faith and trust in him.
Gaurav Dhama, Meerut, UP