Personalised Transit Report Of Four Major Planets in April 2022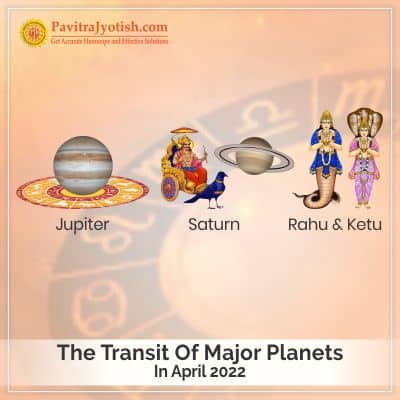 Personalised Transit Report Of  Four Major Planets  (Jupiter, Saturn, and Rahu-Ketu In April 2022) 
Big Changes On The Way: Rahu Ketu Transit on 12 April 2022, Jupiter Transit on 13 April 2022, and Saturn Transit 29 April 2022
Get Your Personalised Four Major Planets Transit Report
Know the impact of different planetary transits under a detailed transit report containing all Four major planetary transits occurring in the month of April 2022. Single transit would impact your life differently, here we have come up with the combined impact of all Four major planets such as Rahu Ketu Transit occurring on April 12, 2022, Jupiter Transit on April 13, 2022, and Saturn Transit on April 29, 2022.
Important Information About Personalised Transit Report Of Four Major Planets in April 2022
Service Name: Personalised Transit Report Of Four Major Planets April 2022, Service Type: Astrological Guidance and Solution, Language: English, Service Mode: Online (By e-mail only), Delivery: 5 Days, Features: Guaranteed solutions, Reliable services, Extensive results and best standard format of PavitraJyotish (YOUR REPORT WILL CONTAIN – Read it below), Benefits: It helps you setting short and long term goals with solution of your personal problems positively.
Why Personalised Transit Report Of Four Major Planets April 2022?
In Astrology, 9 of 9 planets are of utmost importance, but out of these 9 planets, the main 4 big planets; Jupiter, Saturn, and Rahu-Ketu, are changing the zodiac in the nearest time in April 2022 this year.  Therefore, in this important personalized report, the combined effect of the transit of all four major planets will be explained.  Therefore, this personalized report of the 4 important planets Jupiter, Saturn, and Rahu-Ketu is very useful and important for everyone.
How Does It Work?
1. Share your birth details and ask your queries/problems.
2. Make the payment.
3. We will send an email for reconfirmation of your birth details through your registered email id.
4. After confirmation, within the next 5 working days, we will provide a detailed report as per our standard format and reply to your specific questions (Your Report Will Contain – Read it below).
5. You will receive your personalized report at your registered email id.
6. Read your report, and feel free to contact us via e-mail if you feel like having any doubt. We will respond to you shortly by reverting to your e-mail.
Info
Delivery : 5 Days
Get your manually analysed and Hand-Written report by expert Astrologer.
What Personalised Transit Report Of Four Major Planets April 2022 Will Contain?
1. Astrological Details of your Horoscope chart (i.e. Complete basic information, Ascendant, Rashi, Nakshatra, Placement of Planets, Dasha & Antardasha).
2. Response to your question.
3. Four Major Planets transit results as per your chart: General.
4- Four Major Planets Transit Effect of Various Areas.
a. Four Major Planets Transit Impact on Career.
b. Four Major Planets Transit Impact on Finances.
c. Four Major Planets Transit Impact on Health.
d. Four Major Planets Transit Impact on Personal life.
5. Combined Period-Wise Specific Results Next Two And Half Years.
6. Lucky measures to benefit to you (Lucky number, days, metal, time, direction and gemstone).
7. Mantra and Puja Remedies.
8. Lucky Yantra and Rudraksha.
9. Important tips to make situations easier for you.

Benefits Of Personalised Transit Report Of Four Major Planets April 2022:
1. You can plan your future and take up your further education without much confusion.
2. On being aware of the your positive and negative traits, you can easily put your best foot forward and avoid the negatives.
3. Your immediate problem will be addressed and thus your line of further education will be clear to you to make your mind easily.

Hear From Our Customers:
I wanted to have astrological analysis of my situations which were turning bad with each passing days. The name of Pandit Umesh Ji came from a well-wisher whose problems were solved by the astrologer meaningfully. I had impression of him as a hard-core professional who knows money than client satisfaction. However, after meeting with him and being counselled, I realised Pandit Ji was gifted and savvy in his way of astro predictions. I asked four questions related to astrology and I must say they were answered professionally. Umesh Ji also offered certain remedial measures for my life's problems..
Savita Upreti, Uttrakhand
Panditji Umesh pantji is very patient and suggest very simple vedic solutions which give a lot of peace of mind as well as lost confidence. I got the great help in one of my major problems of life and my belief in astrology have been strengthened. Thank you panditji.
Savita Sharma, Rohini, New Delhi.