Mangal Dosh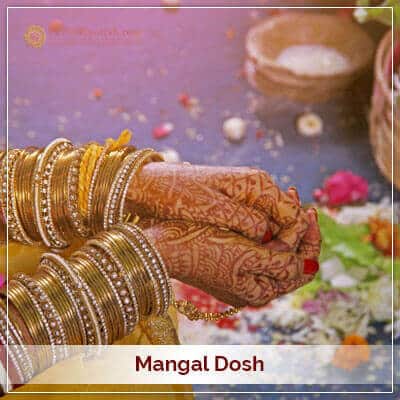 Astrology views Mangal dosh as a curable fault in your birth chart. Does Manglik Dosha have importance in marriage? Well, as opposed to different interpretations on Manglik, we believe that such astrological dosh has its remedial solution if your chart is properly analyzed. Hence, we instil the belief of positivity in your life by taking resort to a detailed analysis of your Mangal dosh or Mars effect.
PavitraJyotish is a reputable place for everyone seeking constructive guidance and remedial measure to any astro-related problems. Our astrologer, Pt. Umesh Pant, is known to have served many Manglik people in the past with his curative astrological solution by properly analyzing their horoscope with apt recommendations for gemstone and other curative suggestions. Your report will include the status of Mangal Dosh in your chart, possible cancellation of dosh in the chart and key remedial measure to help you deal with your situation easily.
Info
Delivery : 7 Days
Get your manually analysed and Hand-Written report by expert Astrologer.
Customer Care
If you have any confusion or need further clarification please contact our customer care.
Call +91-95821 92381 and 011-49901368
Your Report Will Contain:
1. Astrological Details of your Horoscope chart
2. Astrological analysis of your situation
3. Response to your question
4. How to make use of this report
5. Lucky measures to benefit to you (Lucky number, days, metal, time, direction and gemstone)
6. Impact of Your ascendant
7. Impact of the Moon sign
8. Possibilities of Mangal Dosh in the chart
9. Cancelation, if any, of the Dosh, in the charts
10. Accurate remedial measures for your problems (Lucky Yantra and Rudraksha)
11. Important tips to make situations easier for you

Benefits of this report:
1. You can take smarter, calculated decisions, with a clear view of the upcoming situation.
2. The solutions to your confusions and problems will be resolved and thus empower you to face the odds with adequate protection
3. Stress due to ignorance will be reduced
4. You will be confident to take wise decisions since the problems will be handled with ease. This will help in clear thinking and happier planning ahead.

Testimonials:
I wanted to have detailed analysis of my Mangal dosh, as I came to know that in my birth chart I was affected with the influence of malefic Mars. The cyclic transit of the planet in my Kundli made me fearful about my life. Very soon the right solution came from astrologer Umesh Chandra Pant Ji, who is also known to be India's leading astrologer among the league of best ones. Pandit Ji helped me understand Mangal dosh and narrated its implication, with solutions to problems affected by Mangal Dosh. It was a realization highly appreciated.
Saurav Kukreja, Amritsar, Punjab
Panditji Namaskar, I am Dr Alok Jain. I met you and followed your advices. I was facing certain difficulties in life But with your blessings and remedies got cure and benefits, thank you will keep in touch with you.
Dr Alok Jain, Delhi