Mangal Puja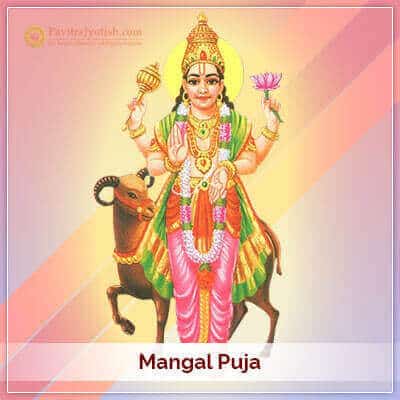 Significance of Sri Mangal (Mars) Puja
Manglik Dosha Nivaran Puja is dedicated to lord Mars. Mangal puja fulfills your life's ambitions and qualifies you to earn desired progeny and success in your chosen endeavor. We have qualified pandits who can execute proper Mangal Shanti pooja for you to experience peace and solution for your life's astrological problems.
Lord Mangal (Mars) has a special relationship with the earth because he is considered to be the son of the earth (Bhoomi Putra). Hence its effects on the living beings of the earth are special than other planets. It signifies courage, abilities, aggression, and ability to face problems. Usually, an unfavorable position of Mars is also linked with marital issues (Mangalik Dosh). Hence those with a weak Mars in the chart should try to perform related remedies.
We at Pavitra Jyotish Kendra will organize Sri Mangala pua on an auspicious Tuesday. Our pundits will perform a special puja for the customers as per the procedure of the Shastras. Vedic and Puranic mantras will be chanted in the pujan of Lord Bhauma (Mars). Additionally, the RinaMochanaMangalastotra will be done for those having debt problems. Those wishing for a progeny can perform "BhaumaVrata" on Tuesdays for better results. Once the puja is concluded, you will receive the prasada by mail. Along with this, we will also send you an empowered Mangal Yantra/Kavacha for worshiping on a day to day basis.
Benefits of Sri Bhauma Pujan:
Natives with a weak Mars in the chart and those with MangalikaDosha can get good relief.
This puja helps to control the aggression and anger.
It helps one to take right decisions towards his ambitions.
This puja helpful for those who have a lack of decision-making ability and courage.
It is the best remedy for those facing debts or loan disputes.
Worship of Mars bestows one with a desired progeny.
It helps to subside the health issues related to the blood.
Complimentary Gifts:
Siddh Mangal Yantra
Info
Delivery: 7 days According to Muhurta.
The scholars and pundits of Pavitra Jyotish have performed your puja, for amazing and miraculous relief from suffering and alleviate your problems.
Customer Care
If you have any query or need further clarification
Call +91-95821 92381 and 011-49901368